Life just got a whole lot more exciting, thanks to this gorgeous creation.
You guys, this Thai mango salad with ginger-lime dressing is my newest summer obsession. It ticks all of the boxes in terms of meeting all of my favorite things, and I have a strong feeling that you're going to love it too. It's sweet, it's spicy, it's fresh, and it's bright. Not to mention, colorful, healthy, and beautiful.
This is the kind of salad that makes people go ooooh, and ahhhhh, and ohhhhh, and mmmmm. It's so simple, yet it looks so festive and tastes so good. How could you not want to eat a huge plate of this?
It's also the kind of salad that's fun to make. Cutting the mangoes, bell pepper, and jalapeno into matchsticks is kind of therapeutic. It forces you to focus on the task at hand—think chef's knife and your fingers. And let's face it, we don't get enough time to tune out the world these days, so a few minutes of quite prep work is a beautiful thing.
Honestly, you could eat the salad without dressing and it would be quite tasty, but don't do that, because the ginger-lime dressing is seriously the best dressing that I've made in a long, long, time. The tangy lime juice and the vibrant ginger, mixed with a little coconut sugar is sublime, especially when paired with the sweet mango, hot jalapeno, crisp bell pepper, and peppery basil.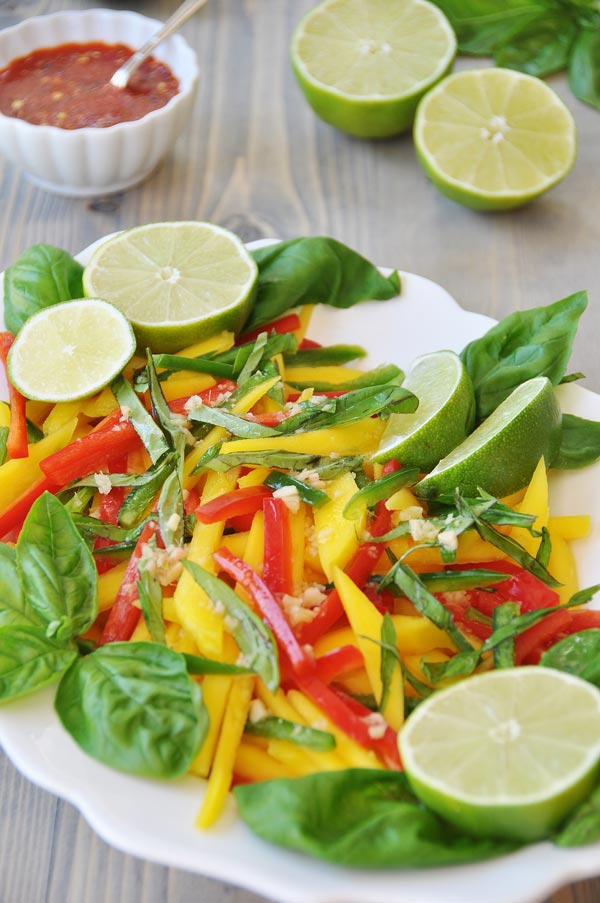 Make this Thai mango salad with ginger-lime dressing and serve it with vegetable sushi rolls and an Asian cauliflower rice bowl. All three are fun to make, outrageously delicious, and filled with vitamins and antioxidants.
If I could share this salad with you right now, I would. Although my son might fight you for it. I get the feeling that as long as mangoes are in season and my garden is churning out jalapeno peppers and basil, this mango salad is going to be a staple in my house. Make it a summer regular in your house too!
Tell me:
What is your favorite summer time salad combination?
Do you love Thai food as much as I do?
Does your favorite Thai restaurant offer a mango salad?

Thai Mango Salad with Ginger-Lime Dressing
This vibrant and flavorful salad is the perfect summer salad. The ginger-lime dressing makes it, and it's oil-free!
Print
Pin
Rate
Ingredients
Salad base:

2

mangoes – peeled and sliced into thin matchsticks

1

medium red bell pepper – seeded and sliced into thin matchsticks

1

large jalapeno pepper – seeded and sliced into thin matchsticks

½

cup

of basil leaves – sliced into thin strips

reserve some whole leaves for garnish

Dressing:

Juice from one large lime

approximately ⅓ of a cup

2

teaspoons

of finely minced ginger

½

teaspoon

of coconut sugar

Pinch

of finely ground sea salt
Instructions
For the salad:

Toss the mango, bell pepper, jalapeno, and sliced basil on a medium platter.

For the dressing:

Put the lime juice, ginger, coconut sugar, and salt in a lidded jar or a bowl and shake or whisk together well. Evenly pour it on the salad and gently toss to combine. Garnish with the whole basil leaves and some lime slices if desired.

Enjoy!