This shop has been compensated by Collective Bias, Inc. and its advertiser. All opinions are mine alone. #ChineseNYeats  #CollectiveBias
Sweet & spicy, quick and easy, delicious and healthy. Celebrate the Chinese New Year with flavor and color!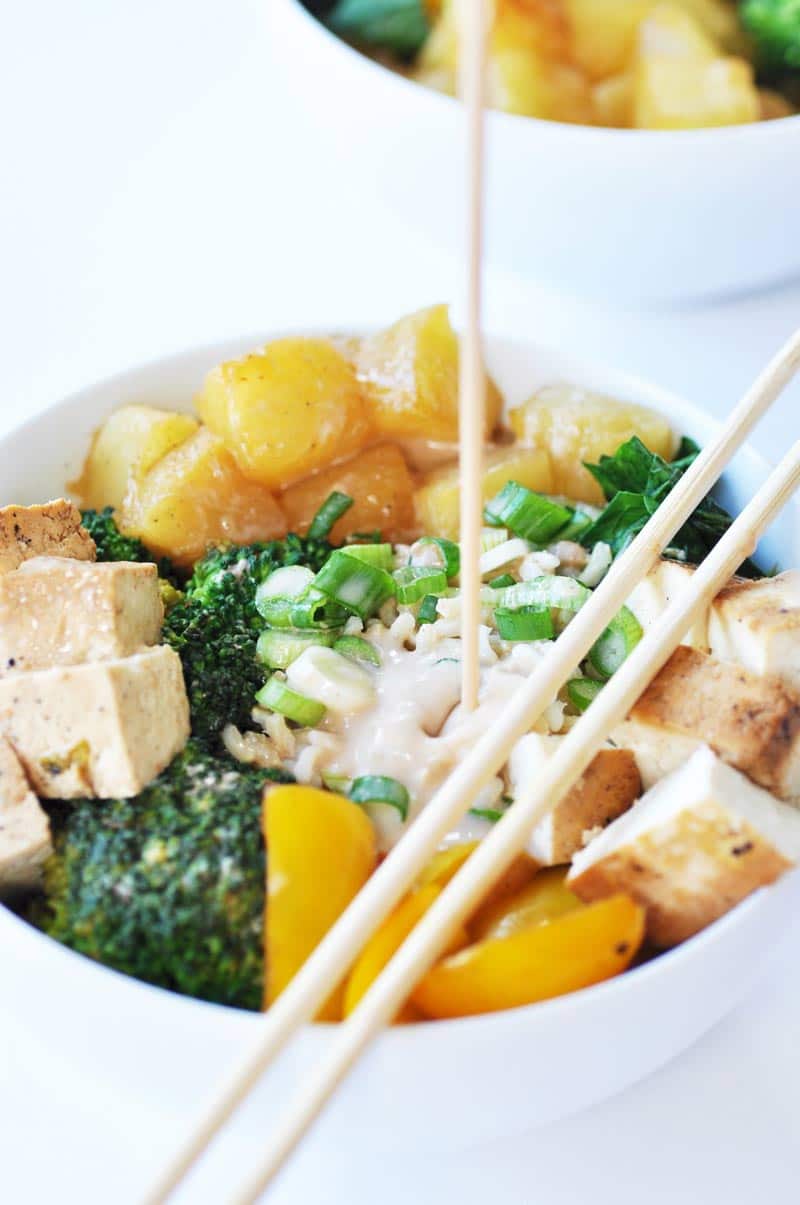 Can we get something out of the way before I move on to this super delicious bowl of Asian goodness? Yeah? Great, here goes.
One bite of this sweet & spicy Asian brown rice and pineapple bowl and my self-control left me. It said, "ciao Bella," you're on your own. And guess what happened when it left the building? I ate the entire bowl of this delectable dish of veggies, pineapple, and coconut soy sauce.
Lies.
I ate two.
And before you start giving me judgy eyes, take a bite of this, because that's all it's going to take before you find yourself sitting on your couch watching HGTV as you lick the last remaining drops of sauce from the bottom of your bowl.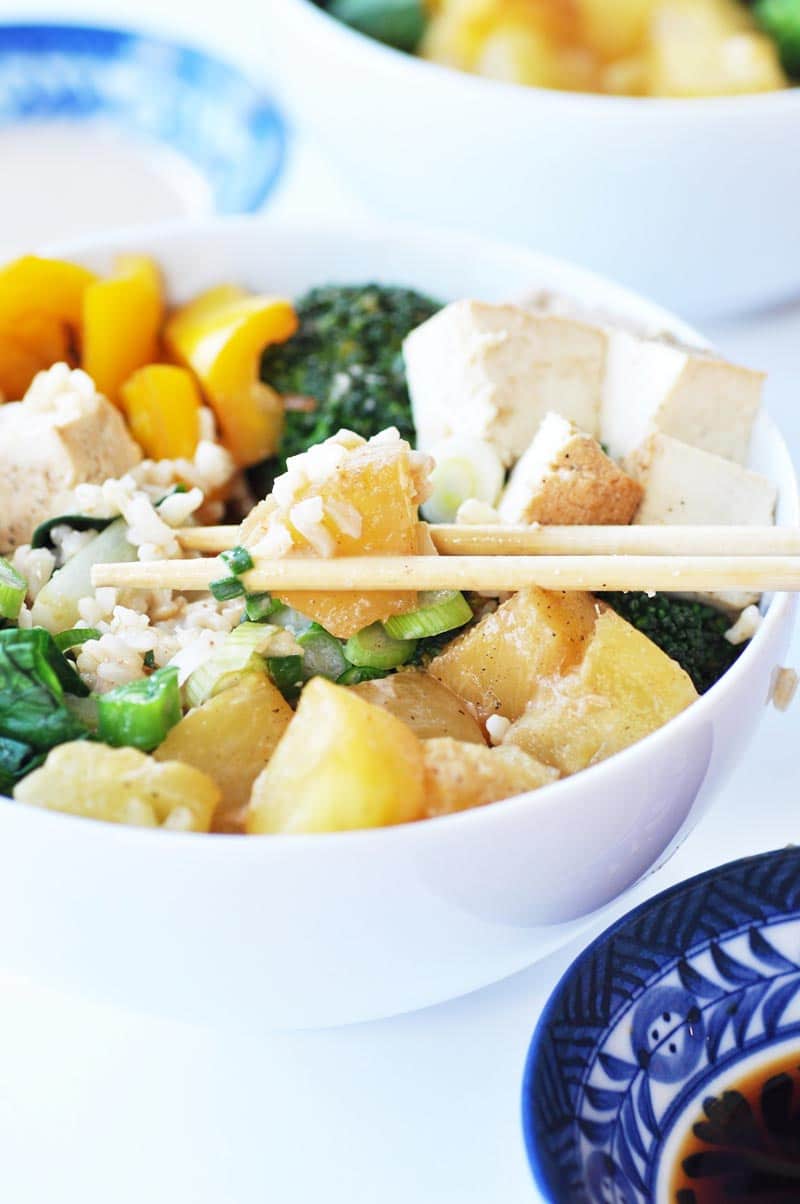 Judgy eyes be gone! Besides, I'm training for a marathon.
That's going to be my excuse for the next eight months.
Now on to this sweet & spicy Asian brown rice and pineapple bowl.
Bowls are the B.O.M.B. right now. And why not? What could be better than piling a healthy carb and a ton of vegetables, plus a yummy sauce, in a big bowl that you get to mix up and eat? It doesn't get much better than that.
This bowl was inspired by the fact that the Chinese New Year is coming up on Monday, February 8. It's the Year of the Monkey. Alex is a monkey. She thought she was a rat for some reason and has been harboring bad will toward her brother because he's a dog. She loves dogs and wanted to be a dog too. Then she discovered that she was wrong, and now she's thrilled because she's a monkey. I'm a rabbit. But I digress.
You can't celebrate the Chinese New Year without eating something Chinese. That would be wrong. Thankfully I've created this crazy good brown rice and pineapple bowl that you can make in less than thirty minutes and be as happy as a monkey.
Because I wanted to use some pineapple juice to marinate the tofu, and to use in the coconut milk sauce that you're going to pour all over the top of this dish, I decided to use Dole Pineapple chunks.  Pineapple is a great source of vitamin C and manganese and aids in digestion.
You'll want to start this recipe by pressing the extra moisture out of the tofu and then marinate it in a pineapple orange juice mix for twenty five minutes while you prepare the rest of the meal.
To Press tofu: Put your tofu on a plate lined with paper towels and then put another layer of paper towel on top and set a heavy pan on the top. Let sit for twenty to thirty minutes. Change the towels after ten minutes. 
Marinate your tofu while you prepare the rest of the dish. Cut it in half lengthwise. This helps it soak up the juice and cook faster. 
While the tofu is marinating make four servings of Minute Rice Brown Rice. I like brown rice because it has more nutrients than white rice and Minute cooks in just ten minutes. Perfect for a busy weeknight. I also love the nutty flavor and chewy texture.
Minute Brown Rice
While the rice is cooking, heat a wok or a large skillet and when it's hot add 1 tablespoon of Kikkoman Teriyaki Sauce to the pan. Teriyaki sauce adds so much flavor and is a great way to saute vegetables without using oil. Add the pineapple and toss it around until it starts to turn a light golden brown. Remove it from the pan and put it in a bowl for later.
You're going to continue the process with the broccoli, bell pepper, and bok choy. Add some teriyaki sauce and the broccoli. Add some teriyaki sauce and the pepper, and so on.
While the vegetables are cooking you can heat a small sauce pan and add 1 teaspoon of teriyaki sauce and the garlic. Cook the garlic for a minute and then add a can of light coconut milk, some soy sauce, a few tablespoons of the pineapple orange juice that you marinated the tofu in, sriracha, and Chinese 5 spice. Bring it to a boil and simmer while you finish cooking the vegetables and the tofu.
The tofu is the last ingredient that you'll want to cook. The wok or skillet that you used to cook the Dole pineapple and vegetables will be nice and hot and will give a nice sear to the tofu. Add a tablespoon of teriyaki sauce and the tofu and cook until both sides are nice and golden brown.
Now it's time to build your sweet & spicy Asian brown rice and pineapple bowl. And let me say that this is NOT a stir-fry. Ain't nothing fried in oil in this dish! Now that we have that straight....
Fill half of the bowl with rice, then add some pineapple, some teriyaki glazed broccoli, yellow bell pepper, and bok choy. Now pour on a liberal amount of the amazingly flavorful spicy coconut soy sauce—I could drink this sauce— which has 37% less sodium than regular soy sauce. Sprinkle some fresh chopped green onion on top and dinner is served.
Alex and I love hearing from you. Please leave a comment and let us know what you think of our recipes. And let's connect! Hop on over to Facebook page and give it a like, or follow us on Instagram or Twitter, and follow us and share this and other Veganosity recipes on Pinterest. We'd be so grateful if you did.