These spicy roasted chickpea lettuce wraps are so fresh, so spicy, and so crisp and crunchy that you won't be able to eat just one. No worries, they're also really healthy and low in calories, so dig in!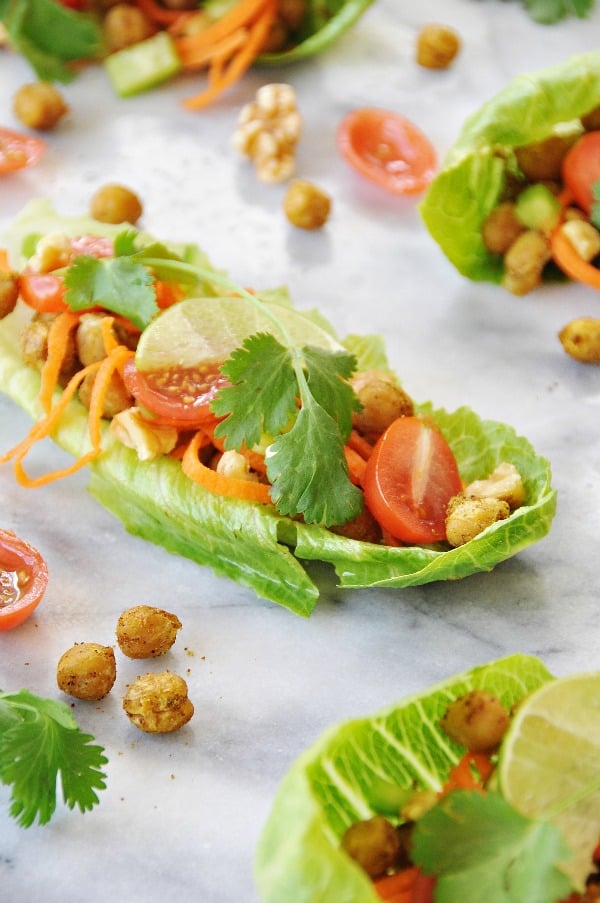 Happy Earth Day! To celebrate I thought it was only fitting to share these insanely good and spicy roasted chickpea lettuce wraps recipe with you. Every ingredient in this dish comes straight from the soil of our beautiful planet, and of course, they're vegan. The only thing that you'll have to dispose of is the can from the chickpeas, and that can be recycled.
Part of this recipe was an accident. I was working on a spicy chickpea taco for Cinco de Mayo, but realized mid-way through cooking that I didn't have any tortillas. We always have them in our pantry, so I was really thrown for a loop when I discovered that they were MIA.
For a split second I thought about scrapping the whole thing and just enjoying the chickpeas as a snack, and then I remembered that I had a bunch of crispy romaine lettuce leaves in the fridge. Lightbulb moment. Love those.
I grabbed some carrots and spiralized (you can shred them if you want) them into pretty, curly ribbons. I chopped up a green pepper, and sliced some cherry tomatoes. And, I rinsed some fragrant cilantro and sliced up some limes. Ahhh, fresh, fresh, fresh aromas in my kitchen makes me a happy lady.
When the chickpeas were perfectly roasted I spooned them into a romaine leaf and topped them with a pile of carrots, green bell peppers, cilantro, tomato, and a generous squeeze of lime juice. Then I took a big bite. Mind. Blown.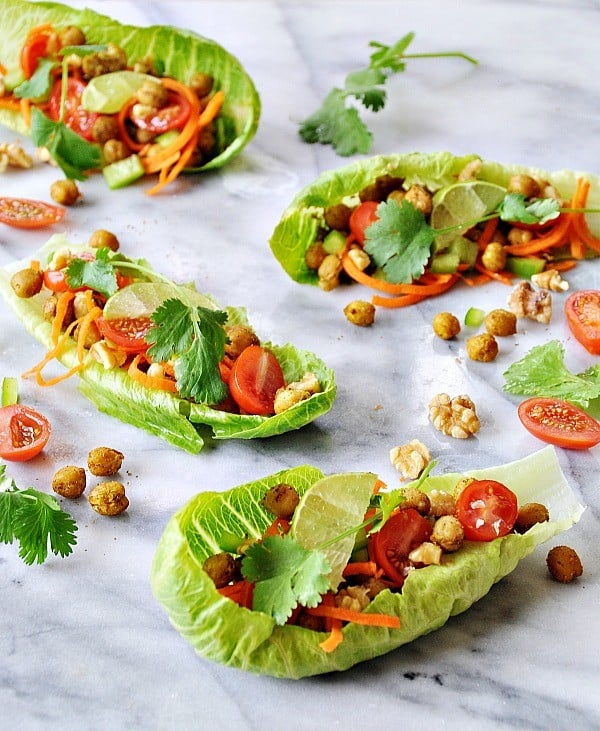 These spicy roasted chickpea lettuce wraps were one of the happiest accidents that I've ever made. What was supposed to be a taco turned into a burst of fresh, tangy, savory, and spicy happiness. The only thing that was missing was an umami flavor, so I lightly toasted some walnuts and added them to my next wrap. Ding, ding, ding, ding….we've got a winner folks!
Let's talk about the spicy roasted chickpeas. If you haven't had them you really need to. They're fabulous! Imagine that I just said "fabulous" in a lyrical way, like an opera singer.
Roasting chickpeas is easy. You can roast them in your oven or on the stove. I chose to roast mine in a skillet so I could monitor them closely. I didn't want them to get too crispy and dry because my vision was to still have some creaminess left in the beans.
You only need to use one teaspoon of oil (I use avocado oil because it has a high smoke point) in this recipe. I tried roasting them without oil and I wasn't thrilled with the result. Once the chickpeas are coated with the oil add some curry, cumin, cayenne pepper, and salt and pepper, then stir to combine. Cook for approximately ten minutes, stirring often. They should be a little crispy on the outside and still creamy on the inside. Test them while you're cooking them. That's what puts the fun in cooking.
There is something very satisfying about eating something that is completely natural and unprocessed – especially on Earth Day.
Think about what's in these spicy roasted chickpea and lettuce wraps. Lettuce, carrots, green bell pepper, garbanzo beans, lime, walnuts, and spices. Every one of them is grown from the Earth. Nothing was produced in a lab, nothing was manipulated or processed, and nothing was harmed in the process of making this food. Doesn't that feel good?
It feels good, and it tastes even better. I ate five of these after I finished photographing them. And guess what? I didn't feel stuffed or gluttonous for eating that much, because I only ate a couple of carrots, part of a bell pepper, five lettuce leaves, a few pieces of cilantro, a handful of walnuts, a few cups of chickpeas, and lime juice. No guilt there folks!
So how are you going to celebrate this amazing planet of ours on this Earth Day 2015? Will you plant a tree? Pick up litter on the side of a road? Start recycling and reducing your carbon footprint? Will you forgo meat and dairy – one of the biggest causes of greenhouse gases and water pollution?
I'm going to plant a lot of trees in my backyard to replace the 20 something ash trees we had to remove because of the Emerald Ash Borer. But I won't be doing it today, because we're still removing trees. Today I will be extra cautious of how my carbon footprint effects the planet, and I will eat more mindfully than ever.
Have a wonderful Earth Day!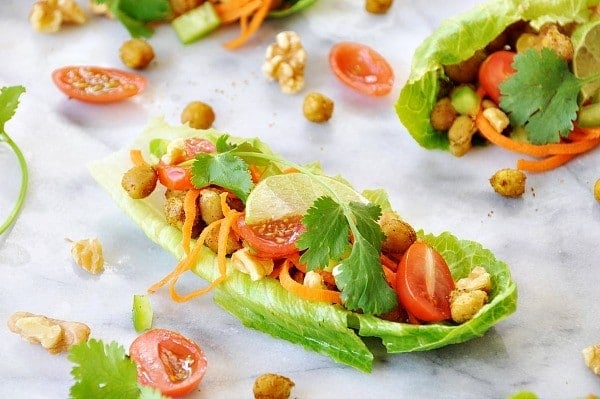 Products I used to make this recipe.
This post may contain affiliate links which won't change your price but will share some commission.

Spicy Roasted Chickpea Lettuce Wraps
Fresh crisp lettuce, carrots, and green bell pepper, paired with spicy and savory chickpeas and walnuts, then brightened with fresh lime juice and cilantro. A healthy and delicious low calorie meal.
Print
Pin
Rate
Ingredients
15

ounces

chickpeas

drained, rinsed, and patted dry

1

teaspoon

vegetable oil

1

teaspoon

curry

½

teaspoon

cumin

¼

teaspoon

cayenne pepper

less if you're heat sensitive

½

teaspoon

ground sea salt

Ground black pepper to taste

8

large leafs of romaine lettuce – washed and dried completely

2

carrots – peeled and spiralized or finely grated

1

green bell pepper – seeded and finely chopped

1

cup

walnuts – lightly toasted

12

cherry tomatoes – sliced thin

8

stalks of cilantro

Juice from one lime
Instructions
Heat the oil in a skillet on medium heat and add the chickpeas. Stir to coat with the oil then add the spices and stir until completely coated. Stir frequently and cook for approximately ten minutes or until the beans are crisp on the outside but still creamy on the inside.

Put the walnuts in the pan a few minutes before the chickpeas are finished cooking to toast them.

Spoon the chickpeas and walnuts into the lettuce leaves and top with the carrots, pepper, tomato, cilantro, and lime juice. Be liberal with the lime, it makes the dish.

Enjoy!
Notes
Feel free to use red cabbage or another sturdy variety of lettuce. 
Walnuts are optional. Cashews, peanuts, or almonds will work, too. 
Add more or less spice to suit your taste. 
Nutrition
Serving:
10
oz
|
Calories:
203
kcal
|
Carbohydrates:
21
g
|
Protein:
8
g
|
Fat:
11
g
|
Saturated Fat:
1
g
|
Polyunsaturated Fat:
8
g
|
Monounsaturated Fat:
2
g
|
Sodium:
167
mg
|
Potassium:
433
mg
|
Fiber:
7
g
|
Sugar:
5
g
|
Vitamin A:
5444
IU
|
Vitamin C:
21
mg
|
Calcium:
63
mg
|
Iron:
3
mg