Simple Curry Tofu & Pineapple! This easy and quick recipe is so perfect for a busy weeknight, and it's great the next day for lunch.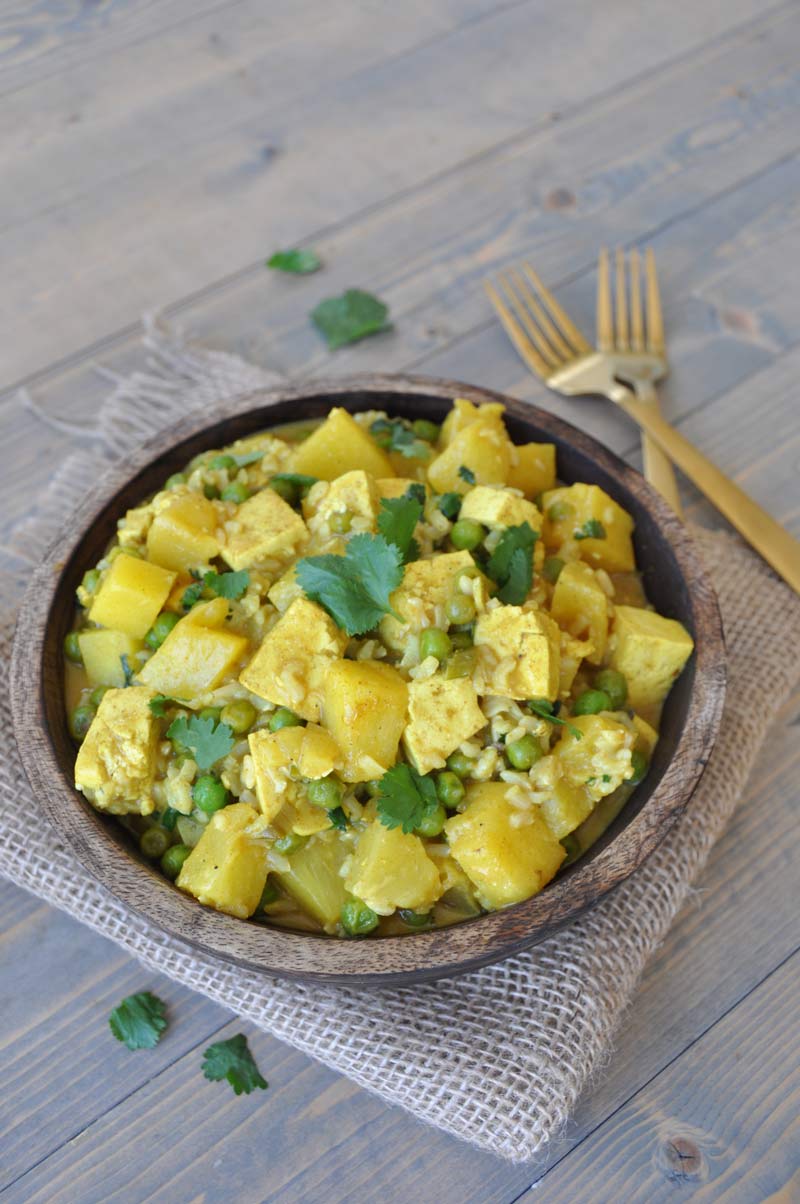 What happens when you crave curry 24/7 and the dull gray spring sky has you yearning for rays of warm sunshine; you make a big pot of golden curried tofu with sweet pieces of pineapple. It will brighten your day, and for a fleeting moment you'll feel like you've been transported to someplace exotic and exciting.
If that sounded like a "Calgon, Take Me Away" commercial, I apologize, that's just me. Corny. But for real, this savory curried tofu is so dang good, and so easy to make, that it has the power to brighten your mood on a cloudy day.
How to Make Curried Tofu and Pineapple
Cut the tofu into cubes.
Cut the pineapple into cubes
Slice the green onions.
Mince the garlic.
Sauté the onions and garlic for a few minutes.
Add the tofu, pineapple, coconut milk, peas, and spices to the pan and stir until combined.
Simmer for 20 minutes to allow the spices to soak into the tofu.
That's it. It doesn't get any easier or more delicious than this, my friends.
You can eat this as is or you could make a few cups of brown rice to mix into the stew. That's what I did and it was such a satisfying meal.
Is Tofu Unhealthy?
Because this recipe contains tofu, and there is so much confusing information about soy in general, I thought I'd share some actual science with you.
I've always questioned those who are anti-soy, mostly because if you look at the cancer rates of cultures that consume a good amount of soy, or tofu, (along with vegetables and little to no animal products) they have a significantly lower rate of heart disease and certain cancers, such as breast, prostate, and colon cancers.
What's interesting, and not surprising, is when the people of those cultures are introduced to a Western diet (meat, dairy, and processed foods), heart disease and certain cancers begin to rise.
Peer reviewed studies that don't involve animals (former studies based on animal research were found not to apply to human research) have discovered that, "… soy products have been shown to lower serum cholesterol levels, in part due to their rich content of soluble fiber, and the isoflavones also play a role in bone formation. Soy products have been shown to reduce estrogen activity, at least in premenopausal women, which, over the long run, reduces cancer risk. The evidence is not as clear for postmenopausal women, but up to three servings of whole soy products are safe to consume for postmenopausal woman with previous history of breast cancer." Physicians Committee for Responsible Medicine.
The above article also states that men don't need to avoid soy either, as the phytoestrogens don't seem to change hormone levels, and in fact, seems to help prevent prostate cancer.
Clearly, I'm not a doctor, so I'm not giving you advice about whether or not you should or shouldn't eat soy, that's up to you. But if you've been confused by all of the junk science and misinformation that's been making its way into your news feed, hopefully this will clear up some of your concerns.
Now go make a big pot of this golden curried tofu and pineapple stew, with savory spices such as curry (duh), cumin, turmeric, ginger, cardamom, and nutmeg, and feel the warmth of sunshine fill you from the inside out.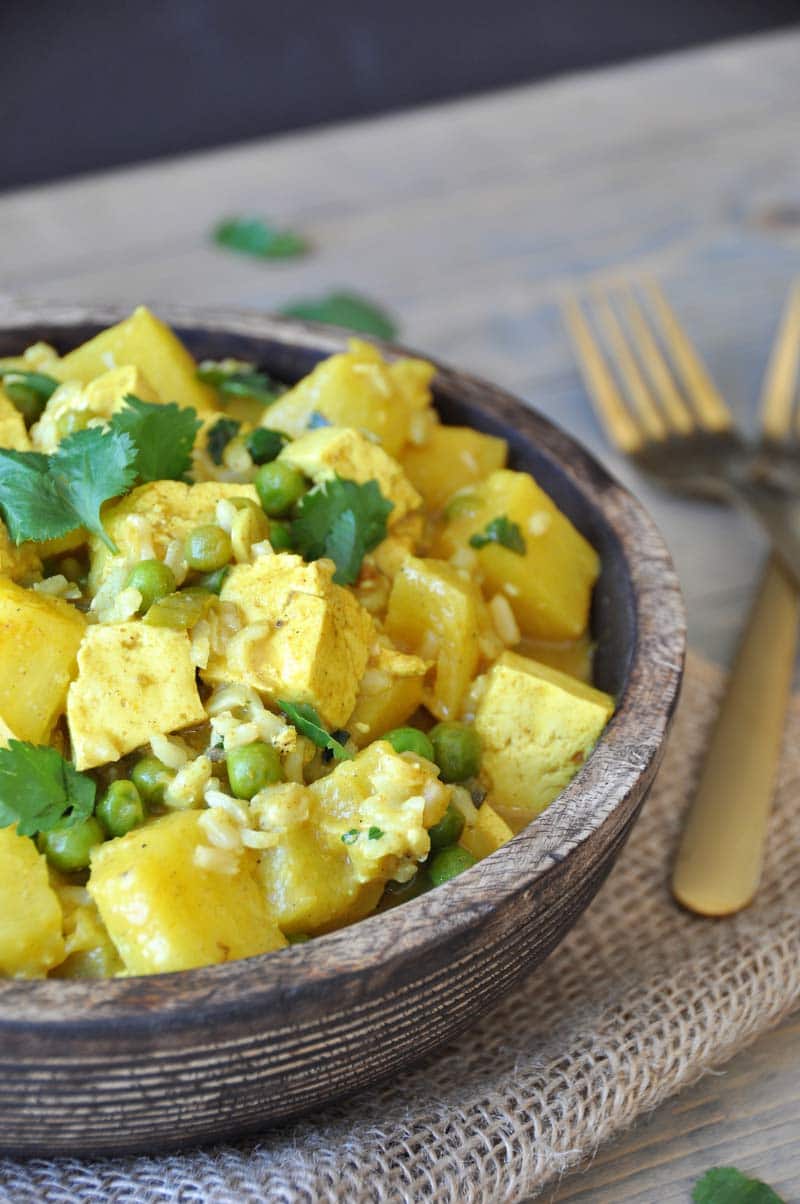 Let's connect! Hop on over to our Facebook page and give it a like, and follow us on Instagram and Twitter, and follow us and share this and other Veganosity recipes on Pinterest. We'd be so grateful if you did. If you like this recipe and can't wait to see what we're going to share next, subscribe to Veganosity. Just fill in the subscription box above our picture in the top right corner of the page. And, Alex and I love hearing from you, please leave a comment and let us know what you think of our recipes.
Simple Curry Tofu and Pineapple
A savory and healthy blend of tofu, pineapple, green peas, cilantro, and mouthwatering spices.
Print
Pin
Rate
Ingredients
1

14 oz [400 g] package of extra-firm tofu

2

cups

365 g cubed pineapple (cut into 1 inch [2.5 cm] cubes)

2

large green onions

thinly sliced

2

garlic cloves

thinly sliced

2

cups

green peas

1

teaspoon

extra-virgin olive oil

1

14 oz [400 g] can of full fat coconut milk

1

tablespoon

8 g curry

2

teaspoon

5 g cumin

1

teaspoon

turmeric

½

teaspoon

ginger

⅛

teaspoon

nutmeg

⅛

teaspoon

cardamom

Sea salt to taste

½

cup

chopped cilantro leaves

stems removed
Instructions
Cut the tofu into 1 inch (2.5 cm) cubes.

Heat the oil in a large skillet on medium-high heat. When the oil is hot, add the onions and garlic and flash fry for approximately 2 minutes. Add the tofu, pineapple, peas, and coconut milk and stir until the milk is uniform. You shouldn't see clumps of the thick milk sitting in the pan. Add the curry, cumin, turmeric, ginger, nutmeg, cardamom, and salt and stir until fully combined. The broth should be a beautiful golden color. Bring to a boil and reduce to a low simmer for approximately 20 minutes. Stir frequently. The liquid will reduce and the broth will thicken. Sprinkle the cilantro and stir well.

Serve over brown rice or eat as is.

Enjoy!