Cannellini bean dip on cucumber chips is a refreshing vegan alternative to cheese and crackers. It's a great springtime snack and perfect for an afternoon happy hour appetizer.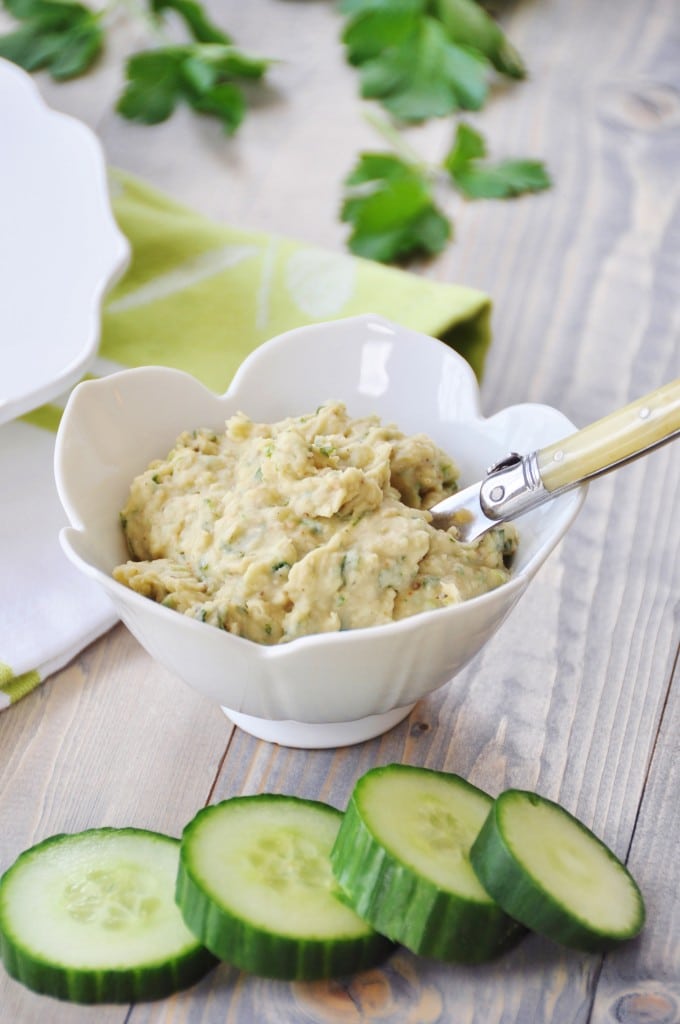 It's Friday! Woot-woot, let the happy hour begin! It's only 8:00 am you say, pshaw, what would Jimmy Buffet say you big party pooper?
I'm kidding, I have never started a happy hour before noon. Unless you count game days in college, or having a beer after a half-marathon, or….okay, never mind.
Spring has sprung, and so have my neighbors. Everyone has come out of hibernation and they're out and about again. We're walking our dogs, running, biking, and doing whatever else people do to have an excuse to get out and enjoy the nice weather. And with all of the "hello neighbor, long winter no see" talk that's been going on around here, the neighborhood happy hours have re-emerged as well.
In honor of that, and the fact that swimsuit season is almost here, I wanted to make a healthy, light, low calorie, big flavor appetizer, like this simple cannellini bean dip on cucumber chips.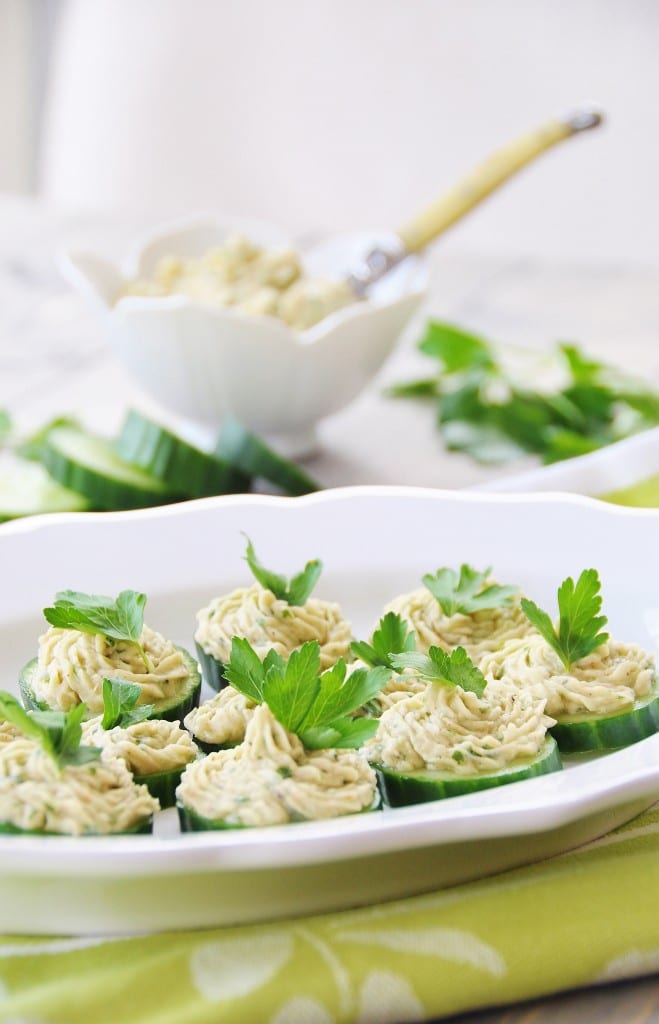 This dip is so easy and quick to make, it's perfect for a last minute get together. It's also pretty darn fresh and light, like springtime. All you need to make this is a can of cannellini beans, a clove of garlic, a cup of basil leaves, olive oil, salt, cayenne pepper, ground black pepper, and a food processor. Load the ingredients into the processor and grind those beans up until they're smooth and creamy. Like I said, EASY!
Making the cucumber chips are a little more difficult. KIDDING! Wash a cucumber and slice it into ¼ inch thick circles. Bing, bang, done.
If you want to get all fancy you can spoon the dip into a piping bag or a plastic sandwich bag (cut a corner out) and artfully squeeze the dip on the cucumber chips. Or, you can go rustic and just spread the dip on them. Do what you feel. It's all good.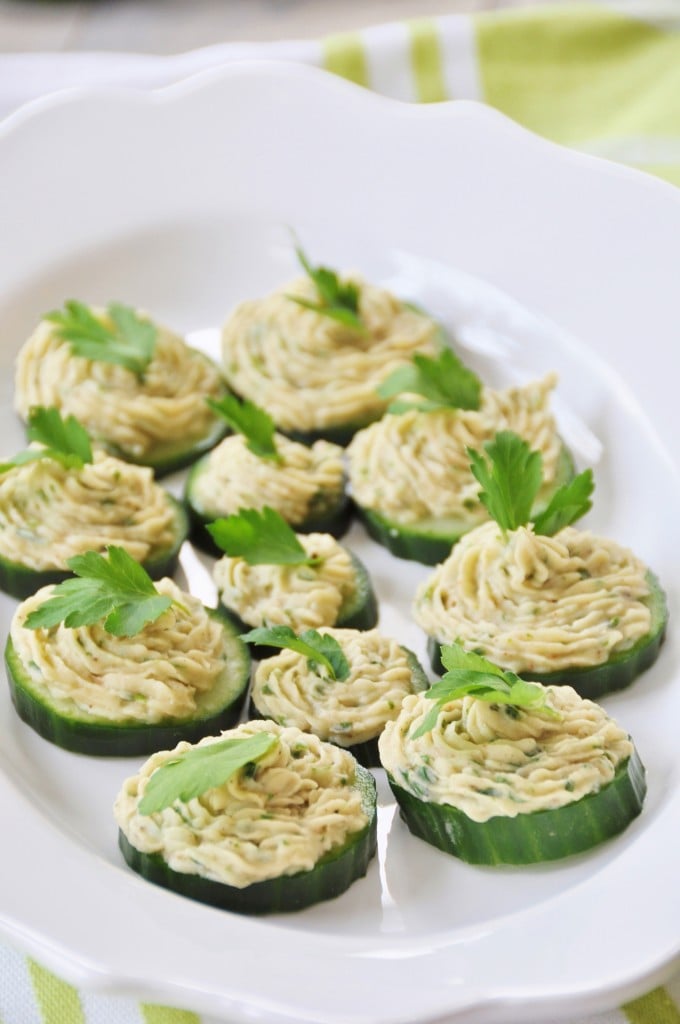 This cannellini bean dip on cucumber chips is a refreshing change from cheese and crackers. The cucumber is fresh, crunchy, and a little bit wet. The dip is creamy, savory, and spicy. Together they are all of that in one.
Reread the paragraph above and tell me that it doesn't sound like something out of a cheesy romance novel. "He was such a refreshing change from the other men she had dated. He made her feel fresh, crunchy, and….." Am I right? Describing food can sometimes feel so wrong.
But you know what? There's nothing wrong with this appetizer. It's perfect for a quick midday snack, or for lingering over a glass of wine and good conversation with your friends. Try it, you'll like it!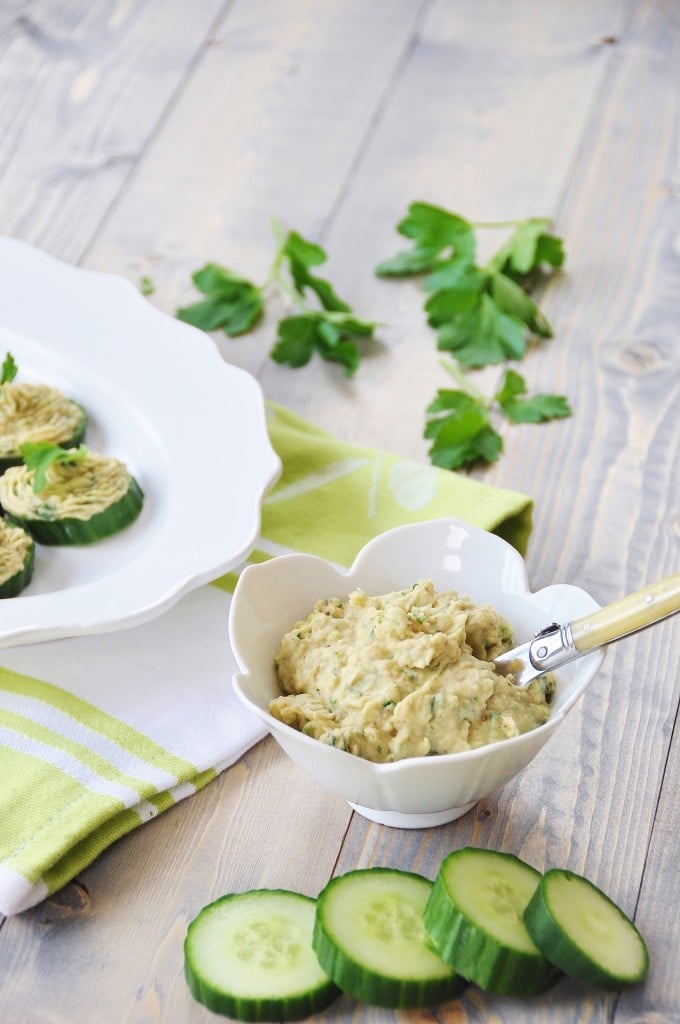 Have a fabulous weekend my friends!
This post may contain affiliate links which won't change your price but will share some commission.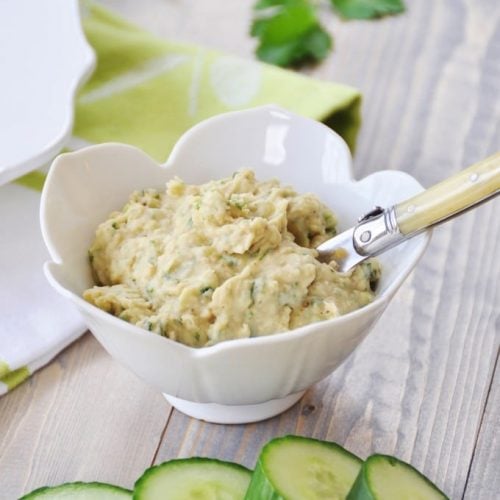 Cannellini Bean Dip on Cucumber Chips
A refreshing and light appetizer. A great alternative to cheese and crackers.
Print
Pin
Rate
Ingredients
1 16

ounce

can of cannellini beans

drained and rinsed

1

clove

of garlic – with the skin on

put it in a small pan of boiling water for 30 seconds then remove and take the skin off. This will reduce the sharpness of raw garlic.

1

cup

of fresh basil leaves

1

tablespoon

of extra virgin olive oil

½

teaspoon

of salt

¼

teaspoon

of cayenne pepper

start with an ⅛ of a teaspoon and add more if you're sensitive to spicy food

Ground black pepper to taste

1

large cucumber – wash and pat dry then slice into ½ inch thick rounds
Instructions
Add all of the ingredients (except the cucumber) to a food processor and blend until thick and creamy. Spread the dip on the cucumbers.

Refrigerate in an air tight container for up to 4 days.