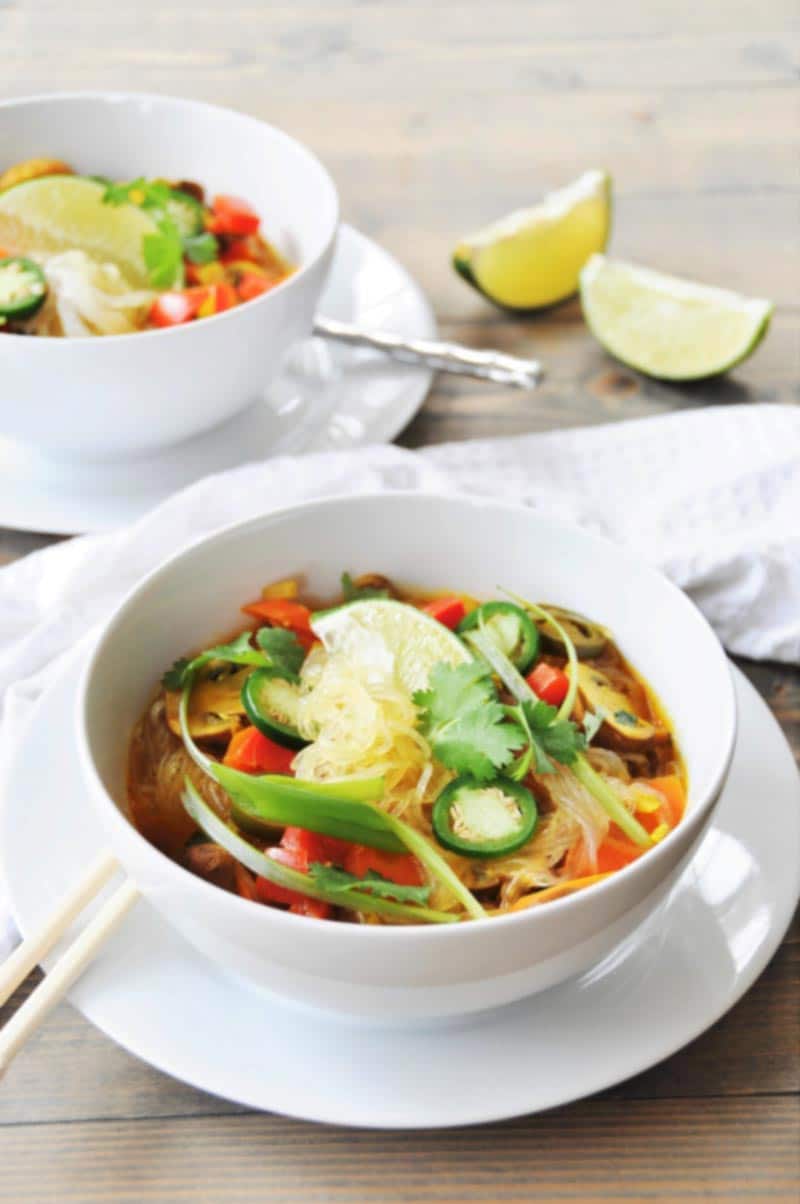 The zen of eating lives in this Asian vegetable & glass noodle soup. It soothes your soul while it excites your taste buds. It's like yoga for your mouth.
This recipe creation happened because of a case of the hangries. My refrigerator was low on veggies and I was hungry and cranky. I knew that if I went to the supermarket feeling like that, I'd come home with too much food, and things that I didn't really want or need. Yes, you, potato chips.
Instead of risking that pathetic scenario, I scraped together what I had in my fridge and pantry and made this delicious glass noodle soup. One slurp and it was straight to happy land. Ommm….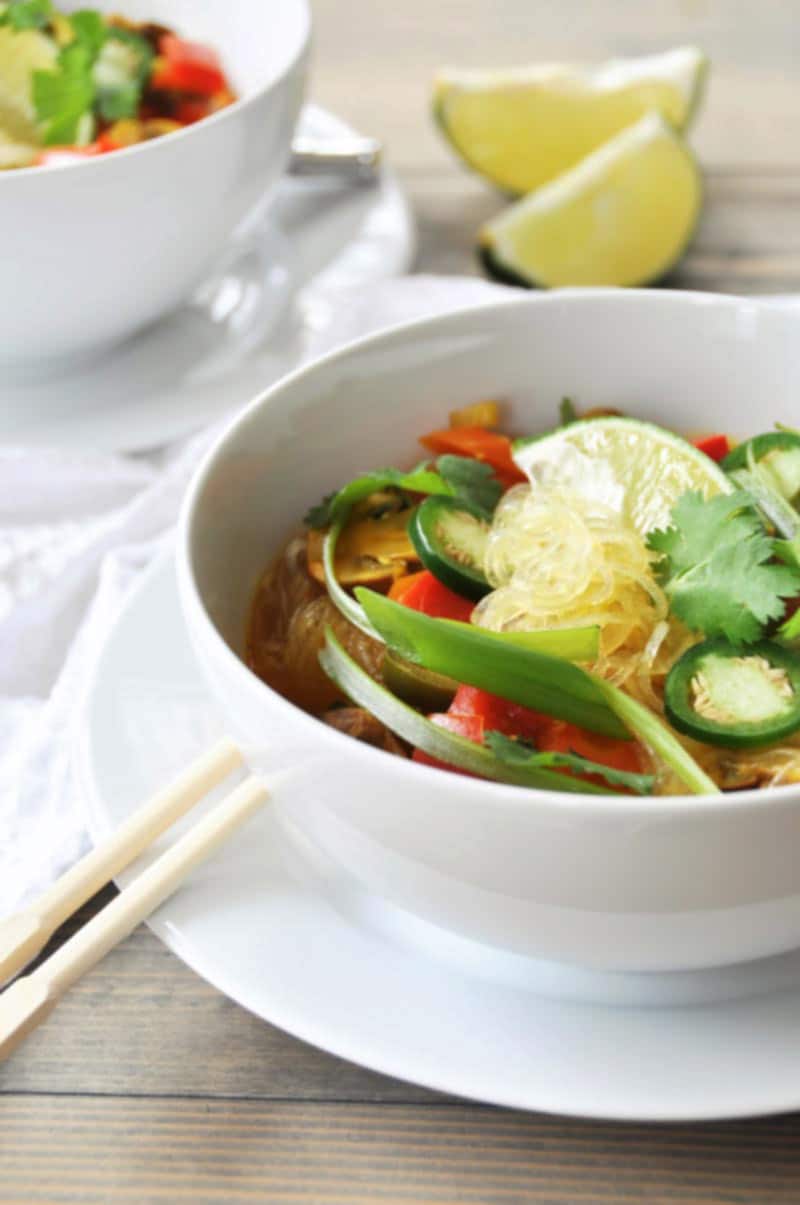 My love of all things Mexican food saved my lunch time stomach rumblings, and took me on a quick trip to Asia. Don't you love how cilantro, lime, and jalapeno peppers are a big part of both cultures?
Here's what you'll need to put together this Asian vegetable & glass noodle soup:
Vegetable broth, carrots, green onions, jalapeno peppers, a red bell pepper, mushrooms, garlic, turmeric, ginger, soy sauce, lime, cilantro, and glass (cellophane) noodles.
If that sounds like a lot, it really isn't. The spices are probably already in your kitchen. And if you eat a lot of Mexican food, or Asian food, you most likely keep limes, peppers, and cilantro in stock like you do toilet paper.
This Asian noodle soup comes together in less than thirty minutes, and it's so easy to make. All you'll need to do is chop your veggies, sauté them for five minutes, and then cook them in the vegetable broth and spices for twenty five minutes. Ten minutes before the soup is ready, soak the glass noodles in hot water. That's it. Nothing difficult or tricky. This is easy at its finest.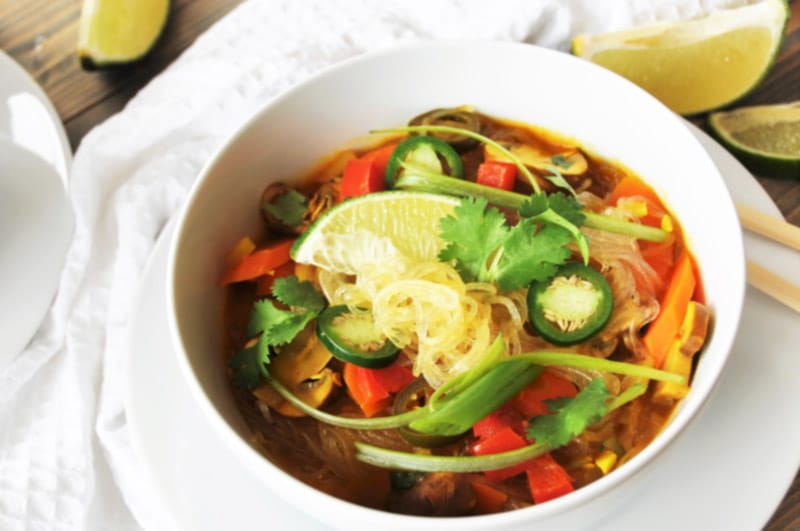 ANNOUNCEMENT!
Some of you may have heard—if you read Veganosity regularly—that I'm training for the 2016 Chicago Marathon. My fitness regime isn't all about running the distance, it's also about getting stronger so I don't injure myself; eating well, for strength and energy; and working on my mental toughness, so I don't freak out and lose it in the middle of the race.
I'm running for the Alzheimer's Association to help find a cure for that dreadful disease. Unfortunately, I know this disease all too well, and the impact it has on the patient and the patient's family. My father lost his battle, after a valiant ten year fight, two years ago. It's because of all that he and my family went through, and never wanting another family to experience the pain of Alzheimer's, that I will run, and finish, that 26.2 mile course.
I've hired a running coach, Susie, and I know enough about nutrition and working out, thanks to Alex, Susie, and my own knowledge, that I totally believe that I'll do really well. Or, at least I know that I'll finish. And, I know that my dad will be there with me, gently nudging me forward when I get tired, because that's what he always did. He encouraged, supported, and gave me just enough help to make it in life.
If you would like to support me and the Alzheimer's Association to help find a cure, please click this link and donate to the cause.
Beginning this Friday I'm going to show you what I eat on a typical day. I'll also share some of my training progress with you. And, once a month, I'm going to show you what I ate for the month! Why would I do that? Because I get so many questions from readers about fitness and protein, and questions about what I eat on a day to day basis to stay healthy and energized. If you can see what I eat each and every day for a month, I think you'll begin to see just how healthy and not boring a plant-based diet is.
I'm off to make some more Asian vegetable & glass noodle soup. How about you?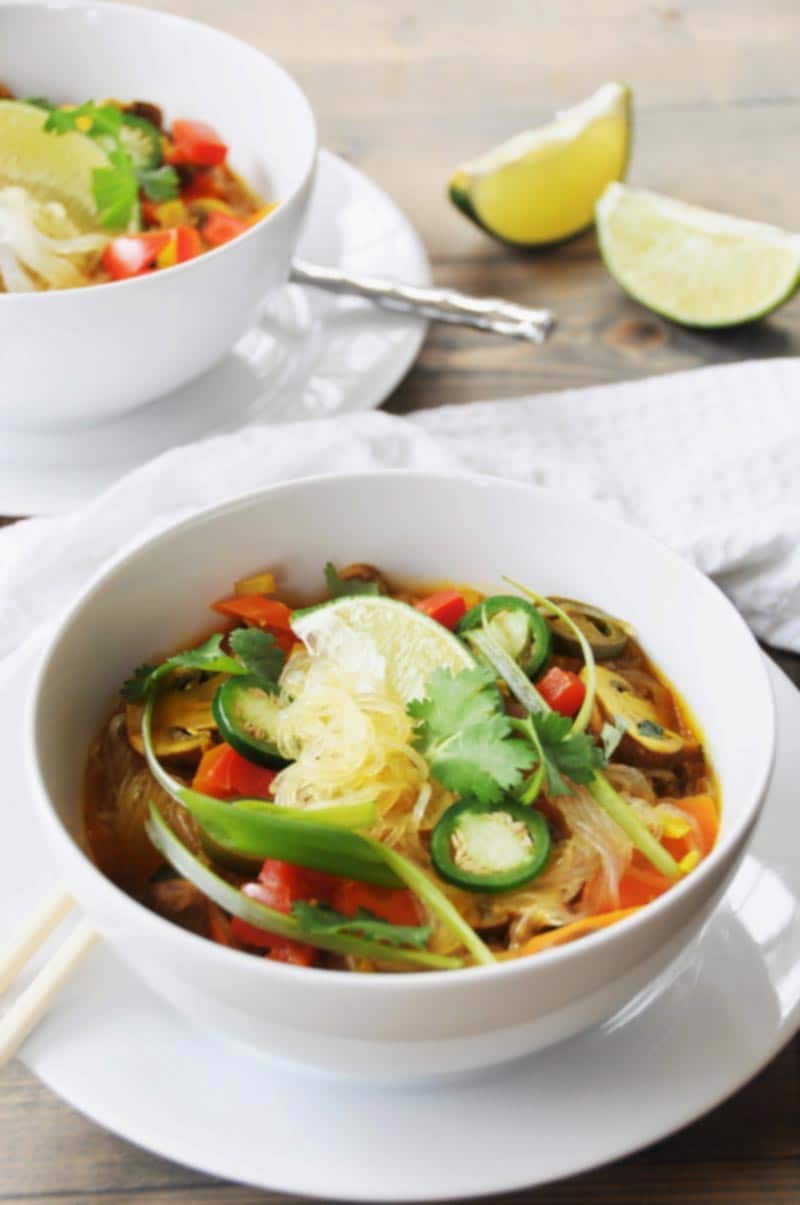 Tell me:
Do you know anyone who had or has Alzheimer's?
Have you ever run a marathon? Tell me about it.
Do you have any questions about how to stay satisfied on a plant-based diet?
Do us a favor, we want to show the world that plant-based foods are delicious and exciting. So let's connect and share all of this awesomeness with the world. Hop on over to our Facebook page and give it a like, and follow us on Instagram and Twitter, and follow us and share this and other Veganosity recipes on Pinterest. We'd be so grateful if you did. If you like this recipe and can't wait to see what we're going to share next, subscribe to Veganosity. Just fill in the subscription box above our picture in the top right corner of the page. And, Alex and I love hearing from you, please leave a comment and let us know what you think of our recipes.
Asian Vegetable & Glass Noodle Soup
A healthy and easy vegetable and glass noodle soup that's perfect as a meal or a side dish.
Print
Pin
Rate
Ingredients
1

teaspoon

vegetable oil or 3 tablespoons of vegetable broth

3

medium carrots – sliced diagonally about ¼ inch thick

4

green onions – sliced ¼ inch thick

reserve some for garnish

2

jalapeno peppers – sliced in ¼ inch rounds

set ½ of one aside for garnish and cook the rest

1

small red bell pepper – seeded and finely diced

8 to 10

baby mushroom caps – sliced about 14 inch thick

I used baby bellas, you can use whatever you have on hand

2

cloves

of garlic – minced

32

ounces

of vegetable broth

1

teaspoon

of ground ginger or 1 tablespoon of fresh grated ginger

1

teaspoon

of turmeric

1

tablespoon

of soy sauce

I use low-sodium

Juice from ½ of a lime

approximately 3 tablespoons Slice the rest of the lime for garnish

2

tablespoons

of coarsely chopped cilantro + a few stems for garnish

Sea salt to taste

1 8

ounce

package of glass cellophane noodles
Instructions
In a large sauce pan heat the oil or vegetable broth on medium heat. When the oil or broth is hot add the carrots, onion, jalapeno, bell pepper, and mushrooms and stir to combine. Cook for five to seven minutes or until the vegetables begin to soften and brown along the edges, stir frequently. Add the garlic and cook for one minute. Add the vegetable broth, ginger, turmeric, soy sauce, and lime juice and bring to a boil. Reduce the heat to a simmer and cook for 25 to thirty minutes or until the carrots and bell peppers are easily pierced with a fork. Add the cilantro and sea salt (if desired) just before serving.

While the soup is simmering bring a medium pot of water to a boil. Turn off the heat and add the glass noodles. Let them soak for at least ten minutes. Drain in a colander.

Add as many noodles as you like to a bowl and pour the soup over them. Garnish with green onions, jalapeno, lime, and cilantro.

Enjoy!
Nutrition
Serving:
8
oz
|
Calories:
284
kcal
|
Carbohydrates:
68
g
|
Protein:
3
g
|
Fat:
1
g
|
Saturated Fat:
1
g
|
Polyunsaturated Fat:
1
g
|
Monounsaturated Fat:
1
g
|
Sodium:
1207
mg
|
Potassium:
425
mg
|
Fiber:
3
g
|
Sugar:
7
g
|
Vitamin A:
9269
IU
|
Vitamin C:
53
mg
|
Calcium:
49
mg
|
Iron:
2
mg