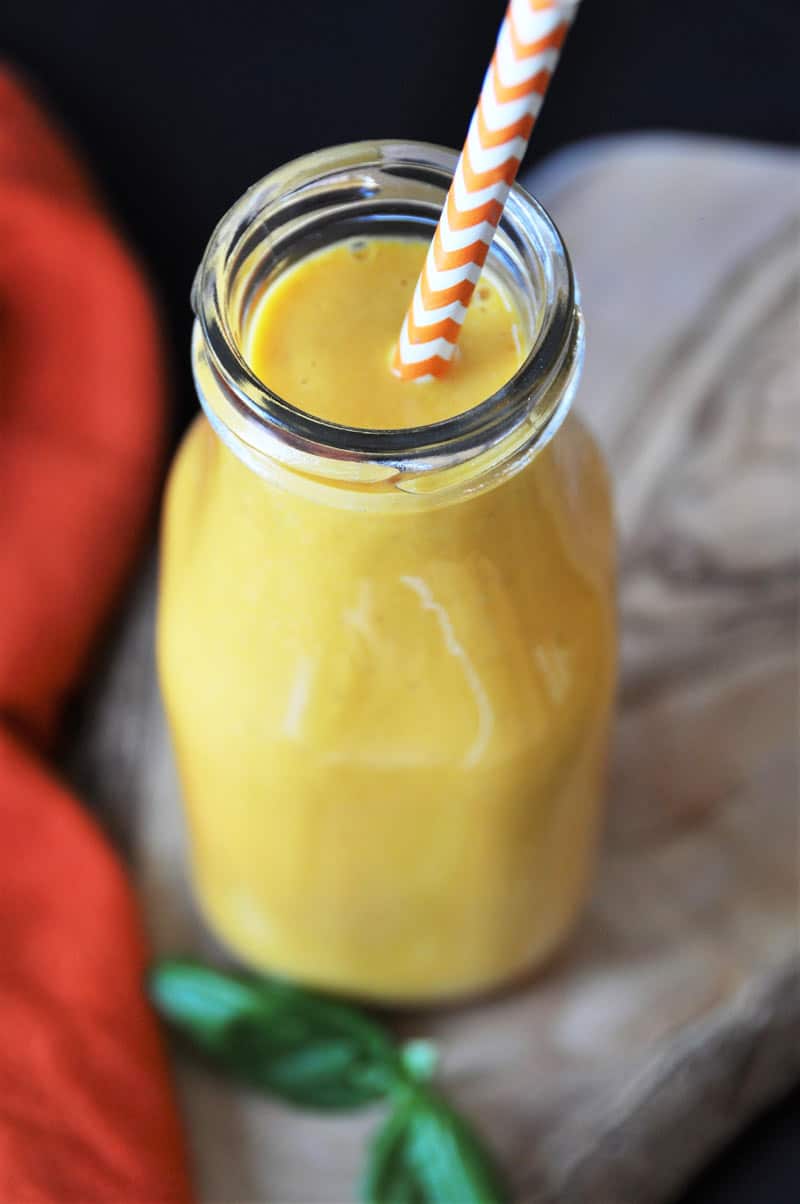 Vegan Carrot Turmeric Ginger Smoothie
What can reduce inflammation, may prevent Alzheimer's disease and certain types of cancer, lowers the risk of heart disease, can help treat depression, and may delay aging and diseases that come along with aging? Turmeric. One simple spice that you should consider adding to your diet on the daily.
If you love curry, then you've most likely consumed turmeric. It's the herb that gives curry its wonderful flavor and color. However, few people eat curry every day, and that's why this carrot smoothie with fresh turmeric and ginger is the perfect way to turn on the antioxidants and turn off the inflammation, every single day of the year.
In case you weren't aware of the health benefits of turmeric, here are some facts that you might be interested in.
The Health Benefits of Turmeric
Turmeric contains several potent medicinal compounds, the most important one is curcumin. Curcumin is a powerful antioxidant that:
Reduces inflammation
Improves brain function
Is thought to reduce the risk of heart disease
May help prevent—and possibly treat—certain types of cancer
Is thought to help prevent and treat Alzheimer's disease
You can read more about it here.
NOTE: Pregnant women and people with certain diseases should not consume turmeric. Always check with your doctor before adding a new food to your diet.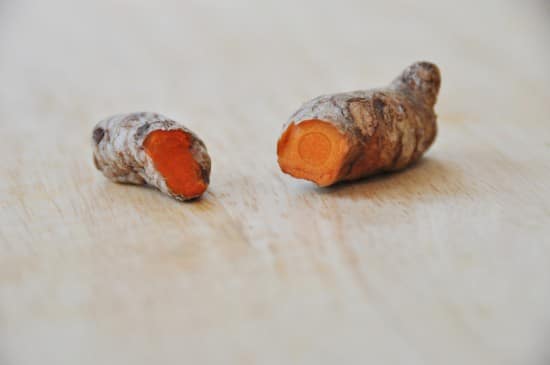 To get the most benefit from turmeric and curcumin you need to eat it with black pepper and a healthy fat. By doing so you will help your liver absorb the healthy compounds that can help you fight disease.
When I first heard about the importance of combining pepper and fat with turmeric (thanks to my son) to get the most out of this ancient spice, I immediately thought of curry. My curry recipes, such as this one, always contain pepper and coconut milk, which has fat in it. However, as much as I love eating it, I knew that it was unrealistic to make it every single day. Thankfully, my son told me about a turmeric carrot juice that he ordered, and suggested that I try making one at home.
After several tries, I finally created a carrot smoothie with turmeric and ginger that is not only healthy, it's delicious. For the fat component I added raw cashews, which made the smoothie nice and creamy.
I'll spare you the stories of the bad experiments, let's just say that carrots, water, turmeric, black pepper, and ginger alone is not the most pleasurable thing to sip on. But this carrot turmeric smoothie recipe is fantastic. It was hard to photograph because all I wanted to do was drink it all up.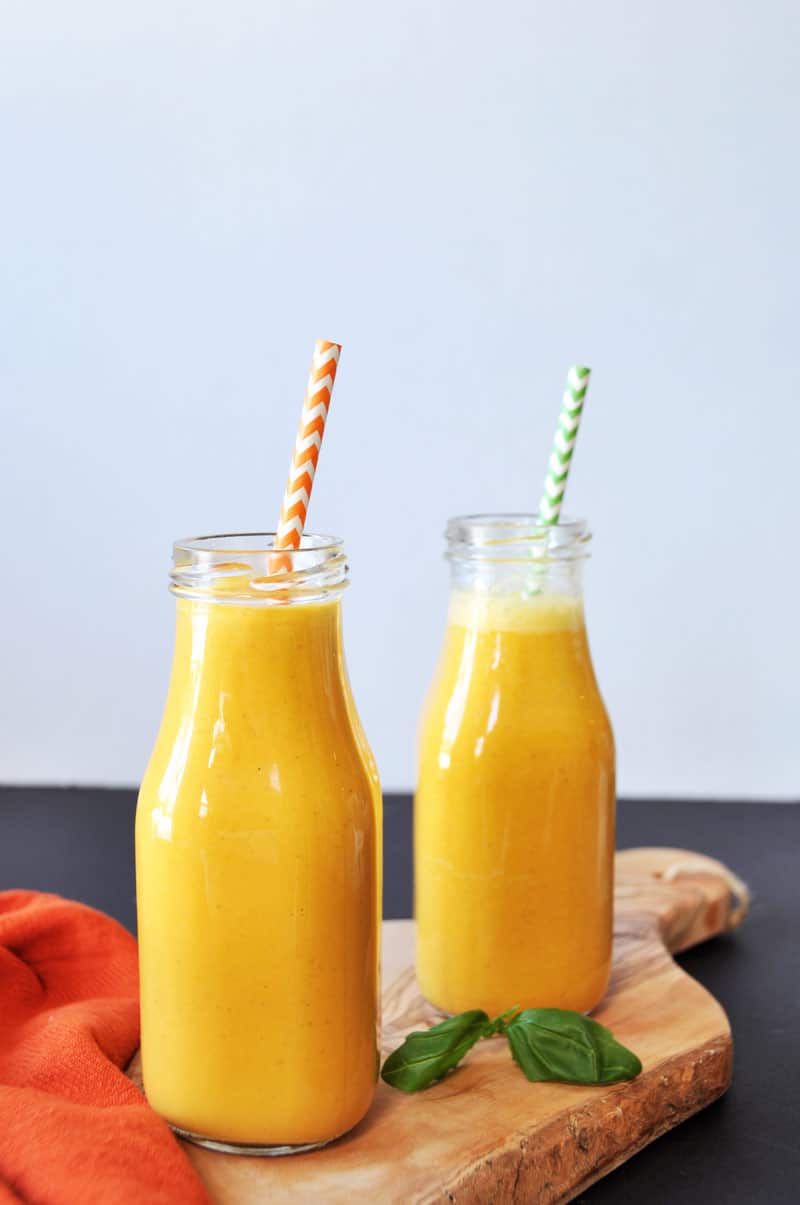 As my long time readers know, my father passed away at from Alzheimer's two years ago. He was only seventy-two. Also, there is a lot of cancer on my mother's side of the family. Because of this, I try to eat as clean as possible and exercise daily, and now I add a daily dose of turmeric to my diet with this delicious and creamy carrot turmeric smoothie.
To make it easier and faster to make this smoothie in the morning, I suggest peeling and mincing the fresh turmeric and ginger all at once and storing it in an airtight bag in the refrigerator. I also recommend using a high powered blender such as a Blendtec
or Vitamix
That's really the only way to blend the carrots so you won't have big pieces in your smoothie.
I'm on my way to whip up one of these lovelies right now, you make one too and let me know what you think.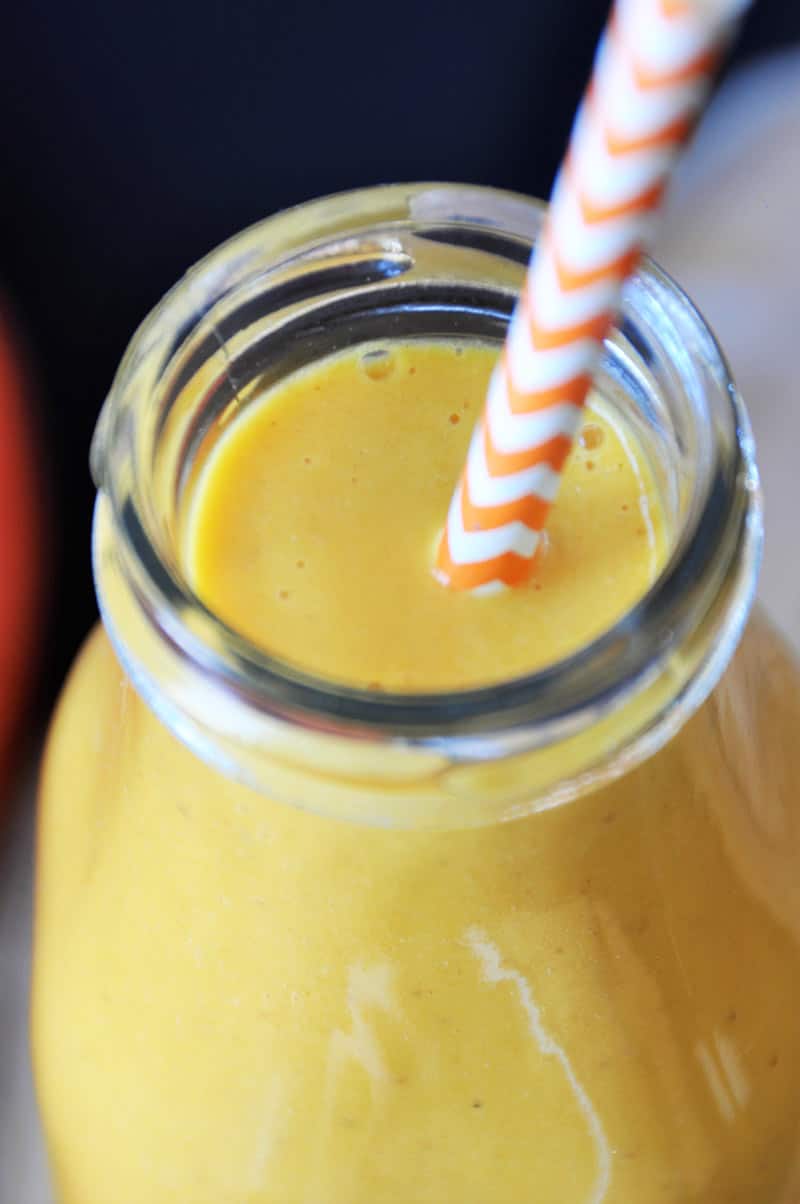 Let's connect! Hop on over to our Facebook page and give it a like, and follow us on Instagram and Twitter, and follow us and share this and other Veganosity recipes on Pinterest. We'd be so grateful if you did. If you like this recipe and can't wait to see what we're going to share next, subscribe to Veganosity. Just fill in the subscription box above our picture in the top right corner of the page. And, Alex and I love hearing from you, please leave a comment and let us know what you think of our recipes.
This post may contain affiliate links which won't change your price but will share some commission.