Print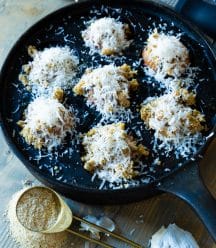 Roasted Garlic Parmesan Mushrooms
This delicious and simple roasted mushroom and garlic recipe is similar to escargot, only better, because no snails were harmed in the making of it.
Preheat oven to 350°F (175°C)

Put the garlic and olive oil in a oven safe bowl or sauce pan and roast for 20 minutes.

Increase the oven temperature to 400°F (204°C)

Carefully whisk the herbs and salt in the oil and evenly spoon half of it over the mushrooms (stem side up).

Stir the breadcrumbs into the remaining garlic infused olive oil and put a dollop on top of each mushroom.

Sprinkle the grated Parmesan over the mushrooms and roast for approximately 15 minutes or until they're tender and golden.

Grate more Parmesan on top if desired and serve hot.
The Nutrition Facts are an estimate only.
If you don't have an Aebleskiver pan you can roast the mushrooms in a baking dish.