This shop has been compensated by Collective Bias, Inc. and its advertiser. All opinions are mine alone. #ReimagineCereal #CollectiveBias 
Strawberry shortcake for breakfast without the guilt. It's time to make breakfast fun again! 
Bring on summer! Bring on all of the delicious and fresh produce that comes with it, like strawberries. Nothing makes me happier than a big, sweet, juicy strawberry. Actually, that's not true, you know what makes me happier than one fat gorgeous berry? A bowl of them. A bowl of them whirred up in a frozen concoction with almond milk, coconut whip, and Kellog's Corn Flakes. Now that makes me deliriously happy.
Happy vibes should begin the moment you wake up and then continue through the day. Don't you agree? To guarantee that you're going to keep that smile from turning upside down, you need to eat a good breakfast, and by good, I mean REALLY good. It doesn't have to be elaborate or time consuming, it just has to look pretty, taste good, and nourish your body so you can be the super hero that you are all morning long. This strawberry shortcake smoothie bowl with coconut cream and Corn Flakes ticks all of those boxes.
Now that the kiddos are out of school for the summer, you're going to want to entice them with something a little more magical than a simple bowl of cereal in the morning. What could be more alluring than a dessert for breakfast? Only, it isn't dessert, although, I'd eat this for dessert. Okay, let's throw all rules out of the window and just say that this smoothie bowl with strawberries, coconut cream, and corn flakes is a breakfast "dessert" that you can feel good about eating.
Breakfast or Dessert? I say it's both!
My son and his girlfriend were home when I made this delicious out of the box vegan strawberry short cake recipe, and they loved it so much that they didn't leave much for me. It was bittersweet. I was thrilled that they enjoyed it as much as they did, and I was so bummed that I couldn't dig into that big bowl of frozen, crunchy bliss.
Speaking of frozen and crunchy, let's talk textures. There are so many fun things going on in this strawberry breakfast smoothie bowl that it's like one big fun food party. The frozen strawberry smoothie is creamy, yet icy, and it has a few pieces of frozen strawberries left in it—you can blend yours into a totally smooth concoction, I just like to chew on the small pieces of fruit. The whipped coconut cream is fluffy, smooth, and velvety, the whole strawberries are sweet and meaty, and the corn flakes bring the crunch.
The flavors are pretty awesome as well. You'll get the sweet and slightly tangy burst of strawberry, the coconut whipped cream is mild and tropical with a hint of vanilla, and the Corn Flakes are similar to what you'd get if you made a light cornbread short cake. Pure breakfast heaven.
Let me show you how easy this frozen breakfast treat is to make.
How to Make a Vegan Strawberry Shortcake Smoothie Bowl
Blend almond milk, frozen strawberries, lemon juice, and hemp seeds (for added protein and omegas) in a high powered blender. You can buy frozen strawberries for the smoothie or put some fresh berries in the freezer the night before.
Whip up the coconut cream.
Put a layer of Kellogg's Corn Flakes on the bottom of a bowl.
Put a layer of the smoothie over the Corn Flakes.
Put a layer of coconut whipped cream on the smoothie.
Slice fresh strawberries over the coconut cream.
Repeat the layers and decorate the top with the remaining ingredients.
Eat. Smile. Have a great morning.
In case you were wondering where the inspiration came from for this fun and tasty strawberry breakfast smoothie bowl, I'll explain.
As I said before, my son and his girlfriend where visiting and he eats like a horse. Nonstop. I bought several boxes of cereal so that he'd have something to grab in the morning to avoid being hangry. No hangry people allowed in my happy summer world. After I picked up a few boxes of Kellog's Corn FlakesI strolled over to the produce section and grabbed some gorgeous organic strawberries. Thank you, Jewel-Osco! When I got home from shopping I was hungry and the berries and the warm summer sun made me crave strawberry shortcake. My son wanted a smoothie bowl, I wanted cake, the universe gifted me with a creative moment, and the big bang of unique and awesome breakfast moments happened.
Speaking of breakfast and kids, this is the kind of meal that you can make with your little ones. They'll love all of the colors. Let them decorate the tops. It will be like a morning art project that you can eat.
You can also make pretty strawberry smoothie parfaits for breakfast, or serve them for dessert.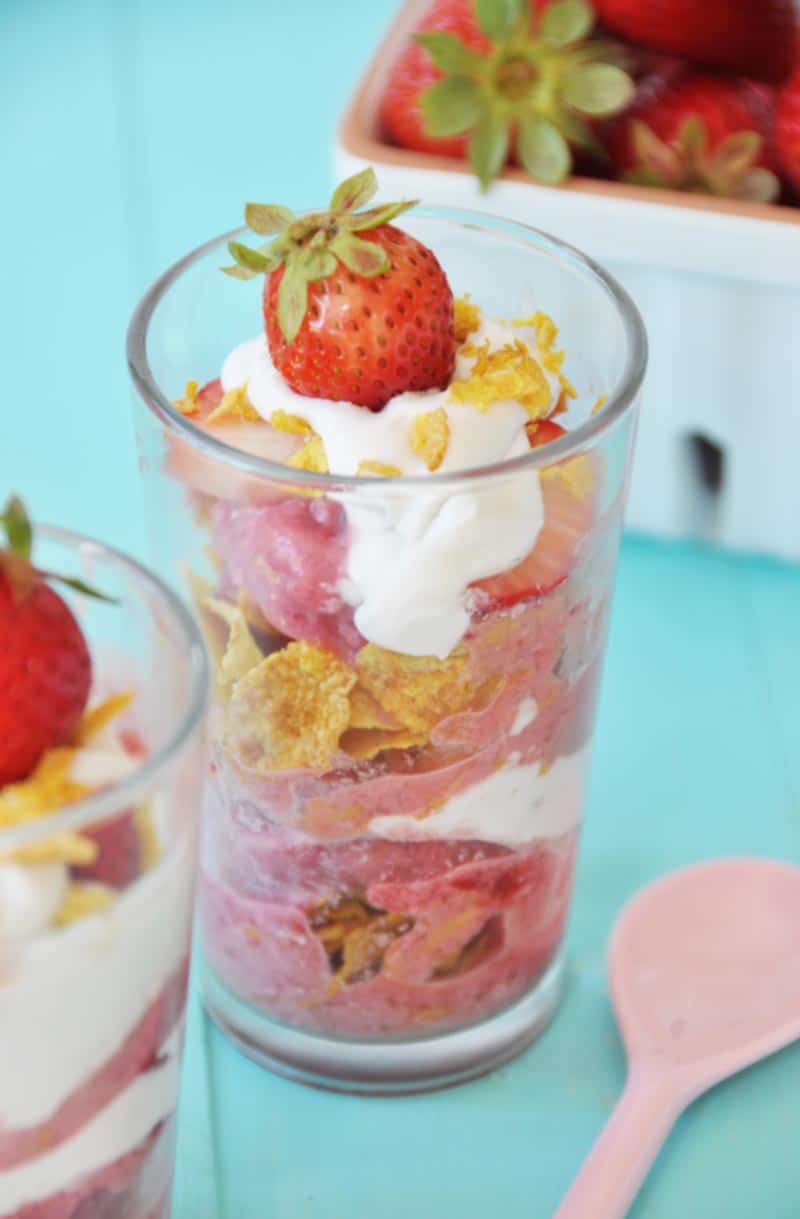 Tell me:
What's your favorite flavor of smoothie?
When do your schools release the scholars?
Smoothie or smoothie bowl?
Do us a favor, we want to show the world that plant-based foods are delicious and exciting. So let's connect and share all of this awesomeness with the world. Hop on over to our Facebook page and give it a like, and follow us on Instagram and Twitter, and follow us and share this and other Veganosity recipes on Pinterest. We'd be so grateful if you did. If you like this recipe and can't wait to see what we're going to share next, subscribe to Veganosity. Just fill in the subscription box above our picture in the top right corner of the page. And, Alex and I love hearing from you, please leave a comment and let us know what you think of our recipes.
Linda and Alex at Veganosity
Yields 2
Vegan Strawberry Shortcake Smoothie Bowl
A frozen strawberry smoothie bowl that tastes like a dessert, but it's guilt free and good for you.
10 minPrep Time
10 minTotal Time
Ingredients
Note: Chill the coconut cream over night for best results.
For the smoothie:
1 and 1/4 cup of unsweetened almond milk
4 cups of frozen strawberries
1 tablespoon of hemp seeds
1 tablespoon of lemon juice
For the coconut whipped cream:
1 14 ounce can of coconut cream – chill and drain the liquid
1/8 teaspoon of guar gum
1/2 teaspoon of pure vanilla extract
3 teaspoons of sugar
1 and 1/2 cups of Kellogg's Corn Flakes
2 cups of sliced fresh strawberries
Instructions
For the smoothie:
Blend the almond milk, frozen strawberries, lemon juice, and hemp seeds in a high powered blender until smooth and thick. It should be thicker than a smoothie that you would drink.
For the coconut whipped cream:
Drain the liquid from the can of coconut cream and put the solid cream in a mixer. Add the guar gum and whip the cream with a whisk attachment. Add the vanilla and sugar and whip until light and fluffy.
To assemble:
Put a half of a cup of corn flakes on the bottom of a bowl. Spoon a layer of smoothie on top of the corn flakes and spread evenly to the edges of the bowl. Add a layer of coconut whip and smooth evenly over the smoothie. Add a layer of sliced strawberries over the cream. Repeat the layers and decorate the top as desired.
You can also make individual parfaits instead of bowls. Makes approximately 4 to 6 depending on the size of the glasses you use.
Enjoy!
7.8.1.2
266
https://www.veganosity.com/vegan-strawberry-shortcake-smoothie-bowl/