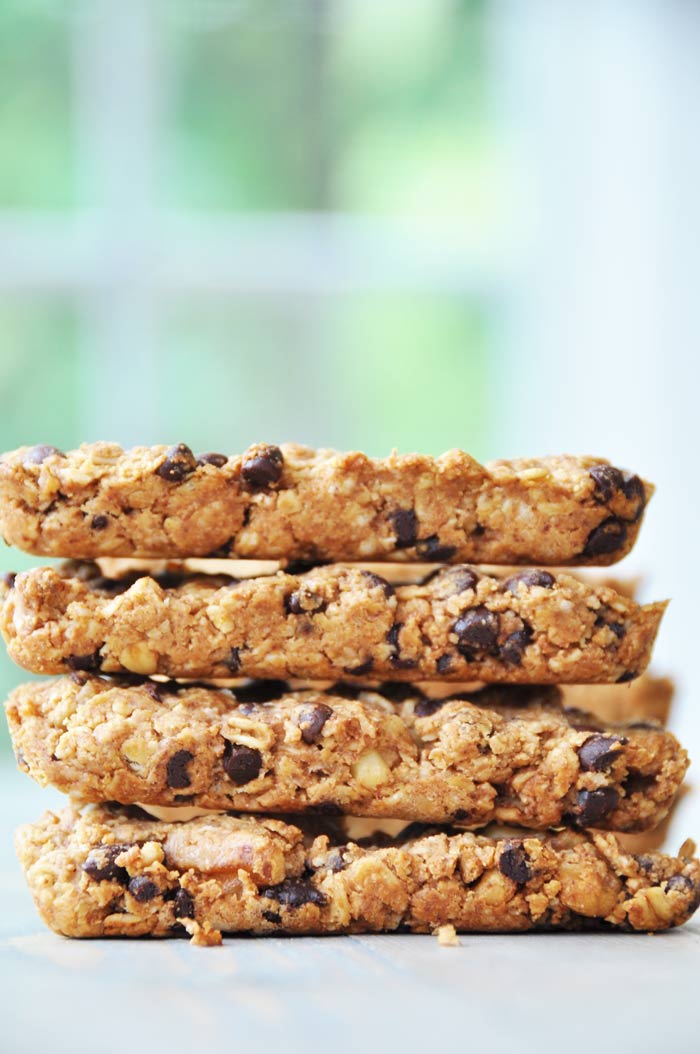 Three of the most popular cookie recipes combined into one crunchy and delicious granola bar, that's what you get when you make these vegan peanut butter oatmeal chocolate chip granola bars.
These are for the times when you can't make up your mind, or you have requests for all three types of cookies but you only have the time and/or energy to make one. That's where the inspiration for these healthy bars came from. All the voices in my crazy head wanted all three cookies, and I just couldn't make up my mind, so I made all three in one fabulous little package.
My peanut butter oatmeal chocolate chip granola bars are a peanut butter cookie, and oatmeal walnut cookie, and a chocolate chip cookie all rolled pressed into one protein and high fiber packed treat that you can feel good about eating.
Check out the healthy in these yummy bars:
One cup of oats provides you with – 64% fiber, 52% protein, 41% iron, and 69% magnesium.
One half of a cup of peanut butter provides you with- 64% protein, 40% vitamin B-6, and 48% magnesium.
What more can you ask for in something that tastes like dessert, but is a nutritious power house?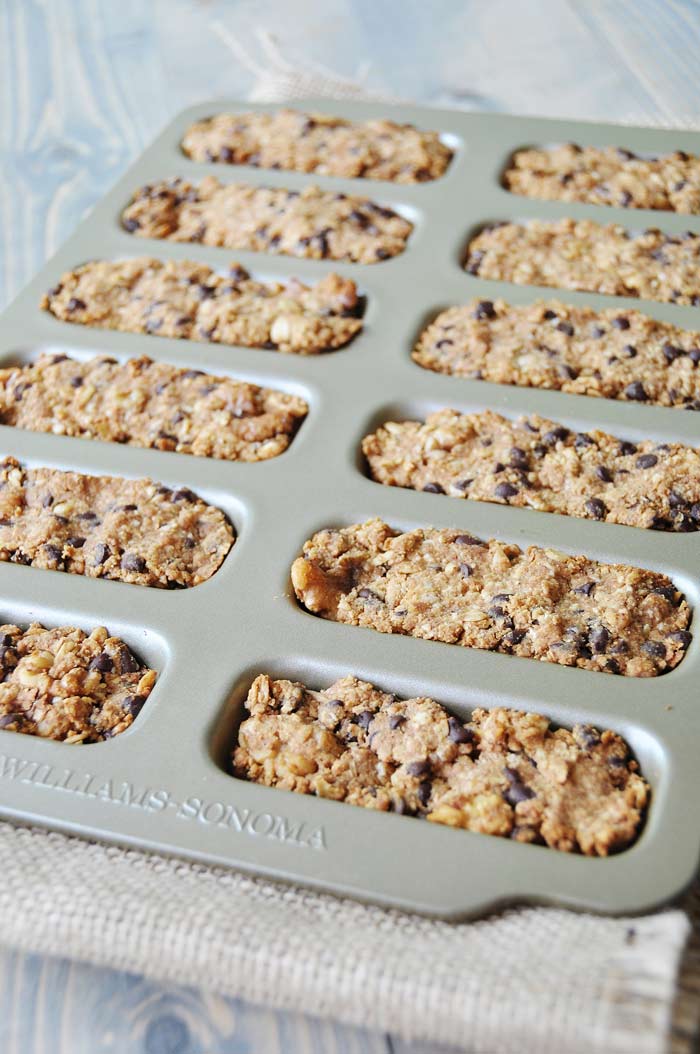 Pack these in your kids' lunch box, make them and after school snack, take them with you when you're on the road, or eat one after a workout as a recover treat. The possibilities are endless.
If you're allergic to peanut butter make them with sunflower seed butter or almond butter.
Tell me:
What's your favorite cookie?
What are you doing on this long Labor Day weekend?

Linda and Alex at Veganosity
Yields 2
Vegan Peanut Butter Oatmeal Chocolate Chip Granola Bars
A protein packed granola bar that combines the taste of a peanut butter, oatmeal, and chocolate chip cookie.
20 minPrep Time
30 minCook Time
50 minTotal Time
Ingredients
1 and a 1/3 cup of oat flour or 1 and 1/2 cup of whole oats ground in a food processor
1 flax egg – 1 tablespoon of ground flax seed + 3 tablespoons of water mixed together well
1/2 teaspoon of salt
1 teaspoon of cinnamon
1 teaspoon of baking powder
3 tablespoons of maple syrup
1/2 cup of natural peanut butter
1 cup of whole oats
1/2 cup of water
1 cup of walnuts
1 cup of vegan chocolate chips (I use Enjoy Life brand)
Instructions
Preheat oven to 350° and grease an individual bar pan or a 9x11 inch baking pan
Combine the flax seed and water in a small bowl and let thicken for ten minutes
Whisk the flour, cinnamon, baking powder, and salt together in a large bowl. Add the maple syrup, peanut butter, whole oats, flax egg, walnuts, and water together and blend until combined. Stir the chocolate chips evenly throughout the batter.
Spoon into a bar pan or spread flat in a 9x11 inch baking pan and bake for 30 minutes or until golden brown.
Store in an airtight container in the refrigerator for up to one week, or freeze for up to three months.
7.6.8
175
https://www.veganosity.com/vegan-peanut-butter-oatmeal-chocolate-chip-granola-bars/