Do you find yourself wanting to serve vegan food to friends and family? It's not as hard as you think it might be! Check out these amazing crowd pleasing recipes and you'll be sure to have everyone raving about your vegan food!
A few days ago I mentioned the all too familiar comment, "I don't like vegan food," that I've heard numerous times from people who don't know what they're saying. That statement always makes me chuckle because every single plant that they've ever eaten is "vegan" food.
WHEN PEOPLE SAY THEY DON'T LIKE VEGAN FOOD
Do you like apples? Vegan food.
Do you like vegetable soup? That's vegan food.
Do you like corn on the cob without butter? Vegan.
Do you like strawberries, blueberries, and raspberries? Yep, vegan food.
Do you like rice? Pasta? Oatmeal? All vegan food.
You all see where I'm going with this? Anything that you eat that doesn't contain animal parts or fluids is vegan.
When I ask my friends and family members if they like the foods listed above, I can see their attitudes start to adjust as they answer yes to those questions. And as their position begins to change, I remind myself that what they really meant to say—at least I think so—is that they don't like vegan foods that pretend to be animal foods. They don't like vegan bacon, vegan lunch meat, vegan cheese, and so on.
WHAT ABOUT MEAT & DAIRY REPLACEMENTS?
Point taken my friends, because the truth is, they used to not be very good. Once upon a time there were only a few brands that were worthy mimics of traditional meat and dairy. Now we have a multitude of vegan meat and dairy replacements like Upton's, Field Roast, Tree Line, Kite Hill, Miyoko's Kitchen, Beyond Meat, Gardein, Violife, Dr. Cow, and about a million other brands that are all awesome! I've convinced many non-vegans that there are tasty alternatives to dairy and meat products because of those brands.
Funny enough, so many of my non-vegan friends drink almond milk over dairy milk these days. It's a start.
Nevertheless, I still get some resistance from people when it comes to vegan vs. non-vegan food. Even after I ask them the questions listed above. My father used to love to remind me that "patience is a virtue." He will never know how much those words mean to me today. Thanks, Dad.
If you're a vegan, you've probably heard the same statement from your non-vegan friends. And if you're not a vegan, and have said these words before, I understand. That's why today's recipe roundup is all about real food. Real. Good. Food.
All of the following recipes are made from delicious, flavorful, and healthy plants. You've eaten these dishes before, only you probably never thought of them as vegan food. But that's what they are. So for today, let's put away labels and just celebrate hearty, healthy, and good food.
SERVE VEGAN FOOD FOR BREAKFAST
You can make pancakes, waffles, and muffins with non-dairy milk. They are just as delicious and fluffy as those made with dairy, and they're better for you.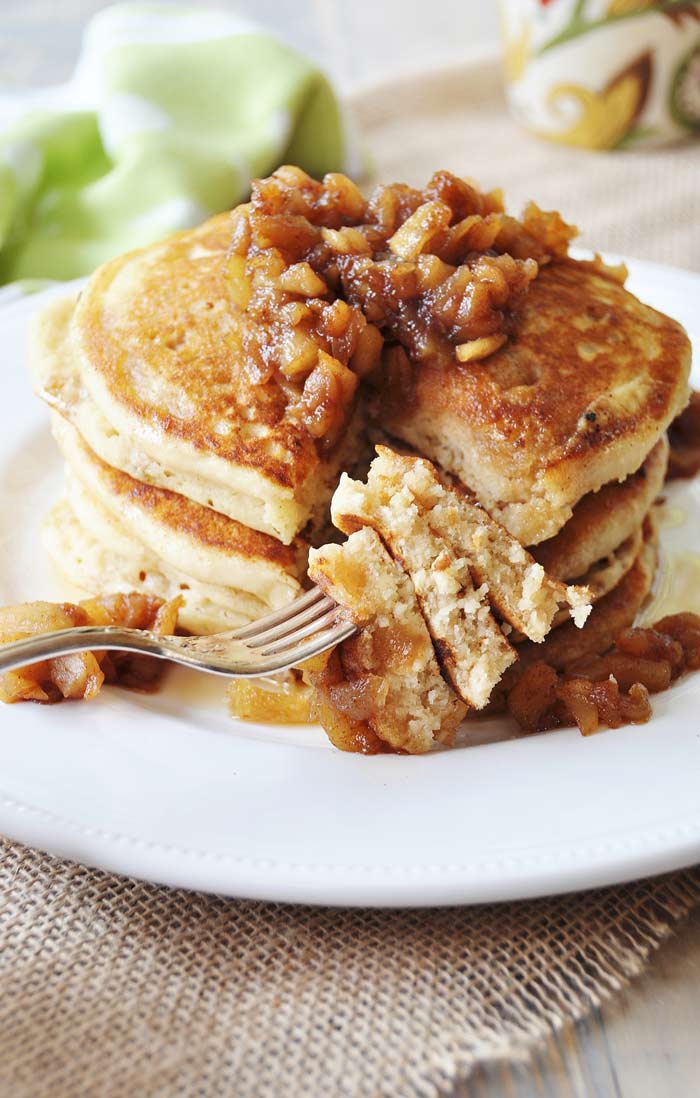 Cherry Berry Quinoa Breakfast Bowl
Southern Strawberry Pecan Waffles
Skillet Fried Potatoes with Chives
SERVE VEGAN FOOD FOR LUNCH
Don't eat greasy burgers or chicken sandwiches with fries and a big coke for lunch. They'll leave you feeling like a slug, and eventually you'll end up looking like one. Make yourself something bright and flavorful that will fuel your body and make you feel and look fabulous.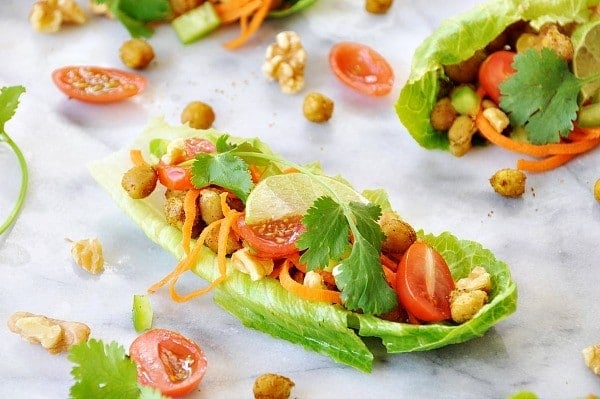 Spicy Roasted Chickpea Lettuce Wraps
Copycat Soba Noodle Bowl with Edamame
Mediterranean Sandwich with Spicy Hummus
Summer Spinach Salad with Avocado Dressing
SERVE VEGAN FOODS FOR APPS!
Don't get bogged down with deep fried garbage that's high in calories, fat, and cholesterol. Try these plant-based snacks instead.
Quick and Easy Oil-Free Chipotle Home Fries
Breaded Maple Glazed Roasted Brussels Sprouts
Oven Fried Parmesan Zucchini Crisps
WHAT TO SERVE FOR A VEGAN DINNER
Try any one of these hearty, cozy, and satisfying meals that will leave you feeling good instead of stuffed.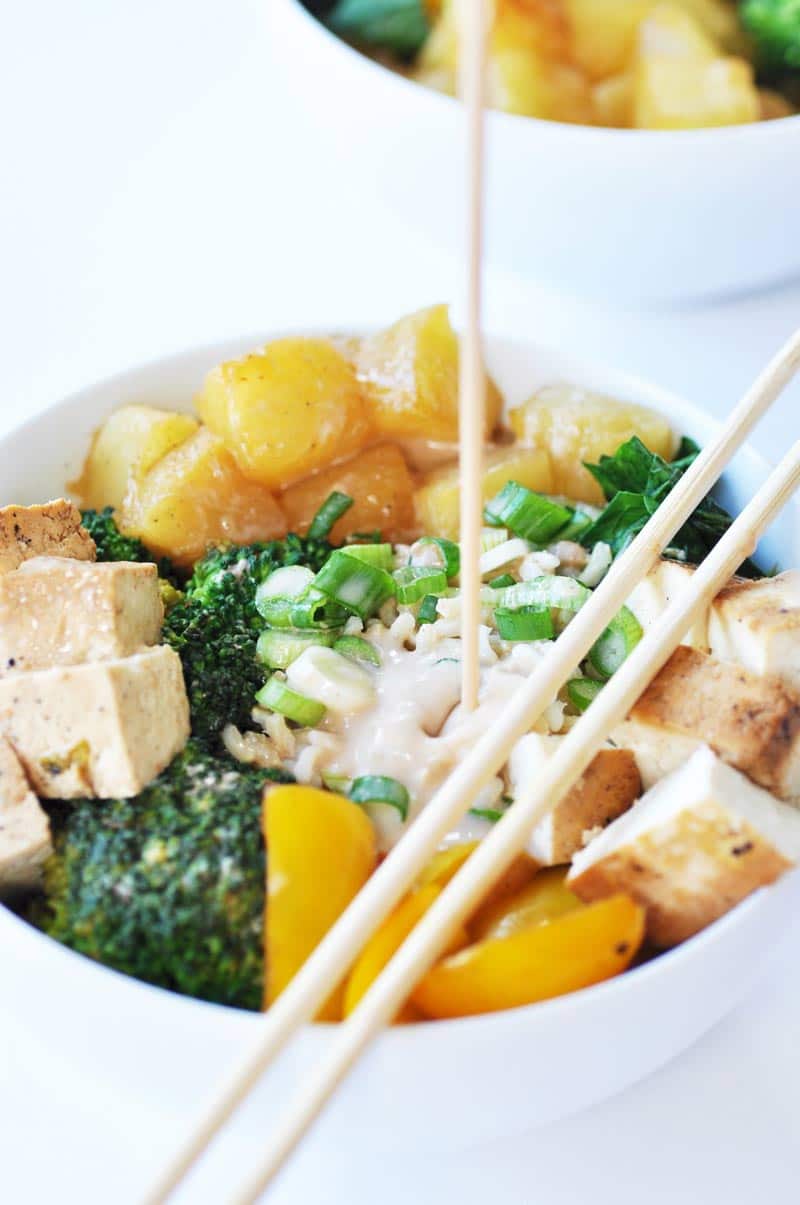 Sweet & Spicy Asian Brown Rice and Pineapple Bowl
Blue Corn Tacos with Fried Potatoes
VEGAN DESSERTS
The beauty of eating lighter and fresher plant-based meals is that you'll have space for something sweet after dinner.
And there you have it. Proof. Vegan food is just food. There isn't anything mysterious, scary, or creepy about it. When you leave animal parts and fluids out of the equation what do you get? Healthy, fresh, vibrant, and tasty plants and grains that come together in the most delicious ways.
It is said that a picture says a thousand words. I'd say that these pictures say much more. So the next time you run into someone who tells you that they don't like vegan food. Show them this post. I think that it might make them eat their words.
WHAT DO YOU GUYS THINK?
Tell me:
Has someone ever told you that they don't like vegan food?
Have you ever said that you don't like vegan food?
Will you share this with someone who doesn't eat vegan food?
Wait, one more thing! 
Don't forget to subscribe to Veganosity. Fill out the subscription box right above our picture on the top right corner. And, Alex and I love hearing from you. Please leave a comment and let us know what you think of our recipes. And let's connect! Hop on over to Facebook page and give it a like, or follow us on Instagram or Twitter, and follow us and share this and other Veganosity recipes on Pinterest. We'd be so grateful if you did.