Oh yeahhhhh!!!! If you love tacos, burritos, and quesadillas, you're going to go wild for our version of Taco Bell's Crunchwrap Supreme. These bad boys are everything you've ever dreamed of, if you dream of Mexican food. 😉 Stuffed with our spicy taco filling, spinach, tomatoes, and creamy vegan cheese sauce, plus crunchy tostada shells, and then wrapped up tight in a flour tortilla. Holy help us, these things are GOOD!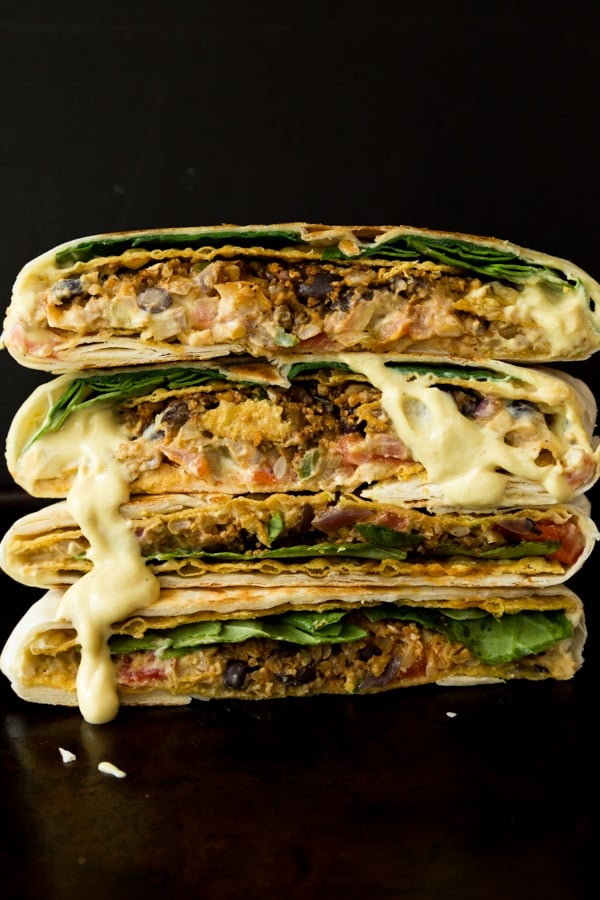 May I just say that these vegan crunchwraps are supremely good. See what I just did?
All punniness aside, they are incredibly delicious and full of crunchiness and chewiness and SO much flavor!
Alex and I love tacos. We love burritos. We love quesadillas. We have always had a hard time deciding which Mexican entree we wanted when faced with all three options, until now.
Now, we can choose all three in one, because that's exactly what this is.
I'm seriously drooling just typing this, and believe me when I say, you're going to become just as obsessed as I am with this new Mexican sandwich.
HOW TO MAKE A TACO BELL CRUNCHWRAP SUPREME
I'm going to spare you more drool worthy descriptions of this crunchy taco/burrito/quesadilla/sandwich recipe, because pictures speak louder than words. So feast your eyes on the pictures, read the recipe, get the ingredients, and then feast on the real deal.
1.
The first thing you're going to need to do is make our Healthy Vegan Taco Filling. ⇐ Click for recipe. 
If you missed the taco "meat" recipe on Sunday, you need to check it out. It's so perfectly crumbly and chewy, as taco filling should be. It's also really healthy because it's made with whole plant-based foods.
2.
Once you've made the taco filling, you'll want to whip up our Vegan Cheese Sauce. ⇐  Click for recipe.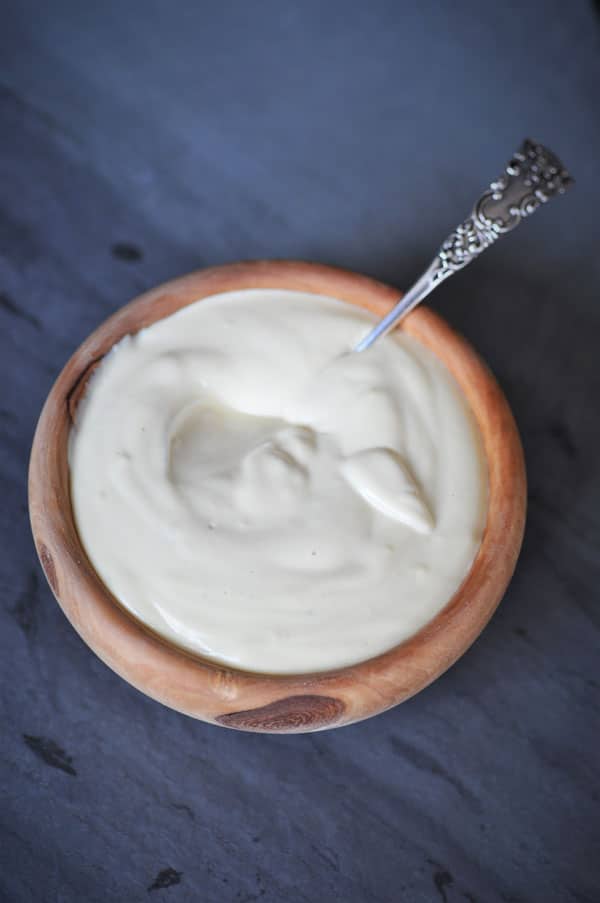 3.
Now it's time to build this thing.
Put a tostada shell in the center of a flour tortilla.
Layer the shell with baby spinach leaves and a liberal sprinkling of our taco filling.
Now add the vegan cheese sauce and the diced tomatoes.
Top the filling with a tostada shell and fold the side of the flour tortilla over half of the filling.
Keep folding small sections around the center.
Until it looks like this. You may have to gently stretch the flour tortilla. It's okay if there's some corn shell showing.
Use a spatula to transfer (folded side down) the crunchwrap supreme to the pan and slide it on the pan folded side down.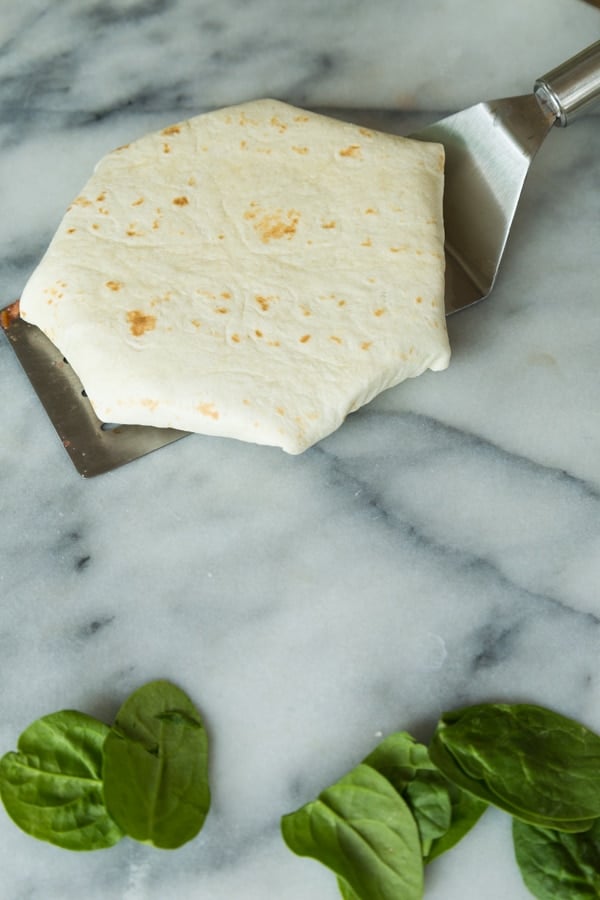 Cook it for approximately five to seven minutes, covered to heat the middle all the way through, or until it's golden brown, and then gently flip and cook covered for another five to seven minutes.
Take a minute to admire this epic creation. The flour tortilla is crispy where it's browned, and chewy where it's not, the tostada shells are crunchy, the taco filling is crumbly and chewy, the spinach and tomatoes are fresh, and the vegan cheese sauce is creamy and cheesy. It's seriously so delicious.
Now, excuse me while I step into the kitchen and make another one of these beauties, because my stomach is yelling for one as I type this.
Make this and let us know what you think. We love to hear from you! And, don't forget to take a picture of your gorgeous creation and tag us @veganosity on Instagram.
Let's connect! Hop on over to our Facebook page and give it a like, and follow us on Instagram and Twitter, and follow us and share this and other Veganosity recipes on Pinterest. We'd be so grateful if you did. If you like this recipe and can't wait to see what we're going to share next, subscribe to Veganosity. Just fill in the subscription box above our picture in the top right corner of the page. And, Alex and I love hearing from you, please leave a comment and let us know what you think of our recipes.
Vegan Crunchwrap Supreme
This is like a taco, burrito, and quesadilla all wrapped up in one delicious and crunchy meaty, cheesy, and veggie sandwich.
Course:
Entree, Main Course
Keyword:
Mexican crunchwrap, vegan crunchwrap recipe, vegan crunchwrap supreme
Ingredients
Make the Taco Filling, see link to recipe in the instructions.
Make the Cheese Sauce, see link to recipe in the instructions.
1

large flour tortilla

2 to

tostada shells

1

cup

taco filling

1/3

cup

cheese sauce

1

cup

baby spinach leaves

½

cup

cilantro

chopped (optional)

1

small tomato

diced

1

tbsp

extra-virgin olive oil
Instructions
Place a tostada shell in the center of the flour tortilla, evenly place the spinach leaves and cilantro on the shell, then the taco filling, cheese sauce, and tomatoes. Put the second tostada shell on top of the filled shell. Now fold half of flour tortilla over the filling and fold small sections over the shells all the way around until the entire flour tortilla is folded over the shells.

Heat the oil in a medium skillet on medium heat. When the oil is hot, slip a large spatula under the folded side of the crunchwrap and slide the folded side down into the pan. Cover and cook for 5 to 7 minutes, or until it's golden brown. Flip and cook the other side (covered) until golden brown.

Dip in extra cheese sauce and enjoy!
Recipe Notes
You can use a store-bought vegan cheese if you want. Just make sure that it melts for best results. The Nutrition Facts are not accurate as we don't know what kind of tortilla, tostada shells, or cheese you'll use. If you need the exact calorie and nutrition values, we suggest plugging the ingredients into a calculator of your choice.
Nutrition Facts
Vegan Crunchwrap Supreme
Amount Per Serving
Calories 489
Calories from Fat 288
% Daily Value*
Total Fat 32g 49%
Cholesterol 7mg 2%
Sodium 1092mg 46%
Potassium 592mg 17%
Total Carbohydrates 42g 14%
Protein 9g 18%
* Percent Daily Values are based on a 2000 calorie diet.