The holiday seasoning is fast approaching! What does this mean? It's time to make some amazing traditional holiday recipes… vegan style!
Five. Four. Three. Two. Friday. Merry Christmas! 
Are you ready, or are you a last minute doer? I'm three-quarters of the way there. Not bad. I still have a few more gifts to purchase and wrap, cookies to bake, and a grocery trip to find all the ingredients for my favorite traditional holiday recipes in my future. Other than that, the house is decorated, we've had our first celebration with family, and our little Coco is enjoying her first Christmas in her new forever home. JOY!
To make the season merrier and brighter, and to keep within the spirit of Christmas (giving), today's post, Traditional Holiday Recipes from Some of My Favorite Vegan Bloggers, is for you, and them.
For you, an introduction to some of my favorite food bloggers. You may already know them, but you probably didn't know how much I admire them and their creative and delicious recipes. I asked them to share their favorite holiday recipe with you all. We all have that one traditional food that makes the holidays all the more special, and they've agreed to share theirs with you.
For them, an opportunity to introduce themselves to those of you who don't know them. Food bloggers work so hard and it takes a lot of work to build a loyal audience. Do them, and yourself, a favor and spend some time on their beautiful blogs, try their recipes, and subscribe. You'll be happy that you did.
So without further delay, Traditional Holiday Recipes from Some of My Favorite Vegan Bloggers.
Natalie from Feasting on Fruit
"My favorite day of Christmas baking was always cookie house day. Every year my sister and I planned and crafted elaborate gingerbread cookie houses…or shall I say structures. Very few houses actually. Think ships, castles, tree houses, log cabins, anything with walls. Our success rate was low, most of them toppled within the day, some even before the picture. But munching through cookie rubble is the best kind of clean-up. I haven't made an entire house in a few years now, but these gingerbread cookies still bring back sweet memories of Christmas cookie house construction."
Sophia from Veggies Don't Bite
"My mom's rice stuffing. She made it every year for Christmas and often also for Thanksgiving. I never knew what bread stuffing was until I got older! Tasting this brings back all my best holiday memories."
Hedi from Hedi Hearts
"I have been living in the UK for past 10 years, but always missed out on Mince pies. Mince pies are the typical British Christmas treat, but it is not vegan, so I had to "veganise" to make sure the whole family can enjoy it and have guilt free vegan Christmas!"
Rebecca from Strength & Sunshine
"I can't eat it anymore, but on Christmas Eve, my Uncle always got to my grandparent's house super early so he could prep and make a ton of homemade pizza, everything from scratch. I loved coming over and smelling the yeast and dough in the oven while the pizzas were baking. Besides the pizza though we would just have our typical huge Italian feast. There was a lot of food! We'd always take leftover pizza home and leave some out for "Santa" that night instead of cookies. So here is an Italian homemade pizza take that I can eat"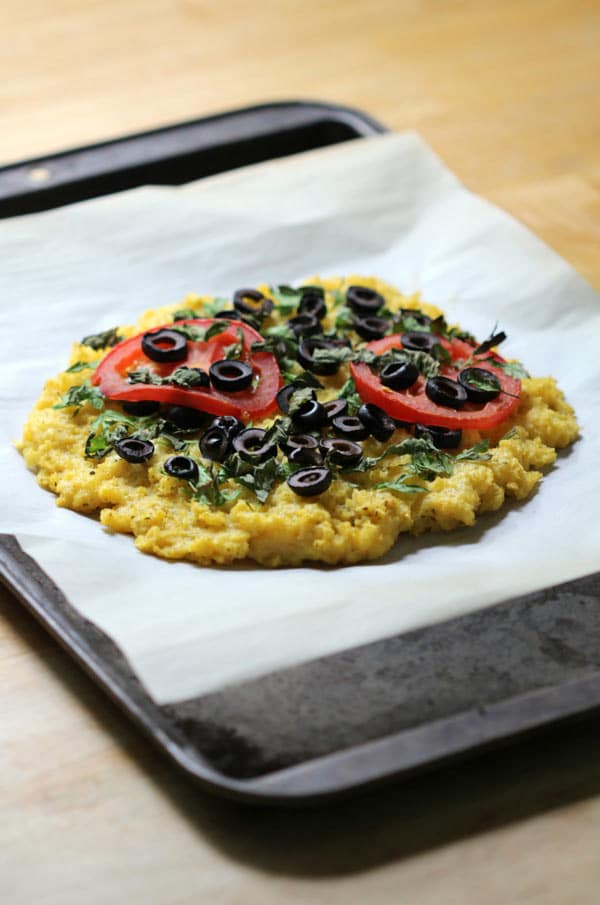 Nancy from Ordinary Vegan
"Nothing fills my heart more then serving a delicious, heart healthy, show-stopping vegan meal like this vegan wellington to my carnivorous family. When I serve it, it makes them stop and think that being vegan is possible and that is my goal – health & wellness with a compassionate diet."
Becky from Glue and Glitter
"Stuffed mushrooms are my favorite by far, both to make and to eat. They're so decadently delicious and easy to put together."
Jenn from Veggie Inspired Journey
"This dessert is always on our holiday desert table. Actually, it's on the dessert table for every occasion, but something about it just screams holiday to me. The original recipe belonged to my Aunt Dolores (my Great Aunt) and was loaded with butter, sugar and eggs. I remember indulging in one after the other as a kid and when I got older I would limit myself to 1 or 2 while sipping my after dinner coffee. I've FINALLY recreated this special recipe to be dairy free, oil free, egg free and refined sugar free. I must say I struck gold with this one and can't wait to make this version a tradition on our holiday dessert table from now on!"
Cadry from Cadry's Kitchen
"Mashed potatoes are my favorite holiday food. My mom makes an enormous batch of them every year at Christmas. She learned the secret to making them perfectly fluffy from her dad. She makes them in the morning, so that there's plenty all day for lunch and dinner. Because of that, I've been known to start the day with a bowl of mashed potatoes. After all, if hash browns qualify as a breakfast food, why not mashed potatoes?"
Linda and Alex from Veganosity
"Lasagna has been a Christmas Eve tradition in my family for years. There have been times when we've switched things up and tried something different, and we always end up going back to this classic Italian dish. I love it because I can put it together earlier in the day and then pop it in the oven after church. While the aroma of tomatoes, herbs, and garlic fills the kitchen we all gather around the tree and open the only present that's allowed to be opened before Christmas morning. Pajamas. Along with eating spinach lasagna on Christmas Eve, we also exchange fun and festive pajamas so we can all sleep in cozy new PJs and look good in pictures in the morning."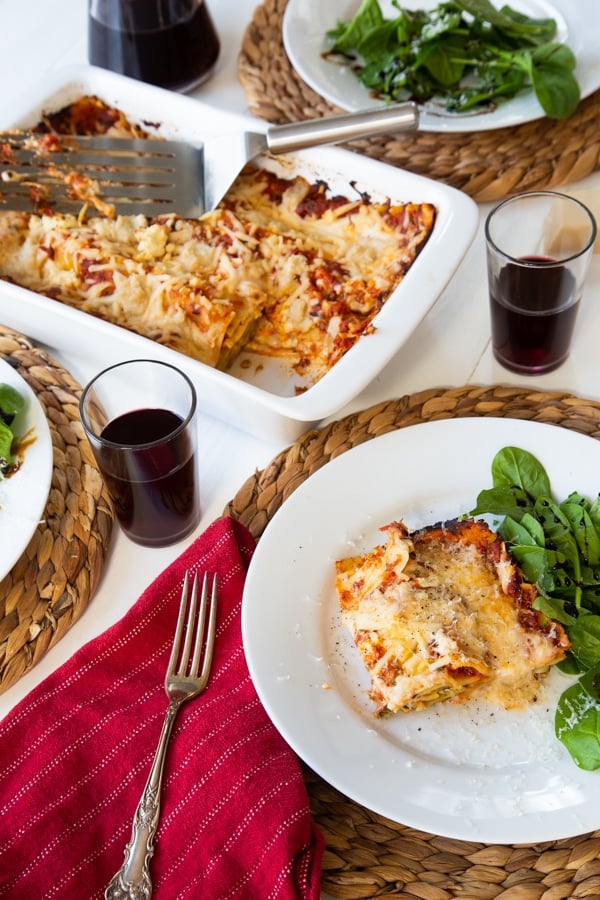 I hope you've enjoyed reading all of the special holiday traditions and recipes that my blogger friends have shared today. If you're looking to start a holiday tradition or begin a new one, I hope these inspired you. Most of all, I hope they made you hungry.
Tell me: 
What's your favorite holiday tradition? 
Do you like what you've seen so far? We sure hope so! Do us a favor, take a trip over to our Facebook page and give it a like, or follow us on Instagram or Twitter, and follow us and share this and other Veganosity recipes on Pinterest. We'd be so grateful if you did.