Hey guys, it's me, Alex! I've been gone for a while; let's just say, life is REALLY busy these days. I graduated, moved home, I'm looking for apartments where I'm going to grad school, trained/training for a 5K/10K, competed in the Warrior Dash mud run…….. Yeah, I've been busy.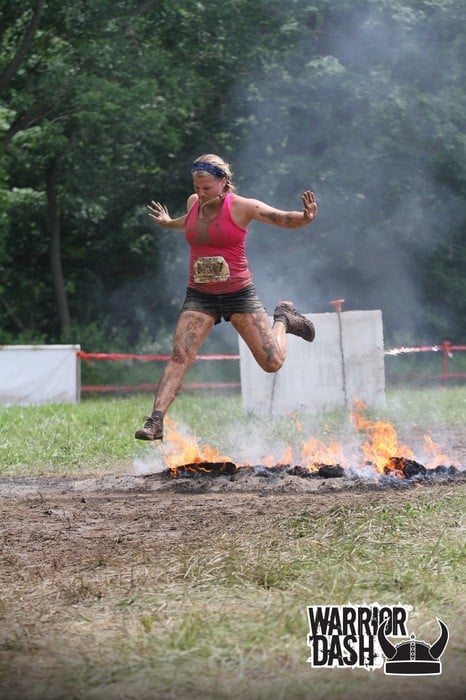 Alex the Fire Jumper
How high can you climb girls?
 You might want to keep your mouth closed for this one Alex!
Family Fun!
Let me tell you, training for this next 10k is more difficult than I thought it was going to be. While Linda absolutely loves to run, I've never had those feelings towards the sport. Agony and annoyance were more likely the feelings I had. Thankfully, this is all starting to change! For those who didn't know, I ran my first  race ever back in May. And, even though it was only a 5k color run, it was probably one of the hardest things I've ever done. But after, I felt like I had run a marathon. I was so insanely proud of myself that I, honestly, couldn't stop talking about it for a week. So of course, I decided to keep my running up and Isigned up for a mud run (the Warrior Dash). It was filled with hills and obstacles that I was not prepared for, but we finished as a family,  and again, I was so happy and excited. So now I'm embarking on my first 10k,  and along with all of this intense training, the way I think about eating has changed.
Instead of just running three miles and munching on whatever I feel like, I have become much more meticulous in my diet. Every meal has to have a proper amount of carbohydrates, protein, and healthy fats to keep my body working optimally. This meal is absolute perfection when it comes to balancing key nutrients (while tasting absolutely delicious!). The Ezekiel bread, one of my favorite things, provides more protein and complex carbohydrates than most bread. It's also made out of whole, healthy ingredients. Smashed avocado adds the perfect amount of healthy fats to keep you going throughout the day. Fats are extremely important to include in your diet. They help cover vital organs and give your body a concentrated form of energy (which you definitely need if you're running 5-6 miles a day and lifting weights). Lastly, the tofu (along with the Ezekial bread) adds tons of protein to your diet. We use it very similarly to how people put scrambled eggs on toast, but personally, I think ours tastes better! All together this makes for one healthy and fitness approved dish. Enjoy!
Spicy Tofu Scramble on Avocado Toast
Ingredients
1/2 Block of Tofu (20 oz block)
2 Tablespoons & 2 Teaspoons of Cholula
1/2 Teaspoon of Coconut Oil
1 Medium Tomato (Diced)
1 Tablespoon of Fresh Oregano (Minced)
Salt & Pepper to Taste
1 Avocado
1/2 Lime (juiced)
4 Pieces of Ezekial Bread
Instructions
Heat the coconut oil in a medium sized sautee pan over medium heat.
While its heating, crumble the tofu into a bowl and stir in the cholula until the tofu appears light red.
Add the tofu to the pan and cook for 4 minutes (or until the tofu gets a light sear), and then add the diced tomatoes.
Keep stirring and cook for 4 more minutes.
Once the tofu is done cooking, add freshly minced oregano, salt, and pepper.
Toast the Ezekial bread in a standard toaster for about 2 1/2- 3 minutes (or until lightly browned).
While the Ezekial bread is toasting, mash up one avocado and add the lime juice to it.
Spread the avocado onto each pice of Ezekial bread and top with the tofu scramble.
Enjoy!
7.8.1.2
333
https://www.veganosity.com/spicy-tofu-scramble-on-avocado-toast/