Spicy Peanut Chili Hummus! This is going to be your favorite hummus from now on. It's made with real organic peanut butter and spicy chili paste for spicy flavor.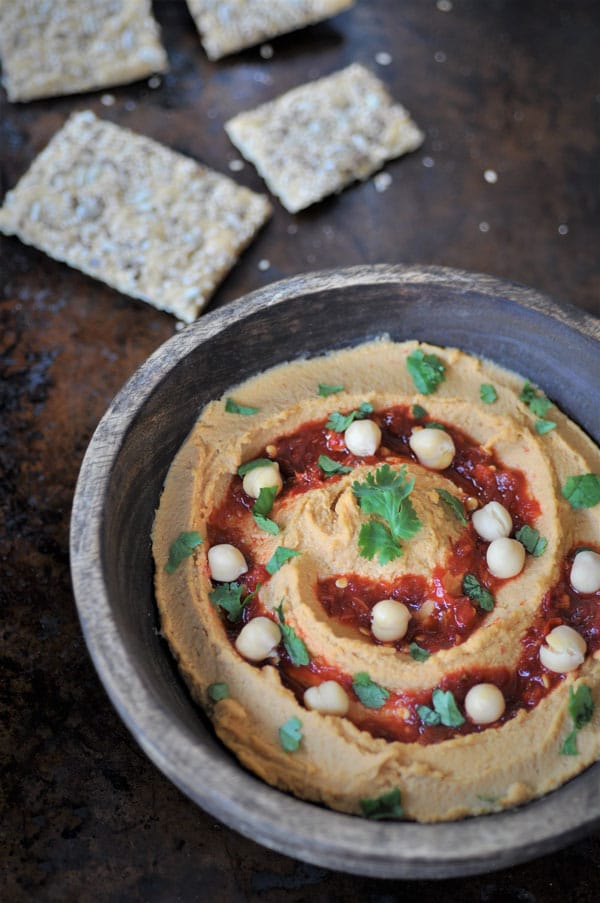 Party, party, party…… Tis the season! Whether you're hosting or guesting, you're going to want to have a stash of go to appetizer recipes that will wow your friends and family. Our Spicy Peanut Chili Hummus will do just that.
This spicy hummus with creamy peanut butter and chili sauce is on another level. First of all, it looks like Christmas. Look at it. Decorated with red chilis and flecks of green cilantro, it screams, hey Santa! And let's be real, when the big man comes down the chimney, he's more than likely going to want something savory and satisfying to go with the millions of cookies that are left out in  ordinary households. But we're not ordinary, and neither is this hummus.
So let's get right to it, because this is also the busiest time of the year, and nobody has time to waste right now.
HOW TO MAKE SPICY HUMMUS WITH PEANUT BUTTER AND CHILI SAUCE
First – Pour the garbanzo beans, with the juice, into a bowl. Add a teaspoon of baking soda, stir, and let it sit for about 15 minutes. Why baking soda? It's the secret ingredient that makes hummus light and fluffy.
Second – Drain the chickpeas and put them in a blender or a food processor. Here's another secret, making hummus in a blender makes a lighter, creamier hummus because it creates more air bubbles.
Third – Add the rest of the ingredients and blend until you have a thick and creamy hummus. Add more chili sauce if you want' it spicier.
Fourth – Scrape the hummus into a pretty bowl and drag a spoon around it to make a swirl, and drizzle some chili paste in the swirl and sprinkle with fresh cilantro.
I can't tell you how delicious the combination of peanut butter and chili sauce is when added to the earthy chickpeas. Serve it with carrot and celery sticks, bell pepper wedges, crackers, and of course, warm pita bread.
Make this and serve it at your next party and watch everyone's faces light up when they take their first bite. Come back and tell us how much you enjoyed this recipe. We love hearing from you!
Let's connect! Hop on over to our Facebook page and give it a like, and follow us on Instagram and Twitter, and follow us and share this and other Veganosity recipes on Pinterest. We'd be so grateful if you did. If you like this recipe and can't wait to see what we're going to share next, subscribe to Veganosity. Just fill in the subscription box above our picture in the top right corner of the page. And, Alex and I love hearing from you, please leave a comment and let us know what you think of our recipes.
SPICY PEANUT CHILI HUMMUS
Light, fluffy, creamy and spicy peanut hummus with chili sauce. Easy to make and perfect for a party!
Ingredients
15

oz

garbanzo beans

1

tsp

baking soda

3

tbsp

creamy peanut butter

1/3

cup

chili paste

¼

cup

extra-virgin olive oil

1

garlic clove

Ground sea salt to taste
Instructions
Pour the beans in a bowl and stir in the baking soda. Let sit for 15 minutes. Drain the chickpeas and put in a blender with the remaining ingredients. Blend for approximately 2 minutes, or until creamy and thick. Add more salt, chili sauce, or peanut butter to taste.

Enjoy!
Recipe Notes
The Nutrition Facts are an estimate only. 
Nutrition Facts
SPICY PEANUT CHILI HUMMUS
Amount Per Serving
Calories 194
Calories from Fat 99
% Daily Value*
Total Fat 11g 17%
Sodium 191mg 8%
Potassium 235mg 7%
Total Carbohydrates 19g 6%
Protein 6g 12%
* Percent Daily Values are based on a 2000 calorie diet.