This gorgeous kaleidoscope salad tastes as good as it looks. Nutrient rich red cabbage, red bell pepper, and arugula with a tangy champagne vinegar dressing make for a refreshing and crunchy addition to any meal. 
My husband whipped this salad up on Saturday night and I'm obsessed. It's so simple, and colorful, and crunchy, and delicious. It's also filled with vitamins and antioxidants. I could actually feel my body getting healthier with each bite. Okay, that's a lie, but seriously, this salad is so good, and it's good for you.
The hubby and I love tapas style dinners. A little of this, a little of that, and a little of – you get the picture. This is the perfect way to eat when you can't agree on what you want for dinner, or you just don't know what you're in the mood for.
Our tapas style dinner on Saturday night was a compilation of fruits, vegetables, and whole grain bread with olive oil for dipping. We had a big platter of sliced tomatoes and fresh basil, artichoke hearts, olives, breaded zucchini (recipe coming soon), and this kaleidoscope salad.
I couldn't help but name it the kaleidoscope salad, just look at it. Doesn't it look like a pattern that you'd see in a kaleidoscope?
The combination of red (Why is it called red when it's really purple?) cabbage, red bell pepper, and arugula was meant to be. What a trio you guys! The cabbage has a slightly bitter taste and a big crunchy texture, the red pepper is sweet with a more subtle crunch, and the peppery arugula is a little bit chewy, taming all of that crunch.
Then there's the dressing. It's bright and tangy and so darn yummy. My husband makes the best salad dressing because he's not afraid to be bold with the salt, pepper, and olive oil. I'm in the camp that says that you should go easy on the salt and oil, but every once in a while you just need to splurge. Right?
He whisked together a quarter of a cup of champagne vinegar, 2 tablespoons of lemon juice, five good grinds of sea salt and black pepper, and a teaspoon of crushed Italian seasoning, then he added a third of a cup of olive oil and whisked it some more while he recited his mantra to me. "Your husband is so damn hot, your husband is so damn hot." Yes, yes he is, especially when he's making a delicious kaleidoscope salad for me to eat.
The minute I took the first bite of the salad I knew that I had to share it with you all, and oh happy day, that meant that I got to make it again on Sunday so I could photograph it! The salad that you're looking at on this post was made by me, not my "so damn hot" husband. Sorry. He was busy cutting down the dead ash trees in our back yard. Yep, he's a cook, a private wealth manager, and a lumberjack. The man wears many hats.
Greg, the motocross star. Requires baseball cap worn backwards.
So it's Monday (like I needed to tell you that), and you're probably looking for something easy to make for dinner tonight. Am I right? If you're in the mood for something fast, easy, and super healthy, make this kaleidoscope salad. Pair it with a loaf of whole grain bread (warmed in the oven), sliced tomatoes, olives, and whatever else you feel like eating. There's no wrong way to put together a tapas meal.
Like I said before, red cabbage is the bomb in regards to being healthy. One head of red cabbage contains 187% of the daily value of vitamin A, 797% of vitamin C, 90% of vitamin B-6, 58% potassium, 72% fiber, 37% iron and calcium, and 33% magnesium! Wowza!!
Add the red bell pepper into the mix and you're going to get an additional 317% of vitamin C, 93% of vitamin A, and 13% of fiber!
The arugula doesn't have quite the same wow factor in terms of vitamins, but it does have a good amount of antioxidants, and it's the perfect green for this salad.
If you make this come back and let me know how much you liked it. Or didn't.
Tell me, do you love tapas as much as we do?
Linda and Alex at Veganosity
Yields 4-6
Kaleidoscope Salad
Colorful, delicious, and loaded with vitamins and antioxidants. The perfect salad to accompany any meal.
20 minPrep Time
20 minTotal Time
Ingredients
1/2 a head of red cabbage – sliced into thin strips
1 medium red bell pepper – seeded and cut into thin strips
3 cups of arugula leaves
1/4 cup of champagne vinegar
2 tablespoons of lemon juice
1/4 teaspoon of ground sea salt
1/4 teaspoon of ground black pepper
1 teaspoon of crushed Italian seasoning
1/3 of a cup of extra virgin olive oil
Instructions
Toss the cabbage, pepper, and arugula together, add the dressing and toss to coat.
Dressing
Whisk the vinegar, lemon juice, salt, pepper, and Italian seasoning together until the salt dissolves. Add the olive oil and whisk until well combined.
If you want to save some salad for later, divide into separate serving sizes and add just enough dressing for that serving. Store the salad and dressing separately in air tight containers in the refrigerator to eat later.
7.8.1.2
126
https://www.veganosity.com/kaleidoscope-salad/
Check out some of my other favorite salads.
Brussels Sprout, Kale, and Carrot Slaw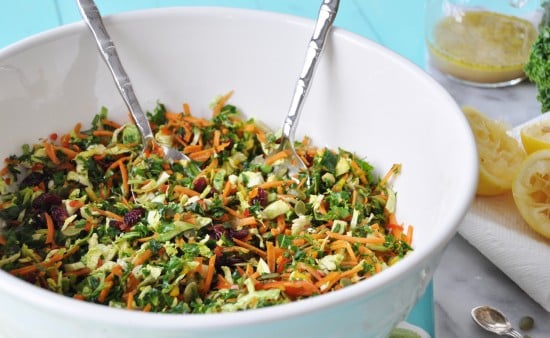 Nappa Cabbage Salad with Toasted Almonds