If you want to learn how to make almond milk in three easy steps, you've come to the right place. We're going to show you how to make fresh almond milk in your kitchen with almonds and water.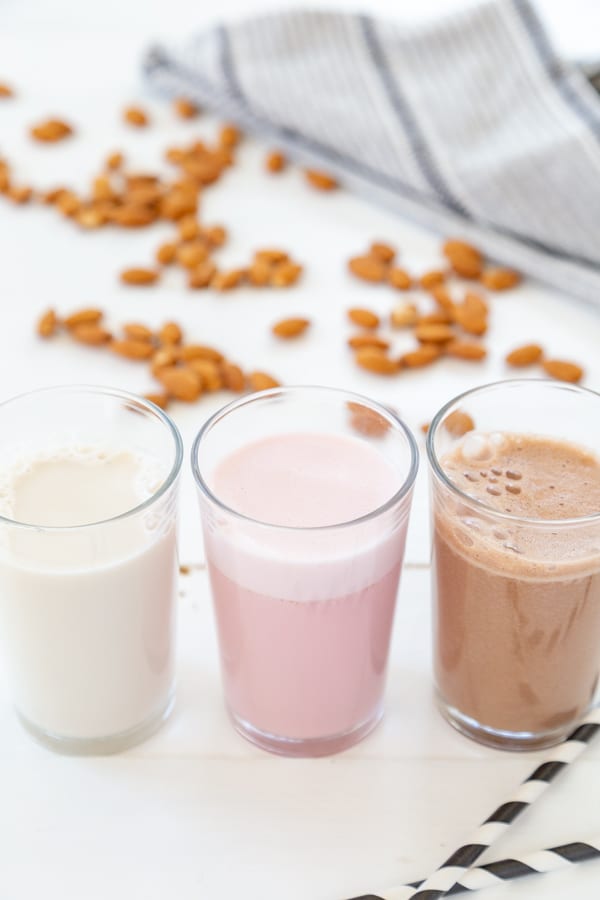 Originally published on February 8, 2014 – republished May 9, 2019.
This post may contain Amazon affiliate links. Purchases made through these links help support Veganosity.com at no additional cost to you.
Hi there! Thanks for visiting us, we're so happy you're here. If you're looking for Southern inspired vegan comfort food recipes, you've come to the right place.
We love vegan comfort food and we're really good at making it. Take a tour through our site and you'll find all of the recipes that scream, stretchy pants required!
The good news, they're all plant-based recipes, so you don't need to feel guilty eating them. Now sit back, relax, and eat happy. 🙂
Also, in case you didn't know, we're published cookbook authors. We've written two vegan cookbooks that will help you make amazing vegan BBQ (you don't even need a grill) and everyday meals, from breakfast to dessert.
Click on the titles to check them out. GREAT VEGAN BBQ WITHOUT A GRILL
and THE ULTIMATE VEGAN COOKBOOK
.
CREAMY HOMEMADE ALMOND MILK RECIPES THAT ARE EASY AND DELICIOUS
If you love almond milk, but you don't like the added ingredients that you  sometimes find in store-bought milk, then you're going to love making your own.
Homemade is always best, regardless of what you're making, and that couldn't be more true when making almond milk from scratch.
We love to make our own because we can control what's in it. We buy raw organic almonds that are steam pasteurized and we use filtered water. That's it, nothing fancy or complicated.
We also enjoy making strawberry milk and chocolate milk.
Do you remember strawberry milk from your childhood? It was delicious, but filled with artificial colors and flavors. Not ours.
Our vegan strawberry milk recipe is made with fresh berries and unrefined sugar. The same goes for our vegan chocolate milk recipe, it's as natural and healthy as you're going to get, and it's DELICIOUS!
HOW DO YOU MAKE ALMOND MILK?
Making your own almond milk is easy, as long as you have the right tools.
My first attempt at making this recipe was a fail, because I didn't have a nut bag to strain the milk, so I ended up with a gritty milk because of the almond pulp.
Then I bought a nut bag and all was well with the world.
This is the nut bag that we use to make plant-based milk. Click the picture to learn more.
1. SOAK OR BOIL THE ALMONDS
In a large bowl, soak the almonds in filtered water. Cover with about an inch of water. Soak in the refrigerator overnight.
If you're in a hurry, you can boil the almonds for about 15 to 20 minutes. They should be soft and puffy so they'll break down in the blender.
STEP TWO 
2. DRAIN AND BLEND
After soaking overnight or boiling, drain the water and rinse the almonds in a strainer. Blend the almonds and the six cups of water in a blender until the almonds are not visible and completely broken down. You shouldn't see any solid pieces of the nuts.
STEP THREE
3. SQUEEZE
Place the nut bag in a large glass and fold the edges over the rim, then pour one third of the milk in the cheesecloth and  squeeze the milk into the strainer. It gets messy, but that's part of the fun. Continue the process until all of the milk is strained.
TIPS FOR MAKING THE BEST ALMOND MILK
Buy the highest quality of almonds you can afford.
Use a high powered blender, such as a Vitamix or Blendtec to grind the almonds.
Invest in a good nutbag and don't be afraid of really twisting and squeezing the bag.
Linda uses a Blendtec blender and Alex uses a Vitamix. Click the pictures to learn more.
IS ALMOND MILK NUTRITIOUS?
Yes! Here are a few of the benefits that you can get from eating almonds:
Lower your LDL cholesterol and reduce your risk of heart disease
Protect you from diabetes and cardiovascular disease
May help you to lose weight
Lowers risk of weight gain
Provides energy
A great source of biotin, vitamin E, copper and other important nutrients
To learn more about the health benefits of almonds click HERE
WHAT IF I WANT FLAVORED ALMOND MILK?
While plain almond milk is great, there are times when you want a little more. We get it, so we've created a few flavored almond milk recipes that you're going to love.
Here's a great fall almond milk recipe for you to try, it's our Homemade Pumpkin Spice Almond Milk.
REFINED SUGAR-FREE STRAWBERRY ALMOND MILK 
Our strawberry almond milk recipe is made with fresh strawberries, maple syrup, and pure vanilla extract.
It's a refined sugar-free strawberry treat that you won't be able to stop sipping on. And the good news is that you don't have to, because it's good for you.
HOMEMADE REFINED SUGAR-FREE CHOCOLATE ALMOND MILK
Forget about sugar laden chocolate milk. We created a low sugar chocolate milk that you can feel good about drinking.
Our vegan chocolate milk recipe is made with cacao powder, maple syrup, and pure vanilla extract. It's so rich and creamy and one of the best that we've ever had.
We love it in our morning coffee!
HOW LONG DOES ALMOND MILK LAST?
Homemade almond milk isn't filled with preservatives, so we suggest enjoying it within three days of making it. That shouldn't be a problem because you're going to want to drink it whenever you're thirsty.
Store it in the refrigerator.
Make all of our vegan almond milk recipes and let us know what you think. We love to hear from you! And, don't forget to take a picture of your gorgeous creation and tag us @veganosity on Instagram.
How to Make Almond Milk
Homemade almond milk is so easy and delicious. We also show you how to make vegan refined sugar-free chocolate and strawberry milk.
Course:
Breakfast, Drinks, Snack
Keyword:
almond milk, vanilla almond milk, vegan almond milk
Ingredients
3

cups

almonds

see note

6

cups

filtered water
STRAWBERRY MILK
2

cups

almond milk

2

cups

strawberries

stems removed

2

tbsp

maple syrup

see note

1/4

tsp

pure vanilla extract
CHOCOLATE MILK
2

cups

almond milk

1

tbsp

cacao powder

cocoa powder will work as well

2

tbsp

maple syrup

1

tsp

pure vanilla extract
Instructions
In a large bowl, cover the almonds in water.and soak overnight. If you're in a hurry you can boil the almonds in water for 15 to 20 minutes, or until they're soft and puffy. Drain and rinse.

After soaking overnight, drain the water and rinse the almonds in a strainer. Blend the almonds and the six cups of water in a blender until the almonds are not visible. They should be the size of a grain of sand.

Blend the almonds and the six cups of water in a high power blender until the almonds break down and solid pieces are almost invisible.

Place a nut bag over a large bowl and pour the milk in a nut bag. Twist the top of the bag and squeeze the liquid into the bowl. You'll probably have to do this in batches.

Enjoy your fresh almond milk. Refrigerate. Drink within three days.
STRAWBERRY MILK
Put the 2 cups almond milk, 2 cups strawberries, 2 tbsp maple syrup, 1/4 tsp vanilla extract in a blender and blend until smooth and creamy, approximately 1 minute.
CHOCOLATE MILK
Add the 2 cups almond milk, 1 tbsp cacao powder, 2 tbsp maple syrup, and 1 tsp vanilla and blend for 1 minute, or until smooth and creamy.
Recipe Notes
The Nutrition Facts are an estimate only.
If you like a sweeter milk, add more syrup. If you don't like maple syrup you can use agave syrup. 
Nutrition Facts
How to Make Almond Milk
Amount Per Serving
Calories 490
Calories from Fat 333
% Daily Value*
Fat 37g57%
Sodium 231mg10%
Potassium 621mg18%
Carbohydrates 29g10%
Protein 16g32%
Vitamin C 28.2mg34%
Calcium 418mg42%
Iron 3mg17%
* Percent Daily Values are based on a 2000 calorie diet.