20 Fresh and Vibrant Vegan Springtime Salads from some of your favorite vegan bloggers. Plus two extra recipes thrown in for good measure. 
Hello spring, welcome back!
Robins and cardinals are everywhere, purple crocuses are dotting the flowerbeds, and daffodil and tulips are almost ready to bloom. It's time to prep your flowerbeds and boxes, seed your gardens, and take a deep long breath of the fresh spring air. Ahhh…..
This is the time of year that makes me crave salads. Salads filled with lots of greens and colorful veggies, and even fruit. How about you? Do you think that spring and salads go hand in hand? How could they not? Spring is all about watching nature come back to life, and salads are symbolic of everything that is light, and fresh, and happy, and healthy.
To celebrate the beauty of this new season, I'm sharing a collection of some of the most vibrant and delicious salads around the web. So grab a fork and let's dig in.
Vegetable and Herb Chopped Salad from Veganosity
This salad is filled with red leaf spinach, spinach, basil, tomatoes, bell peppers, olives, and an amazing cheesy herb dressing.
Summer Salad with Pickled Peaches and Blueberries! Compliments of Becky at Glue & Glitter
Crave Worthy Kale Salad and Roasted Chickpea Salad! Thanks to Cadry at Cadry's Kitchen.
Cashew Cabbage Crunch Salad! Compliments of Kristina at Spabettie.
Cauliflower Cashew Confetti Salad from Spabettie
Purple Carrot Salad with an Almond Dressing! From Bianca at Elephantastic Vegan.
Stir-Fry Inspired Salad! Compliments of Dianne at Dianne's Vegan Kitchen.
Lentil Summer Salad! Thanks to Sarah at Fried Dandelions.
Romanesco and Caulifower Salad with Pomegranate
Compliments of Lucie at Win-Win Food.
Roast Spring Vegetables with Lemon and Herb Quinoa! Thanks to Aimee at Wallflower Kitchen.
Split Yellow Lentil Kosambari! Compliments of Uma at Simple Sumptuous Cooking.
Cucumber Chickpea Salad with Tahini Dressing! Compliments of Jenn at Veggie Inspired Journey.
Raw Spiralized Thai Salad compliments of Rebecca at Strength & Sunshine.
Quick and Easy Pasta Salad! Thanks to Sophia at Veggies Don't Bite.
Kale, Persimmon, and Pecan Salad! From Dixya at Food, Pleasure, & Health.
 Spring Spinach and Strawberry Salad from Veganosity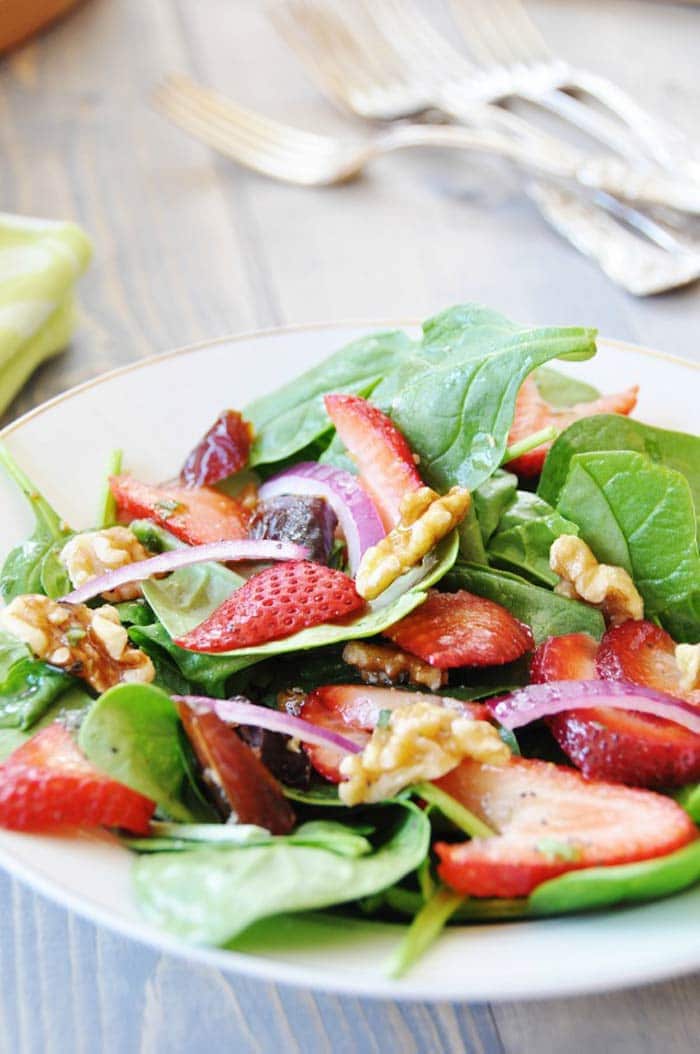 Jicama Fruit Salad with Cilantro and Lime! Compliments of Letty at Letty's Kitchen.
Pea Salad with Oil-Free Miso Mint Almond Milk Dressing! Thanks to Nancy at Ordinary Vegan.
Fennel and Radish Citrus Salad from Kelly at Tasting Page.
Healthier Vegan Ambrosia Fruit Salad! From Veganosity.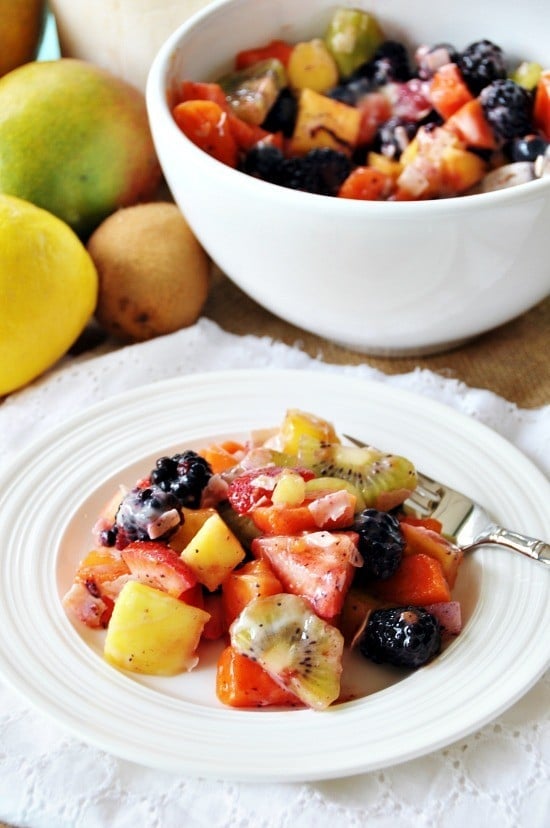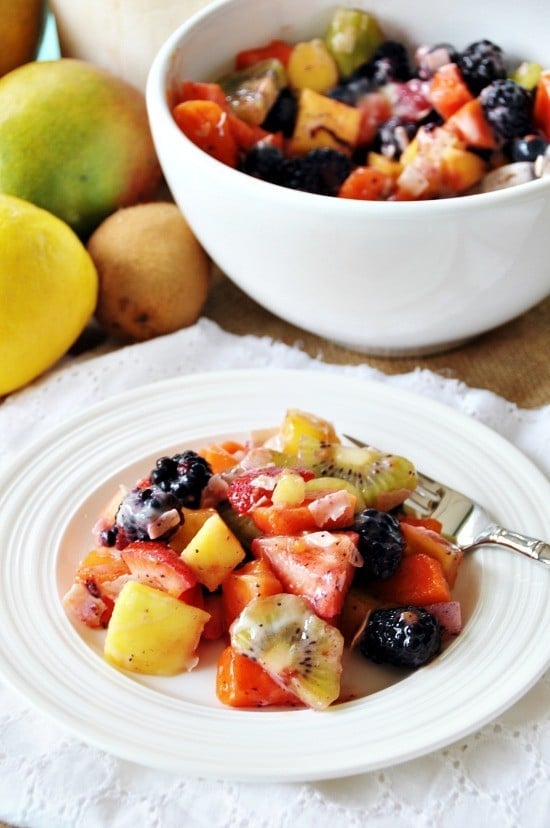 Because I love salad so much, I had to throw in two  bonus salads, just for good measure. 😉
Healthy Rainbow Pasta Salad from Ceara at Ceara's Kitchen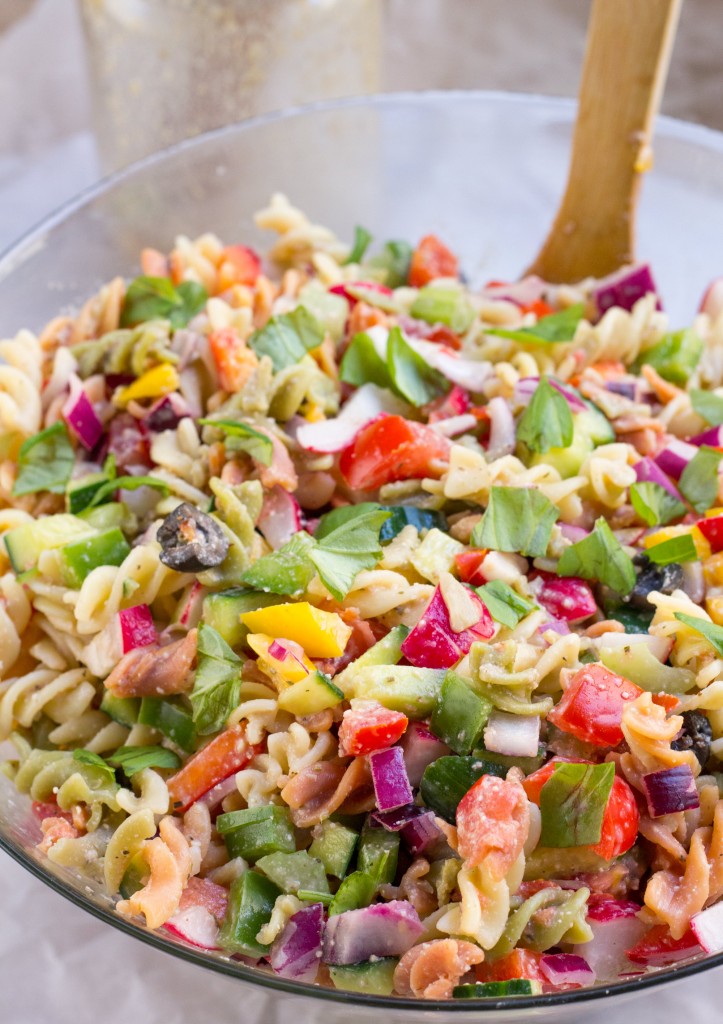 Thai Mango Salad with Ginger Lime Dressing from Veganosity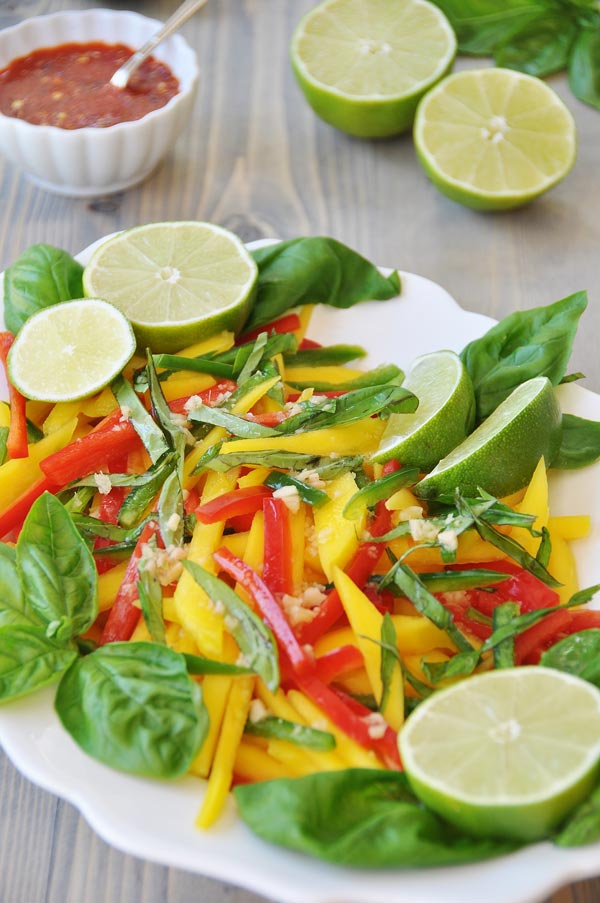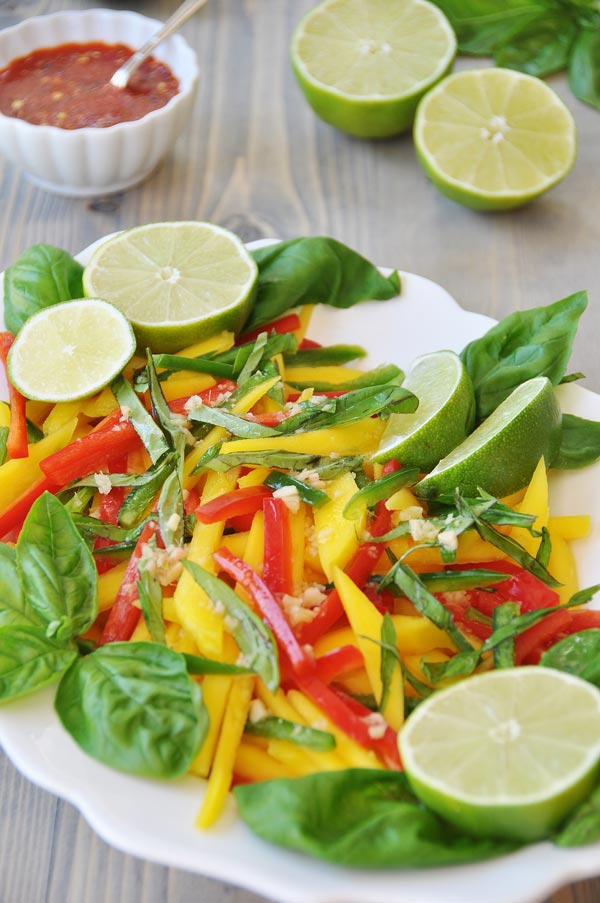 There you have it twenty fresh and vibrant vegan springtime salads, plus one for good measure. Make one or more of them for your Easter celebration, or for Sunday brunch (there's always room for salad). Of course, you're going to want to eat a salad or two every day from here on out, because it's the season!
Do us a favor, if you like this recipe and can't wait to see what we're going to share next, subscribe to Veganosity. Just fill in the subscription box above our picture in the top right corner of the page. Alex and I love hearing from you. Please leave a comment and let us know what you think of our recipes. And let's connect! Hop on over to Facebook page and give it a like, or follow us on Instagram or Twitter, and follow us and share this and other Veganosity recipes on Pinterest. We'd be so grateful if you did.
Tell me: 
How often do you eat salad? 
What's your favorite dressing? 
Which one of these will you be making?