We asked some of our favorite vegan bloggers to share their favorite recipes to send to a starving/home sick college student, and they delivered. You'll find bars, energy bites, cookies, breads, and a few of our favorite things to bring a smile to a weary student's face. 
College life, it's the best of times and the worst of times, especially for freshman. The new found freedom is exciting. Being away from the comforts of home can be daunting.
Making new friends is both fun and scary. Learning how to organize oneself and say no to socializing and yes to studying is HARD!
Making healthy food choices can be really difficult, especially if your student is vegan and has to rely on cafeteria food.
Trust us when we say that sending a monthly care package is not only appreciated, it's detrimental to the physical and mental health of all students. They need something that's made at home and with love. They also need something that is mostly made of real food, not processed junk.
We created this roundup to take the guess work out of putting together an awesome college care package. Just pick out a recipe or two, make them, and send them off in the mail. If you're feeling extra generous, add a few more goodies from our Favorite Things list at the end of the post.
ENERGY BALLS AND BARS FOR A COLLEGE CARE PACKAGE
College students need all of the energy that they can get, and they need the right kind of energy. Forget caffeine filled energy drinks, send them something that will boost their production and take care of snack cravings.
HEALTHY CHOCOLATE ENERGY BALLS from Veganosity
These are easy to make, portable, and delicious. I mean, who doesn't appreciate chocolate snacks that are good for you?
These scrumptious little balls are made with cacao powder, dates, oats, hemp and chia seeds, and vanilla.
Orange Creamsicle Protein Balls from Spabettie
These light citrus balls are made with only four ingredients and are no-bake. Super easy and super yummy! Mix them with the Chocolate Energy Balls above, because orange and chocolate.......
NO BAKE PEANUT BUTTER CHOCOLATE COCONUT BITES from Delightful Adventures
Six whole food ingredients, such as oats, peanut butter, coconut, hemp hearts, and chocolate chips are rolled together to make the most delicious bites.
CHEWY HEMP-NUT GRANOLA BARS WITH CHOCOLATE from Healthy Happy Life
These chewy bars are made with cashews, hemp hearts, oats, coconut, and puffed rice. They're covered in chocolate chips and are sure to keep a hungry and tired college student energized.

CARROT CAKE ENERGY BITES from Veganosity
These are perfect for your carrot cake loving kids. They're so much like cake that you'll never believe that they're actually good for you.

NO-BAKE CINNAMON ROLL BARS from The Vegan 8
These bars taste like fall. Perfect for a cozy night of studying.
CHEWY CHERRY-WALNUT GRANOLA BARS from Veganosity
These delicious bars are chewy and crunchy all at the same time. The dried cherries lend a nice sour note to the mild flavors of the oats and walnuts.
THE BEST COOKIES TO SEND TO COLLEGE STUDENTS IN A CARE PACKAGE
If your college student isn't in to energy bites or raw foods, don't worry, we have plenty of vegan cookies to share with you.  They pack well and stay fresh during shipping.
VEGAN BANANA BREAD COOKIES from Cadry's Kitchen
Banana bread in cookie form, with chocolate chips for good measure.
NO-BAKE POWER COOKIES by Go Dairy Free
Flax seeds, hemp seeds, chia seeds, coconut sugar, and so much more go into these crunchy and healthy cookies. Your student is sure to give these and A+.
SOFT GLUTEN-FREE OATMEAL RAISIN COOKIES from Veganosity
Chewy and healthy oatmeal raisin cookies will make your college kid feel like a little kid again.
VEGAN BREAKFAST COOKIES from Veggies Don't Bite
These cookies are healthy enough to eat for breakfast. They're like a bowl of oatmeal in cookie form.
PUMPKIN SPICE COOKIES from Veganosity
These are the perfect fall cookies, and they make great study buddies. The smell of the pumpkin spice will bring a smile to your student's face when they open their care package.
PEANUT BUTTER OATMEAL CHOCOLATE CHIP COOKIES from Delightful Adventures
If you can't decide between peanut butter, oatmeal, or chocolate chip cookies, just make these. They're all three in one.
CHOCOLATE CHOCOLATE CHIP COOKIES from Veganosity
These are a chocolate lovers dream cookie! Cocoa powder meets chocolate chips. They're chewy and delicious, and if you want some crunch, add walnuts.
EASY TREATS TO MAKE AND SEND IN A CARE PACKAGE
DARK CHOCOLATE SUPERFOOD BARK from Spabettie
Dates, goji berries, almonds, hemp seeds, and of course, chocolate, makes the perfect healthy treat!
OVEN DRIED PEACH CHIPS from Feed Them Wisely
These are perfect for sending at the end of August when school is just getting started. Once peach season is over, swap them out for apple chips.
FRESH ROSEMARY ROASTED ALMONDS from Go Dairy Free
Make sure that they get plenty of protein in plant form! These savory roasted rosemary almonds will help them stay alert and strong.
HEALTHY PEANUT BUTTER CUP MUDDY BUDDIES from Strength & Sunshine
This gluten-free and refined sugar-free snack is easy to make and easy to ship. Your student will appreciate receiving this crunchy and tasty treat.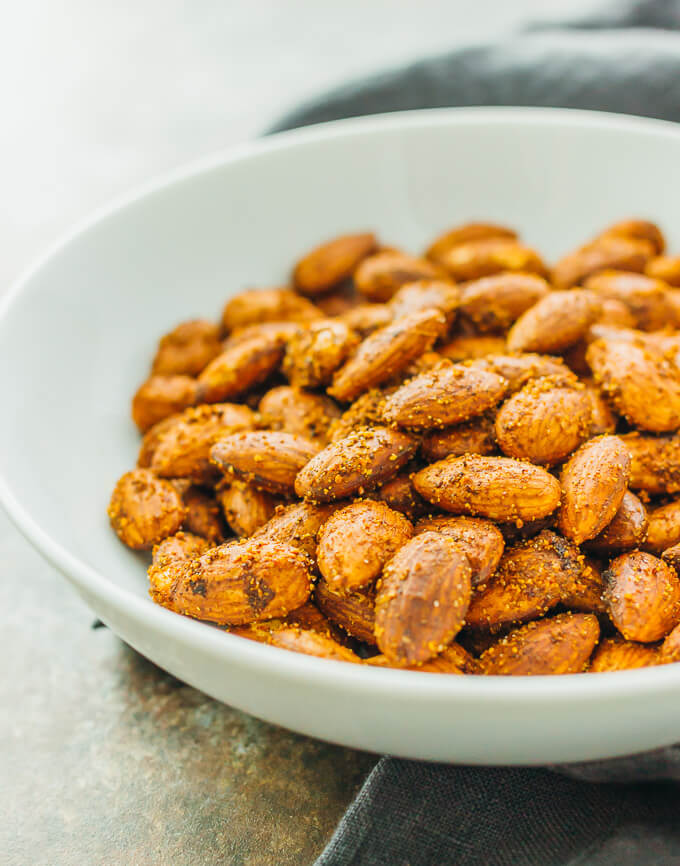 SPICY SMOKY GARLIC ALMONDS from Savory Tooth
This roasted almond recipe is full of flavor and sure to be a dorm favorite. Send extra for friends.
SPICY CRUNCHY ROASTED CHICKPEAS from Veganosity
Here's another protein packed spicy snack option for your student. Again, send extra so they can share with their friends during group study time.
SEEDED ROSEMARY CRACKERS from Sunnyside Hanne
These homemade crackers are so healthy and delicious. Send them with a few coupons for vegan cheese, so they can spread it on the crackers.
CHILI GARLIC KALE CHIPS from Veganosity
These are so much better than potato chips! Make a huge batch and watch them disappear. Be sure to ship them in a solid container, like Tupperware, so they don't arrive in crumb form.
THE BEST HOMEMADE QUICK BREAD TO SEND IN A CARE PACKAGE
CLASSIC HOMEMADE BANANA BREAD from Veganosity
One of Alex's favorite things to receive in a care package was  banana bread. We've made our recipe even healthier and replaced white sugar with refined sugar.
CRANBERRY ORANGE QUICK BREAD from Veganosity
When the holiday season rolls around and your student is studying for finals, send them a loaf of our bright and tart cranberry bread with orange.
STORE BOUGHT SNACKS AND GIFTS TO SEND IN A CARE PACKAGE
Go big or go home, that's my motto when sending a care package, so here are some of my favorite things to add to a care package, along with my baked goodies, of course.
Lentil Chips make a great snack. Pepitas are a great source of protein. Dr. McDougall's Vegan Chicken Ramen is a college student's best friend, as is his lentil soup. 
Pack the fun loot in a wire basket that he or she can use to store things in. A fun mug is always appreciated, along with tea. A deck of playing cards can be a great stress releiver, and so much better than social media.
We hope this inspires you to send a care package to your favorite college student, or anyone who would appreciate a little love. ♥
Let's connect! Hop on over to our Facebook page and give it a like, and follow us on Instagram and Twitter, and follow us and share this and other Veganosity recipes on Pinterest. We'd be so grateful if you did. If you like this recipe and can't wait to see what we're going to share next, subscribe to Veganosity. Just fill in the subscription box above our picture in the top right corner of the page. And, Alex and I love hearing from you, please leave a comment and let us know what you think of our recipes.