Brighten up any day with this happy and refreshing salad! The citrus brought by the orange and lime juices bring a little bit of sweet while the orange sesame tofu adds the perfect amount of savory. Hope you guys love it just as much as we do!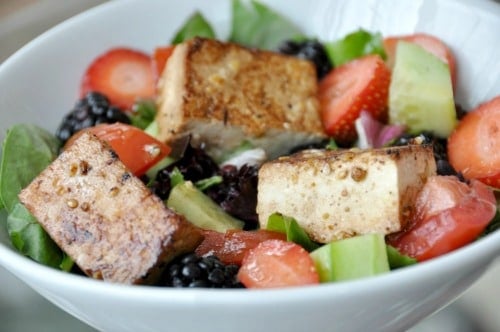 HOW DO I MAKE THE SESAME ORANGE TOFU?
Choosing the right type of tofu can seem super daunting if you don't cook with tofu a lot. Don't worry though! After being vegan for a while and learning to love tofu, we've learned how to pick, prep, and cook tofu to make it turn out amazing!
EXTRA-FIRM TOFU
The best type of tofu for this salad is definitely extra firm or super firm tofu! Tofu ranges from silken to super-firm. Silken tofu is wonderful for recipes like puddings, vegan cheesecakes, dips, sauces, and smoothies but will fall apart as a stand alone ingredient. Extra and super firm tofu marinates really well and then stays together while cooking!
Read more about all the different kinds of tofu here!
MARINATING & COOKING THE SESAME ORANGE TOFU
Once you've chosen the perfect type of tofu, it's time to make your marinade! Tofu is like mushrooms. It has a slight flavor, but basically just absorbs anything you cook it with to make a super delicious vehicle for flavor.
In this salad we used orange juice, soy sauce, salt, and pepper to make the most incredible marinade for the tofu! This combination makes for a sweet and savory tofu that sears perfectly once marinated. Why? Because the sugars in the orange juice help it caramelize!
Berry Salad with Sesame Orange Tofu
This salad is filled with sweet berries, an orange sesame dressing, and loaded with marinaded and seared tofu! Just cook your tofu and throw the rest of the ingredients together and you have a quick and easy meal.
Course:
Main Course, Salad
Keyword:
healthy salad, tofu salad, vegan salad
Ingredients
Tofu
½

block tofu

¼

cup

orange juice

4

tbsp

soy sauce

2

tbsp

toasted sesame seeds

salt and pepper to taste

1

tbsp

of vegetable oil
Salad
2

cups

mixed lettuce

1

cup

sliced strawberries

1

cup

blackberries

1

cup

sliced cucumber

1

roma tomato
Dressing
2

tbsp

olive oil

1

lime, juiced

5

tbsp

champagne vinegar

2

tbsp

orange juice

salt and pepper to taste
Instructions
First, drain your tofu and place it on a paper towel to draw out the moisture (takes about 10 min).

While your tofu is de-moisturizing, make the marinade by combining the orange juice, soy sauce, sesame seeds, salt, and pepper in a bowl and mix!

After the ten minutes are up, place your tofu in the marinade and use a spoon to pour some of the liquid on top of the tofu (do this every 5 min for about 20 min).

During these twenty minutes you'll have time to make your salad and dressing.For this salad, you can use any kind of salad mix or leaf you want to, in fact, I really like to mix it up. 5. Next, slice up your strawberries, cucumbers and tomatoes and toss them, along with the blackberries, into the salad.

heat up your vegetable oil in the pan over medium heat.

Take your tofu and slice it into about 2 inch rectangles.

When the oil is heated take your tofu out of the marinade (make sure not to throw out the marinade though) and place it in the pan. STAND BACK! The oil caught me the last time I did this.

Let your tofu sizzle on one side for about 3 minutes and then flip it to the other side. Let it sit on the other side the same way until you get a nice glaze on both sides of the tofu. 5. Once you get a nice brown pour the rest of your marinade into the pan until the tofu absorbs it all.

10. To complete your salad, pour the dressing over your salad and top it off with the sesame orange tofu Enjoy!
Dressing
mix the ingredients listed under dressing.
Nutrition Facts
Berry Salad with Sesame Orange Tofu
Amount Per Serving
Calories 454
Calories from Fat 270
% Daily Value*
Fat 30g46%
Sodium 2031mg88%
Potassium 740mg21%
Carbohydrates 32g11%
Protein 17g34%
Vitamin A 920IU18%
Vitamin C 99.6mg121%
Calcium 284mg28%
Iron 4.9mg27%
* Percent Daily Values are based on a 2000 calorie diet.
Make this and let us know what you think. We love to hear from you! And, don't forget to take a picture of your gorgeous creation and tag us @veganosity on Instagram.
Let's connect! Hop on over to our Facebook page and give it a like, and follow us on Instagram and Twitter, and follow us and share this and other Veganosity recipes on Pinterest. We'd be so grateful if you did. If you like this recipe and can't wait to see what we're going to share next, subscribe to Veganosity. Just fill in the subscription box above our picture in the top right corner of the page. And, Alex and I love hearing from you, please leave a comment and let us know what you think of our recipes.