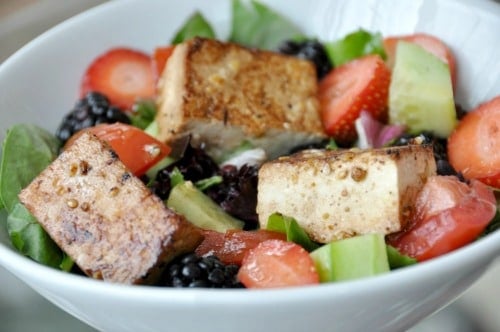 Brighten up any winter day with this happy and refreshing salad! The citrus brought by the orange and lime juices bring a little bit of summer to the middle of winter and provide a healthy and delicious meal. Hope you guys love it just as much as we do!
Ingredients:
Tofu:
½ block tofu
¼ cup orange juice
4 tablespoons soy sauce
2 tablespoons toasted sesame seeds
salt and pepper to taste
1 tablespoon of vegetable oil
Salad:
Mixed lettuce
1 cup sliced strawberries
1 cup blackberries
1 cup sliced cucumber
1 roma tomato
Dressing:
 2 tablespoons olive oil
1 lime juiced
5 tablespoons champagne vinegar
splash of orange juice
salt and pepper to taste
Instructions:
First, drain your tofu and place it on a paper towel to draw out the moisture (takes about 10 min). While your tofu is de-moisturizing, make the marinade by combining the orange juice, soy sauce, sesame seeds, salt, and pepper in a bowl and mix! After the ten minutes are up, place your tofu in the marinade and use a spoon to pour some of the liquid on top of the tofu (do this every 5 min for about 20 min). During these twenty minutes you'll have time to make your salad and dressing.
For this salad, you can use any kind of salad mix or leaf you want to, in fact, I really like to mix it up. This time, we used a mixture but I also like to use baby spinach and kale. Also, we chopped the lettuce because the leaves were so large (it's much easier to eat that way). Next, slice up your strawberries, cucumbers and tomatoes and toss them, along with the blackberries, into the salad. To make the dressing, simply mix the ingredients listed under dressing and pour over your salad (although I'd wait until your tofu is done cooking)!
Once your salad is prepared, heat up your vegetable oil in the pan over medium heat. Take your tofu and slice it into about 2 inch rectangles. When the oil is heated take your tofu out of the marinade (make sure not to throw out the marinade though) and place it in the pan. STAND BACK! The oil caught me the last time I did this. Let your tofu sizzle on one side for about 3 minutes and then flip it to the other side. Let it sit on the other side the same way until you get a nice glaze on both sides of the tofu. Once you get a nice brown pour the rest of your marinade into the pan until the tofu absorbs it all.
To complete your salad, pour the dressing over your salad and top it off with the sesame orange tofu Enjoy!