Crunchy baked almond crusted tofu bites & lemon ginger dip is the perfect appetizer for your next party. They're also fabulous as a meal. Just make a side salad and sit down to a well rounded high protein feast.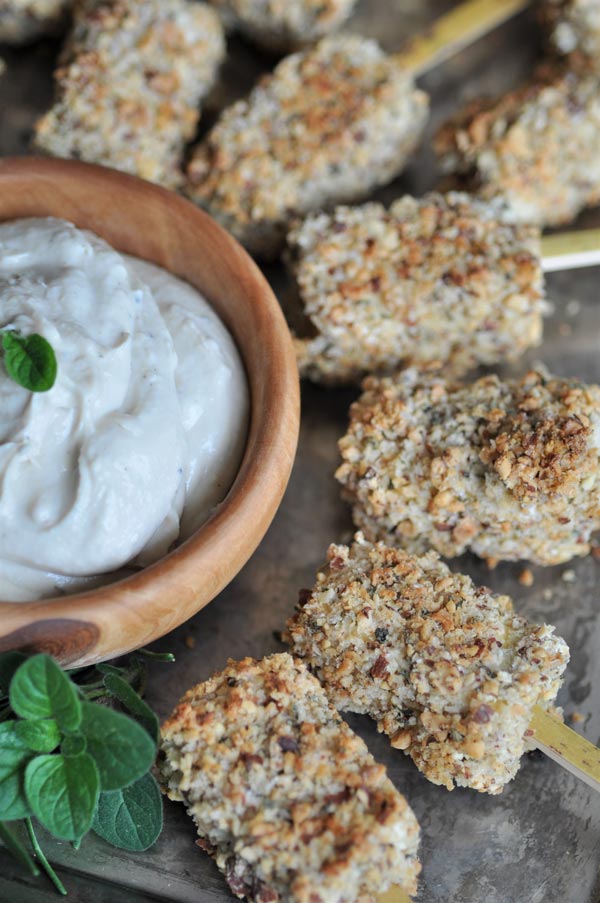 This is a sponsored post for Nielsen-Massey Fine Vanillas and Flavors. All content was written by us and all opinions and statements are our own.
Appetizer season is upon us. You know what we mean. From Halloween through New Year's Day, we're going to be eating small big plates of small bites, and loving every minute of it. Don't get us wrong, we adore delicious finger food as much as the next person, and at the same time, we also adore eating healthy, quality foods. That's why when Nielsen-Massey, our favorite company for vanilla and other extracts, asked us to create these Crusted Almond Tofu Bites with a Lemon Ginger Dipping Sauce, we jumped at the chance. Their products are made with the purest high quality ingredients and add the best flavor to your recipes.
These crunchy tofu bites are the perfect example of how good a recipe will turn out when you use the best ingredients. The almond, lemon, and ginger flavors compliment each other so beautifully. The almond lends a surprisingly sweet taste that is so perfect with the sharp ginger and bright lemon flavors.
Then there are the textures. The tofu bites are crispy and crunchy on the outside and chewy on the inside, and the dip is perfectly soft and creamy. You get so many layers of deliciousness in one fabulous bite.
They're also fun and easy to make. Just a few simple steps and you and your guests will be noshing on crunchy tofu appetizers that taste like they took hours to make. Bonus, you can make them ahead of time and then heat them up in the oven just before serving.
HOW TO MAKE BREADED TOFU WITH ALMONDS AND PANKO BREADCRUMBS
First – We started with extra-firm tofu, pressed and cut into cubes. While we pressed the tofu, we took out our food processor and started preparing the almond and panko breading.
Second – Toast the almonds, or cheat like we did and use roasted almonds with salt. Put them in a food processor (or you can finely chop them with a knife) along with the fresh rosemary, oregano, sage, and sea salt and pepper, pulse until they're finely chopped. They should be the size of coarse salt.
Third – Scrape the almond mixture into a shallow bowl and add the panko and a few teaspoons of Nielsen-Massey Madagascar Bourbon Pure Vanilla Sugar and mix it up until it's fully combined. Do yourself a huge favor and don't use anything but the Madagascar Bourbon sugar. It's vanilla flavor is unparalleled, and it complements the fresh herbs and the savory tofu like no other.
Fourth – Prepare a bowl of flour and another bowl of almond milk with a splash of Nielsen-Massey Pure Almond Extract. Believe us when we tell you that once you get a whiff of the extract, you're going to have a hard time putting the bottle down. It's like perfume of the finest quality, which makes sense because Nielsen-Massey only uses the finest ingredients, and they take great care to extract the oils from the fruits, plants, and nuts that they use to create their products. One taste and you'll understand.
Fifth – Dredge a cube of tofu in the flour, dip it in the almond milk, roll it in the almond mixture, and put it on a parchment lined baking sheet. Repeat the process with the rest of the tofu and then bake for 30 minutes, flipping the cubes every 10 minutes to ensure an evenly browned bite.
While the crunchy almond tofu bites are baking, make the creamy lemon & ginger dipping sauce.
HOW TO MAKE A LEMON AND GINGER DIP WITH CASHEWS AND CANNELLINI BEANS
This dip is full of really healthy proteins, and it's so creamy and flavorful. We guarantee that this is going to become one of your all-time favorites.
First – Soak the cashews in boiling water for at least 4 hours. If you don't have a high-powered blender you may want to soak them overnight.
Second – Drain and rinse the soaked cashews and the cannellini beans and put them in the blender with the water, rosemary, oregano, fresh grated ginger, and Nielsen-Massey Pure Lemon Extract, blend for approximately 2 minutes, or until the dip is silky and smooth. Scrape the sides a few times while blending.
You may wonder why we chose to use the lemon extract instead of pure lemon juice, and this is why. We had better control over the lemon flavor with the extract, and because we know that the quality of the extract is second to none, we were happy to use it in place of fresh lemon.
All right, now that we've gone through the easy process of making our favorite 2017 holiday appetizer, let's talk about how amazing the almond crusted tofu tastes with the vegan lemon and ginger sauce. There are no words. All you're going to be able to get out of your mouth is mmmmmmmm……., because as soon as you finish one of the bites with dip, your going to stuff another one in your mouth. No time for talking when these are sitting in front of you.
Speaking of the dip. Hello! Don't bring a spoon to the party or you might find yourself sitting in the corner with the whole bowl. Yes, it's that good.
This lemon ginger dip tastes amazing, and you can feel really good about eating it because it's made with whole foods and it's full of plant-based protein.
Make our tantalizing almond crusted tofu bites and creamy lemon ginger dip for your first holiday party and watch your guests go back for seconds and thirds, then come back and tell us how much they loved them. And please, to get the best results when cooking, always choose the best quality possible, starting with Nielsen-Massey extracts. Trust us, you'll taste the difference.
Let's connect! Hop on over to our Facebook page and give it a like, and follow us on Instagram and Twitter, and follow us and share this and other Veganosity recipes on Pinterest. We'd be so grateful if you did. If you like this recipe and can't wait to see what we're going to share next, subscribe to Veganosity. Just fill in the subscription box above our picture in the top right corner of the page. And, Alex and I love hearing from you, please leave a comment and let us know what you think of our recipes.
Yields Approximately 16 pieces
Almond Crusted Tofu Bites & Lemon Ginger Dip
Crunchy almond crusted tofu bites dipped into a creamy lemon ginger dip. The perfect appetizer. Or, make it a protein packed meal.
30 minPrep Time
30 minCook Time
1 hrTotal Time
Ingredients
FOR THE LEMON GINGER DIP

1 cup (113 g) raw cashews, soaked in boiling water for at least 4 hours (see note)
½ cup (120 ml) water
15 oz (425 g) cooked cannellini beans
1 ½ tsp (4 g) fresh grated ginger
1 tsp ground sea salt (or to taste)
1 tsp minced fresh oregano, stems removed
½ tsp minced fresh rosemary, stems removed
¾ tsp Nielsen-Massey Pure Lemon Extract
½ tsp ground black pepper (or to taste)

FOR THE TOFU BITES

14 oz (397 g) block of extra-firm tofu
½ cup roasted almonds
½ cup (61 g) Panko breadcrumbs
1 tbsp (15 g) minced fresh oregano, stems removed
1 tbsp (15 g) minced fresh sage, stems removed
2 tsp (5 g) minced fresh rosemary, stems removed
2 tsp (5 g) Nielsen-Massey Madagascar Bourbon Pure Vanilla Sugar
Ground sea salt and black pepper to taste
½ cup (63 g) all-purpose flour
½ cup (60 ml) unsweetened almond milk
1 ½ tsp (7 ml) Nielsen-Massey Pure Almond Extract
Instructions
FOR THE DIP

Soak the cashews in boiling water for at least 4 hours. Soaking overnight will ensure optimal results.
Drain and rinse the cashews and put in the blender. Blend on a high speed for 2 minutes, scrape the sides occasionally, or until the nuts are smooth and creamy. You shouldn't see be able to detect any solid pieces. Drain and rinse the beans and place in the blender with the cashews, and add the ginger, salt, oregano, rosemary, lemon extract, and black pepper. Blend on a high speed for 1 minute, or until the dip is smooth and creamy. Adjust the salt and lemon if you want a bolder flavor.

FOR THE ALMOND CRUSTED TOFU BITES

Preheat oven to 400°F (204°C) and line a rimmed baking sheet with parchment paper.
Wrap the tofu in paper towels and a clean kitchen cloth and place on a plate. Place a heavy pan on top and press out the excess liquid for 15 to 20 minutes. This will ensure that the texture is firm. Once it's pressed, cut the tofu into 2-inch (5 cm) cubes.
Grind the roasted almonds in a food processor until they resemble the texture of the Panko breadcrumbs, approximately 30 seconds. Place the almonds in a shallow bowl and mix with the Panko, oregano, sage, rosemary, vanilla sugar, and salt and pepper until completely combined.
Put the flour in a shallow bowl.
Pour the almond milk in a shallow bowl and whisk in the almond extract until combined.
Dip the cubed tofu, one piece at a time, in the flour. Make sure to coat all sides. Then dip in the almond milk. Now dip in the almond and Panko breadcrumb mixture. Press the almond mixture into the tofu for a thick coating. Place on the baking sheet. Repeat with the remaining cubes of tofu.
Bake the crusted tofu for 10 minutes, then flip each piece and bake for another 10 minutes. Flip one more time and bake for another 10 minutes, or until all sides are golden brown and crisp.
Serve with the dip.
Enjoy!
Notes
For best results, soak the cashews overnight if you don't have a high-powered blender.
7.8.1.1
464
https://www.veganosity.com/almond-crusted-tofu-bites-lemon-ginger-dip/