What does your pantry and refrigerator look like? Not their physical appearance, although the more organized they are the easier it is to get inspired, I'm talking about their content. What's in them? If you want to consistently eat healthy, then you are going to have to make sure that you always have specific staples on hand. It's that simple.
You know those times that you find yourself foraging through your cabinets and refrigerator, aimlessly searching for something to eat, but you keep coming up with nothing? There could be several reasons for that. One could be that cooking isn't your jam, so seeing a box of polenta and a can of fire roasted tomatoes doesn't equate to a delicious meal like this. That's okay, that's what we're here for. To help inspire you!
Or maybe cooking is your thing, but you just don't have the staples that will help you whip up this simple yet fabulous dinner. Whatever the reason, a well-stocked pantry could make your healthy vegan life so much better.
What's in a well-stocked vegan pantry? I'm so glad you asked, because I really want to help you with that. It took me several months to get used to the idea of a vegan pantry, but once I did, I realized two things. 1. It's healthier. 2. It's cruelty free.
Why is it healthier (and happier)? Because instead of chicken broth, I now use vegetable broth; instead of mercury laced tuna, I now use chickpeas; instead of cow's milk, I drink almond or coconut milk. You get the picture.
If you're a vegan, or someone who just wants to eat healthier, these are the things that I consider to be the most important staples to keep in your pantry. If you have these things, you'll never have to order take out again. Notice I said "have" to. 😉
Refrigerator Staples
Almond milk or any nut milk
Tofu
Miso
Vegan butter
Vegan mayo
White wine for cooking
Freezer Staples
Frozen berries and pineapple
Frozen vegetables (peas, corn, edamame, broccoli, kale, spinach, pearl onions, mixed vegetables)
Coconut ice cream – for a quick dessert (heat the frozen berries and spoon over the ice cream)
Grains and Legumes
Dried lentils
Whole grain pasta in assorted shapes (penne, spaghetti, linguine)
Brown rice and black rice
Pearl Barley
Farro
Couscous
Rolled Oats
Cornmeal
Polenta
Plain breadcrumbs
All purpose flour - whole wheat flour – chickpea flour
Nuts, Seeds, and Dried Fruits
Almonds - raw
Cashews - raw
Walnuts - raw
Pecans - raw
Peanuts – raw
Pine nuts
Almond butter
Natural peanut butter
Fruit preserves
Chia seeds
Hemp seeds
Ground flax seed
Tahini
Sesame seeds
Dates
Raisins
Dried cranberries
Canned and Bottled Staples
Fire roasted tomatoes
Tomato sauce
Vegetable broth
Mushroom broth
Lite and regular coconut milk
Black beans – red beans – chickpeas – great northern beans or navy beans – cannellini beans
Unsweetened apple sauce
Oils, Vinegars and Condiments
Avocado Oil
Coconut Oil
Extra-virgin olive oil
Canola oil
Sesame oil
Chili oil
Truffle oil
Balsamic vinegar
Apple cider vinegar
Champagne vinegar
Rice vinegar
Sriracha
Soy sauce
Vegan Worcestershire sauce
Chili sauce
Greek olives and green olives
Capers
Nutritional yeast flakes
Mustard
Ketchup
Vegan BBQ sauce
Liquid smoke
Red cooking wine
Spices and Miscellaneous Staples
Sea salt – coarse and finely ground
Black peppercorns or ground black pepper
Garlic powder
Onion powder
Dried herbs – oregano, basil, rosemary, sage, thyme, tarragon, coriander, fennel, Italian seasoning, bay leaves
Chili powder
Cayenne pepper
Paprika
Cumin
Curry powder
Turmeric
Crushed red pepper
Allspice
Cardamom
Ginger
Cinnamon
Lemon and orange zest
Pure vanilla extract - Peppermint extract – Lemon extract – Orange extract
Agave nectar
Maple syrup
Cacao or cocoa powder
Vegan white sugar - Brown sugar - Confectioner's sugar – Coconut palm sugar
Vegan chocolate chips – Enjoy Life is a great brand
Desiccated coconut
Baking powder
Baking soda
Tapioca starch (great for making cashew cheese)
Fresh Products
The following products are fresh, but they're vital to a well-stocked kitchen.
Lemons – Limes - Oranges
Baby spinach
Tomatoes
Avocados
Garlic
Onions
Potatoes
Ginger
Cilantro
Carrots
Apples
Bananas
Whole grain bread (check to make sure that there isn't any milk or egg in the ingredients)
Wow! That's a long list of ingredients. It is, but it isn't. When you break it down, a lot of these things will last you a long time, such as the spices and condiments. You probably have a lot of them in your house right now, so it's not like you're going to have to go out and spend hundreds of dollars on groceries. Take this list and check off the things you already have, I bet you'll be surprised by how much you have in your kitchen.
Once you check off what you do have, go through the list and try and figure out what you absolutely need, and what you don't. Some of you won't put coconut in your pantry because you don't like it. Some of you might have allergies to one or more of the foods on the list. Don't be afraid to make this your own.
As far as the fresh ingredients, you only need to shop for them once a week. I find that a half of a dozen tomatoes lasts my husband and I one week. A bag of lemons, lasts two weeks. A large container of baby spinach, lasts me three days because I put two heaping handfuls in my morning smoothie. Figure out what will work for you based on your eating patterns, then go shopping.
If you're not convinced, let me show you a few recipes that I've come up with when I thought I didn't have any food in the house. Hopefully, these will make you a believer.
The vegan penne pasta casserole that I posted recently was made up of all but one thing that I always have in my pantry. The fresh basil is not a staple in my house because I like to use it the day I buy it, it just tastes fresher. But, if you're looking for something delicious and healthy for dinner and you don't have fresh basil, use dried basil, and you'll have this lovely dish on the table in no time!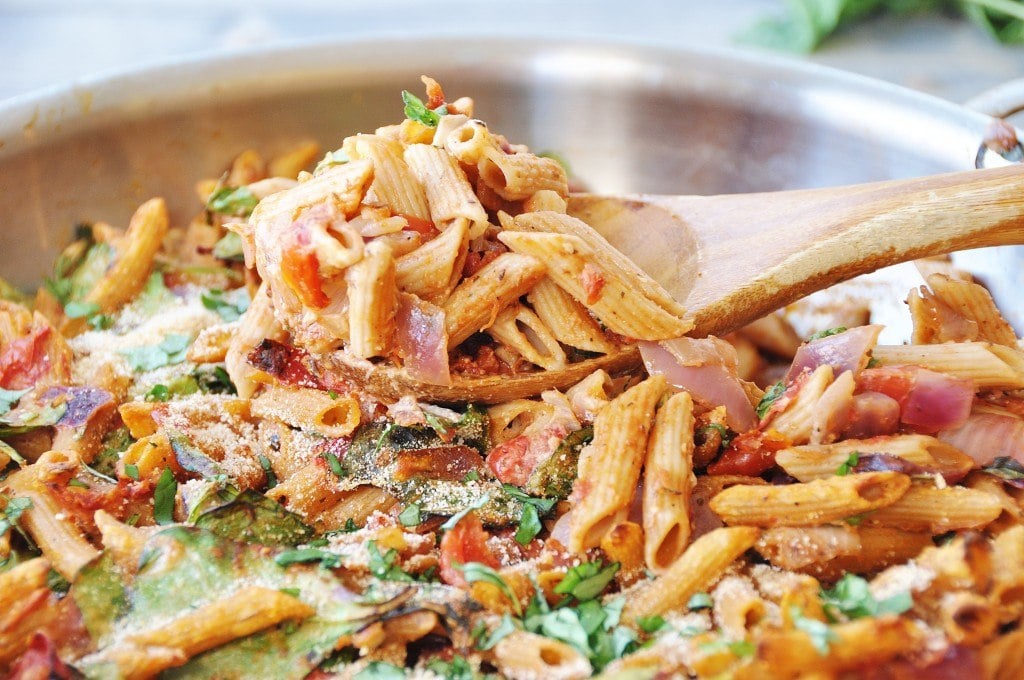 These gorgeous and delicious baked onions with fennel is another recipe that you could easily whip up if you have a well stocked pantry.
Or make a delicious and cozy soup. This vegan garlic and rosemary soup is easy. You could easily substitute the fresh rosemary for dried if you're in a pinch.
You could also make a decadent smoky black beans and spicy green chard on a vegan corn waffle by swapping out the chard for spinach.
So your darling child just told you at 9:00 pm that he/she has to bring cupcakes for the class party tomorrow. No worries, you can whip up some vegan chocolate coconut cupcakes in a flash, no trips to the supermarket required.
Did I miss something? Let me know, I can't think of everything. 🙂
If you live in a rural area that doesn't have some of the options on this list, relax, you can do your shopping at Amazon.com. Just click on the photo and start shopping!
Veganosity is a participant in the Amazon Services LLC Associates Program, an affiliate advertising program designed to provide a means for sites to earn advertising fees by advertising and linking to amazon.com. We make a small commission when you order from Amazon. It helps us afford the groceries to develop all of our recipes, and to pay for the maintenance of our site. We thank you in advance for your consideration.