45 Plant-Based Game Day Party Recipes! You'll find everything from dips to desserts in this mouthwatering collection of football food. So, go ahead! Scroll through our favorite vegan party recipes. 
Game day food, y'all! It's back! College football, NFL, the end of the baseball season, whatever you're into, good food is a necessary part of  cheering your favorite team on to a win. If you're like us, you spend a good part of  your Saturdays and Sundays  screaming and jumping up and down in front of the television, many times with a lot of friends. And if you're really lucky, you tailgate and then go into the stadium to watch. Whether you view from home alone, with friends, or at the venue, you're going to get really hungry for  game-day food. To help you plan your next  watch party, we've collected some of the best vegan game day recipes from some of our favorite blogger friends. Take a look and do some bookmarking now so you have a fabulous list of football food ideas for later. Just click on the link to each recipe.
FORTY-FIVE VEGAN GAME DAY RECIPES!
DIP INTO THESE!
No game day is complete without a table of tips. Seriously! From guacamole to buffalo chicken dip. They're all delicious and they're also necessary. So, make a shopping list of our easy, portable, and easy to eat dips! These savory snacks are sure to be the life of the party.
by veganosity
Have you noticed that no matter what party you go to there's always a big bowl of hummus? We have! It's always there and we totally get why. Hummus is so universally loved and really easy to make. But, instead of taking another bowl of classic hummus, may we suggest spicing things up with our Spicy Oil-Free Mexican Hummus?
from yummy mummy kitchen
This is such a childhood classic! In fact, it used to be Alex's favorite dip. Until she went vegan. Now that we have this recipe, layered bean dip is back on the menu!

by spabettie
Queso is just delicious. It's non-disputable. Unfortunately, this classic treat typically isn't vegan friendly. Enter Spabettie's beautiful vegan rendition of a chorizo queso! Your friends won't even know it's vegan!
by a virtual vegan
You're 100% missing out if you're not regularly making this garlic onion dip! It's so savory, creamy, and perfect paired with tortilla chips. Be warned: you may need to make double because  if you're like us, you'll eat the whole first batch by yourself!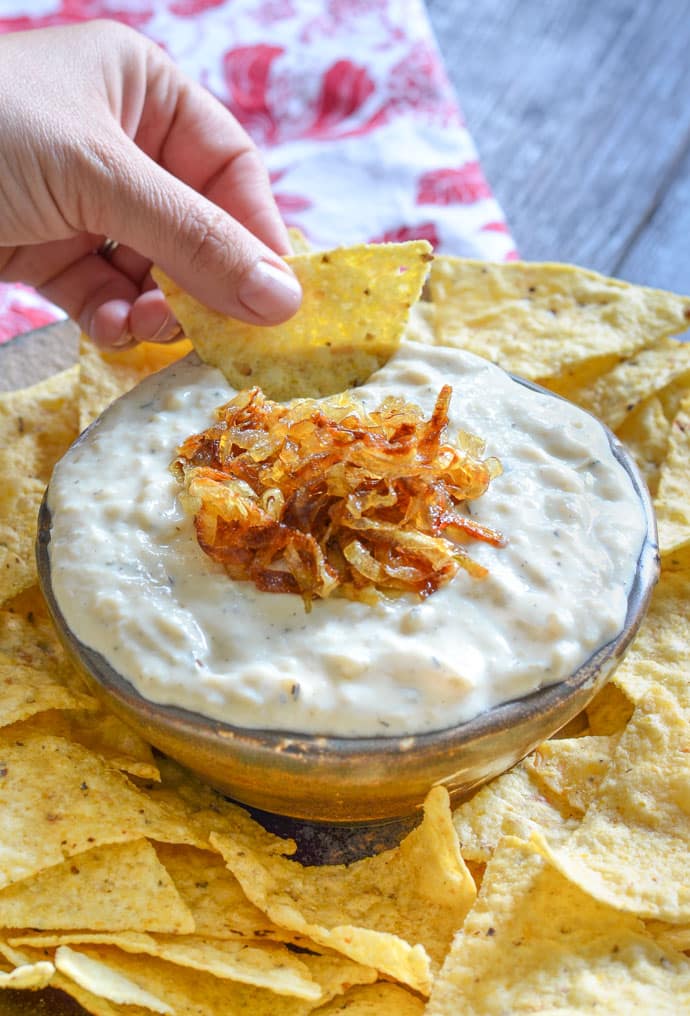 by vegan richa
Not only is this dip gorgeous, it's also super delicious and just spicy enough! Serve it alongside some gorgeous water crackers! Pro Tip: toast up some crostini and serve the dip on top of the crostini! It looks super elegant and you won't risk people pushing dip off their plates : )

by the garden grazer
Is there anything more refreshing than Texas Caviar? We think not! If we're lucky enough to encounter this fantastic dish at a tailgate, we make sure to pile our plates high and scoop it up with a fork! After all, it's not just good for you, it's also super flavorful.

by window clovers
Buffalo Chick'n Dip is the perfect Midwestern Football Tailgate treat! Going to Big 10 schools (University of Wisconsin and University of Iowa) we know what makes Midwestern tailgates tick. And what keeps them going? Buffalo Chick'n Dip! So, make this vegan version and you're sure to be the hit of the tailgate!

by glue & glitter
Like we said before, hummus is the perfect party food! And this BBQ hummus takes it to the next level. It's so tangy and perfect served right next to that Buffalo Chick'n Dip!

by vegan heaven 
We can't even tell you the amount of spinach dip we've consumed at family events over the years! It's crazy how much. Luckily, now we can keep chowing down because vegan heaven has given us this gorgeous vegan spinach dip. It tastes exactly like the original.

by veganosity
Last, but not least, we have this amazing guacamole! It's really the perfect classic guacamole. Warm your chips up in the oven before serving and you're sure to impress your friends.

THE BEST APPETIZERS
You think we're just stopping at dips? Heck no! We know that any great game day isn't complete without some seriously amazing appetizers. So, check out our list of incredible vegan appetizers.
by veganosity
Taquitos are the perfect party food. They're savory, super tasty, and easy to eat! Make a huge pile and serve them alongside the guacamole and queso.

CRISPY TOFU FRIES WITH MISO CHEESE SAUCE
by two city vegans
What we love about these little bites of heaven is how innovative they are! People will be so impressed with this unique vegan dish at your next game day party.

by vegetarian gastronomy 
Buffalo bites are some of the most requested foods we get! Every time we go to a game day party, about four people will text us asking us to bring some buffalo cauliflower bites.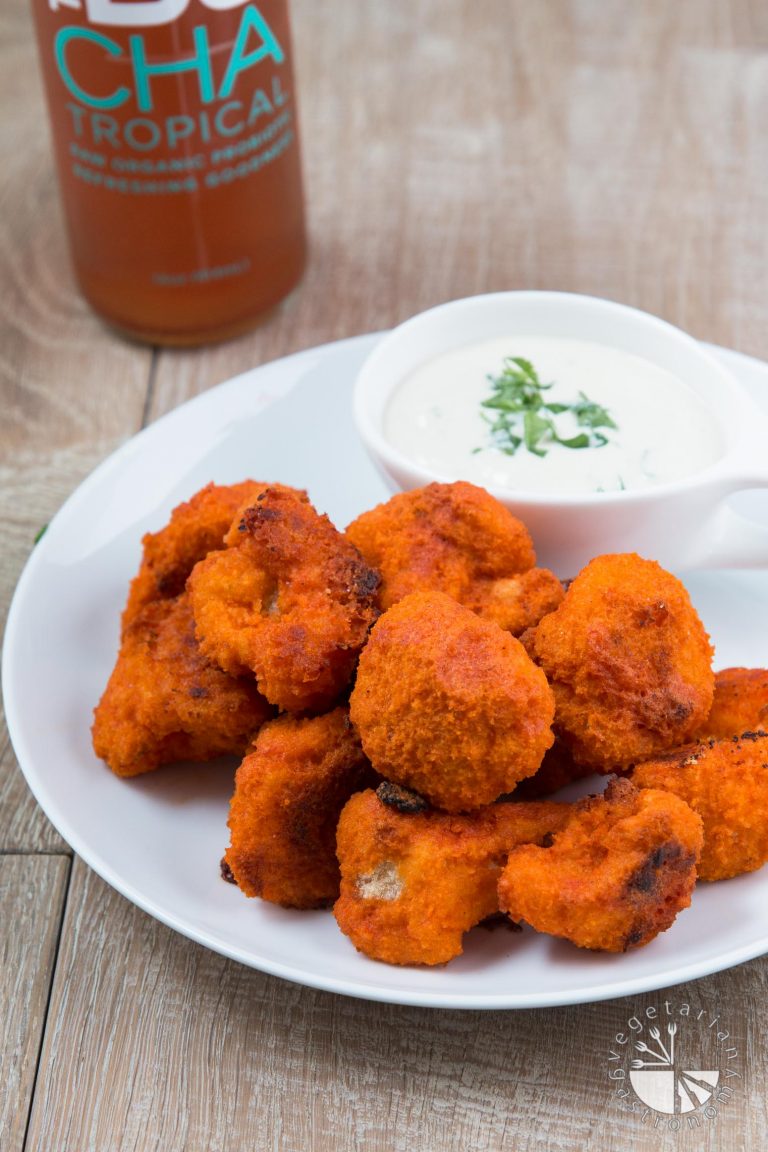 by well vegan
I seriously thought that we said goodbye to these when we went vegan, but they're back!!! These little cuties are going to be such a hit at any tailgate. Why? Well, they're super easy to eat, really tasty, and these in particular are so much more gourmet than your typical pigs in a blanket.

by veganosity
How colorful and gorgeous are these?!? Our little stuffed mini potato cups are a super cute way to celebrate football season. So, load up a tray with our cups, toss on some lime wedges, and sprinkle with sea salt!
by vegan sandra
Like the idea of vegan pigs in a blanket, but maybe you're not a huge fan of mock meat? Well then, let us introduce you to Vegan Sandra's carrots in a blanket! They're perfectly seasoned and just as delicious as the original. It's one of the best vegan party recipes!

by veggie inspired
We love a good roll up! After all, you can't seem to go to any party in the Midwest without a huge platter of them. So, we were so appreciative when Veggie Inspired came up with this delicious vegan version. Filled with healthy veggies and wrapped up so that they're extremely easy to eat! Enjoy!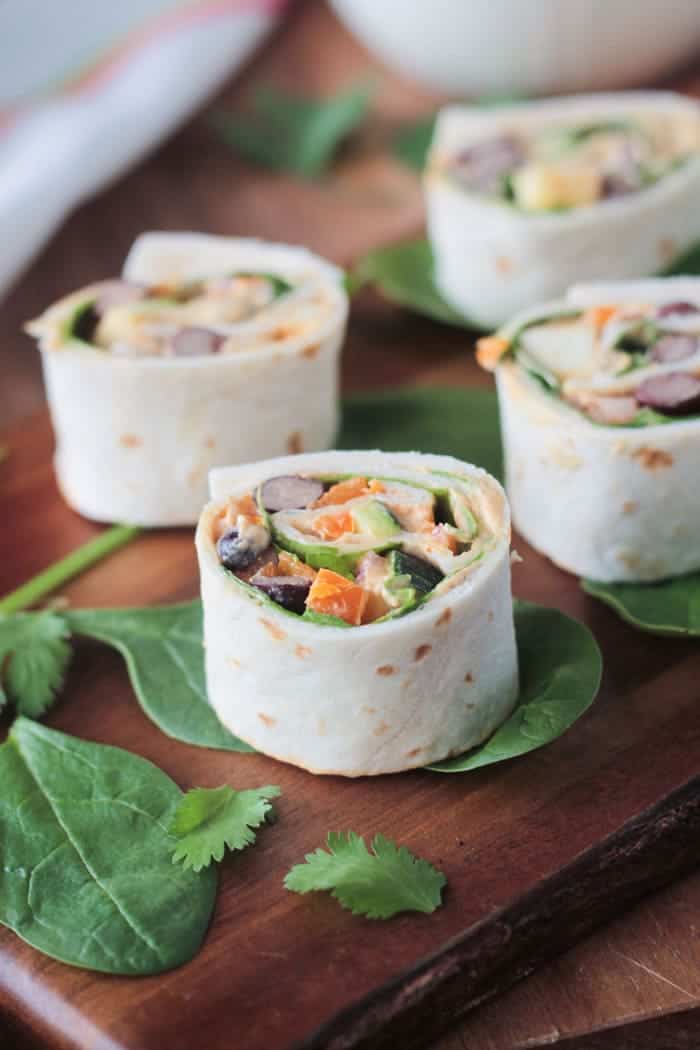 by dianne's vegan kitchen
These nachos are beyond incredible! The combination of vegan cheese, vegan sour cream, olives, avocado, and peppers make for a perfect tailgating treat. Make sure you pile your plate high so you can snag a piece before all your friends and family devour it!

by the nut-free vegan
We can't believe how tasty root beer bbq sauce is! It's not something we would've thought up, but we're so happy the Nut-Free Vegan did. They're incredibly tasty and we need you to hurry on over to Nut-Free Vegan's site to make this amazing and innovative recipe. It really is one of our most fantastic vegan party recipes!


GLUTEN-FREE BUFFALO CHICKPEA NACHOS
by vegan yack attack
Can you believe it! Not only are we giving you the delicious nacho recipe above, but we're doubling up your nacho enjoyment with this flavorful and gluten-free buffalo chickpea nacho recipe. They're just as delicious as a non-gluten free version!

by veganosity
These Mexican potato skins are decadent and mouthwatering! Piled high with vegan sausage, pickled jalapeños, and creamy vegan cheese. You're not going to be able to eat just one.
HEARTIER VEGAN PARTY RECIPES
by veganosity
Could we really do a roundup without including Chicago's favorite party food? Of course not! So, why not head on into your kitchen and whip up our classic Chicago vegan deep dish pizza!
by cadry's kitchen
One of our friends is absolutely obsessed with tater tots! So, every time she comes over, from now on, we're making these for her. These tender potato tots are perfect for any spud lover.

by veg annie
Vegan quesadillas are the most perfect addition to any tailgate party! They're crispy and creamy at the same time and filled with savory veggies. You're going to love these.

by vegan sandra
Remember those gorgeous carrots in a blanket from before? Well, lucky for you we've found the full sized version by Vegan Sandra! Grab those hot dog buns and get cooking!

by a virtual vegan
These tacos are a must make! They're great for any game day celebration, but they're also awesome for any weeknight dinner! In fact, we recommend if you're making them for a party, you might as well triple the batch and save some for dinner later that week.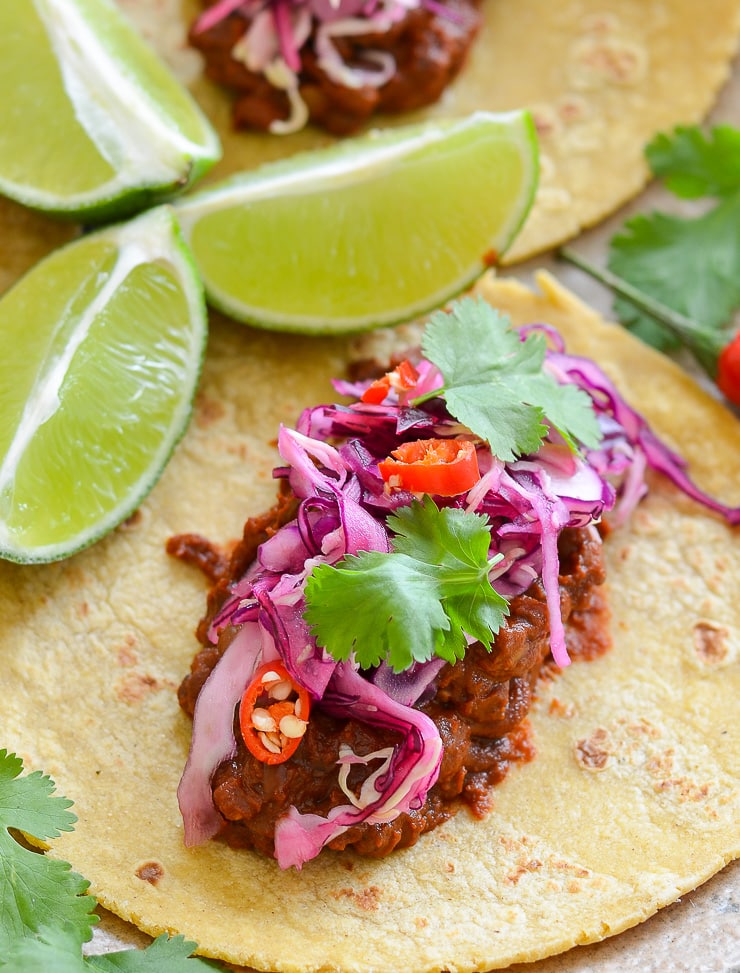 by kitchen treaty
Think soup isn't a game day food? Well, you'd be wrong! We recommend serving this creamy buffalo cauliflower chowder in mugs so your guests have the option to sip this delectable soup while cheering on their favorite team.

by vegan in the freezer
Another roll up recipe? Heck yes! May we recommend making both of them to give people two delicious options?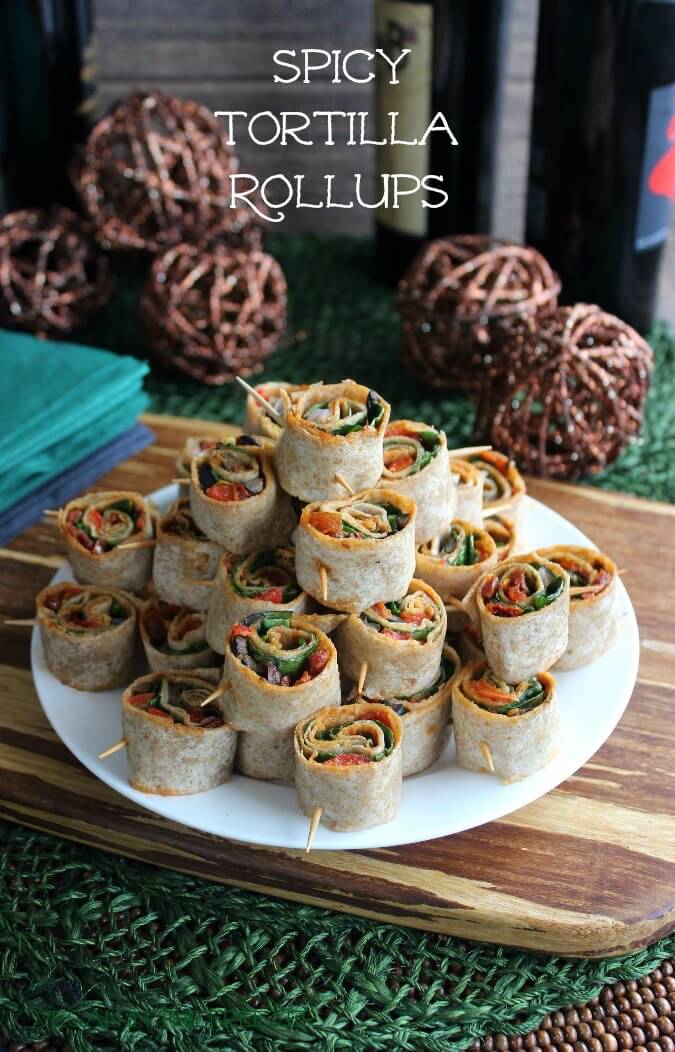 by happy kitchen rocks
Give your guests a healthy option with this Mexican Chopped Salad with Avocado Dressing! Bonus: even though it's healthy, the salad is still super tasty.

by go dairy free
These black bean burgers are such a great hearty option to serve at a tailgate! If you want to make them even easier to eat for your guests, why don't you try making them into sliders.

by veganosity
We used to love Totino's pizza rolls for parties! Why? Because kids and adults love them! So, we made an incredible vegan version that we think outdoes the original.
by where do you get your protein
If you think our pizza rolls looked great, how about you try these pizza pockets! They're even larger and perfect for a filling option.

by fried dandelions
We're sticking on that pizza train and introducing you to our favorite pizza tofu by fried dandelions! Serve with a little saucer of marinara sauce and you have a game day treat that all your guests will be asking for the recipe.

by veganosity
Our Jamaican Jerk Chick'n Chili is so incredibly flavorful and delicious! It's filled with jackfruit and a ton of healthy spices. Again, we think it would be perfect for your guests if you serve the chili in a mug.
by healthy helper
Can you tell we're a little obsessed with Italian food? This burger takes inspiration from Italy to make a perfect game day  burger!

by my goodness kitchen
Who doesn't love a good sloppy joe! They're so American and therefore, perfect for a football game.

by veganosity
This is by far our most popular recipe on the blog! And we understand why. Pulled pork was synonymous with Linda's childhood, so when we went vegan we had to come up with an alternative to this super non-vegan dish. That's when the incredible idea of pulled carrots popped into Linda's head! And we're so happy it did!
by veganosity
This Mexican lasagna is one of our household regulars! It's just spicy enough, filled with vegan cheese, and easy to make ahead.
SCORE SOME DESSERT
by veganosity
Spicy black bean brownies are a healthy and flavorful take on regular brownies! Sneak in a little extra protein and a nice extra spicy kick.
by the petite cook
How cute are these little pieces of banana sushi! They're so easy to make and so tasty. Best part: you can make a huge amount and keep them in the freezer for later. It's one of the best desserts in this list of vegan party recipes!


CHOCOLATE CHIP COOKIE IN A SKILLET
by veganosity
This chocolate chip cookie in a skillet is so perfectly sweet and the presentation is amazing! Your guests will definitely be talking about this desserts for weeks after your game day party.
by unconventional baker
What we love about these maple candied pecans in how easy they are to serve at any party! Just toss them in a bowl and place them on the table in front of your guests. Just make sure that you keep refilling the bowl because your guests are definitely going to gobble them up quickly.

by natural chow
These chocolate chip cookie dough bites are one of our favorite desserts ever! Probably because you can't get much better than cookie dough dipped in chocolate.

by veganosity
These tasty and tart little bites are the perfect party dessert! Because they're bite size you won't have to worry about cleaning up any extra silverware!
by veganosity
These soft and chewy oatmeal raisin cookies are absolutely perfect. We recommend serving them alongside a tall glass of almond milk. It's one of our favorite vegan party recipes!
Make one or all of the recipes this football season. And don't forget to come back and let us know what you thought about our list of vegan party recipes!
Let's connect! Hop on over to our Facebook page and give it a like, and follow us on Instagram and Twitter, and follow us and share this and other Veganosity recipes on Pinterest. We'd be so grateful if you did. If you like this recipe and can't wait to see what we're going to share next, subscribe to Veganosity. Just fill in the subscription box above our picture in the top right corner of the page. And, Alex and I love hearing from you, please leave a comment and let us know what you think of our recipes.