Sponsored by Oriya Organics. All opinions and words are our own.
Hey everyone! Welcome back to our second Thriving Plant-Based Thursday! Recently, Linda sent me an article talking about the skyrocketing amount of psychological diagnoses in children. In an instant I knew how the article would make thousands of parents feel. Two words: sheer panic. I know this because I used to work with a myriad of parents who were genuinely concerned that their children had bipolar disorder, ADHD, anxiety… you catch my drift. Now, I'm not saying that children can't or don't suffer from these problems. A lot do. But, much of the time there are underlying issues that can be addressed before slapping on a diagnostic label. So, can an unhealthy childhood lifestyle mirror psychological symptoms? Let me paint you a picture to make my point clearer:
Little Susie comes into a psychological practice. Her mother starts to sweat while rushing through the laundry list of symptoms her daughter is experiencing. The list includes hyperactivity, mood swings, feeling jittery, upset stomach, and feeling generally anxious. After hearing the amount of concern in Mom's voice and being the good therapists we are, we jump into action and start asking questions: how long have these symptoms been going on, is there any family history of mental illness, how does she interact with her peers, and so on and so forth. However, because we are limited in our scope of practice, there are massive questions being left unanswered.
You see, some mental health practitioners (depending on practice and theory) are discouraged from asking questions about diet and exercise (because you can't prescribe a diet unless you're an RD, at least in Illinois). So, we have no way of knowing that Little Susie eats Toaster Strudel with Bacon on the side for breakfast, chips for a snack, a ham and cheese sandwich on white bread for lunch with a side of… you guessed it, more chips and a cookie, Poptarts and a coke for a snack, and for dinner? A large healthy serving of boxed mac n cheese with artificial colors and flavors, and a slice of cake for dessert. No wonder Little Susie is feeling anxious! I would be bouncing off the walls and going through an emotional roller coaster ride too if I ate that crap all day!
Yes, the number of children being diagnosed with psychological issues is climbing, but we need to start questioning why it's climbing. Are kids actually more at risk for developing these disorders or do we need to take a look into their daily lives like little Susie here?  It's probably a little bit of both, but some experimenters have suggested that there is in fact an  incident of false diagnosing, especially for children diagnosed with ADHD.  Now why is this happening? It's not like most psychologists are out there scheming saying "now wouldn't it be fun to cause a stir? Let's diagnose them all with ADHD! Mwahahahaha!" Of course not! However, it just so happens that spikes in insulin can cause mood swings, which in children can include irritability, fatigue, and confusion. So could some, not all, kids be misdiagnosed with a psychological disorder when they really should be diagnosed with unhealthy lifestyle disease? It's an interesting and legitimate concern.
What's a parent to do!?!? Food is addictive and those processed foods can be especially hard to break your kids of, but with some tricks you can introduce a healthy diet to your children and therefore, change some of those environmental factors. Now, I am by no means claiming that a plant-based diet can "cure" someone of ADHD. What I am saying is that if a kid or adult is hopped up on processed foods 24 hours a day and is experiencing symptoms like mood swings, confusion, and irritability, it couldn't hurt to try to eliminate those insulin spiking and artificial foods. Here is an example of a healthy and kid (adult too) approved meal plan. Do your kids and yourself a favor and switch over from those addicting-insulin-spiking-processed foods to whole-food-plant-based meals.
Breakfast
Some banana-oat muffins with a side of fresh fruit. These muffins are made without refined sugar and are entirely gluten-free.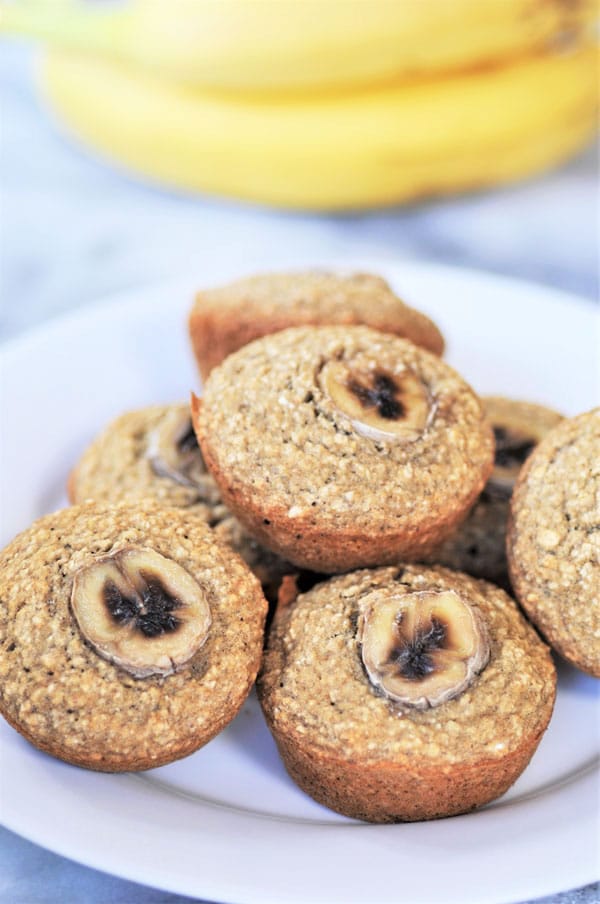 Snack
Raw Apple Cinnamon Energy Bites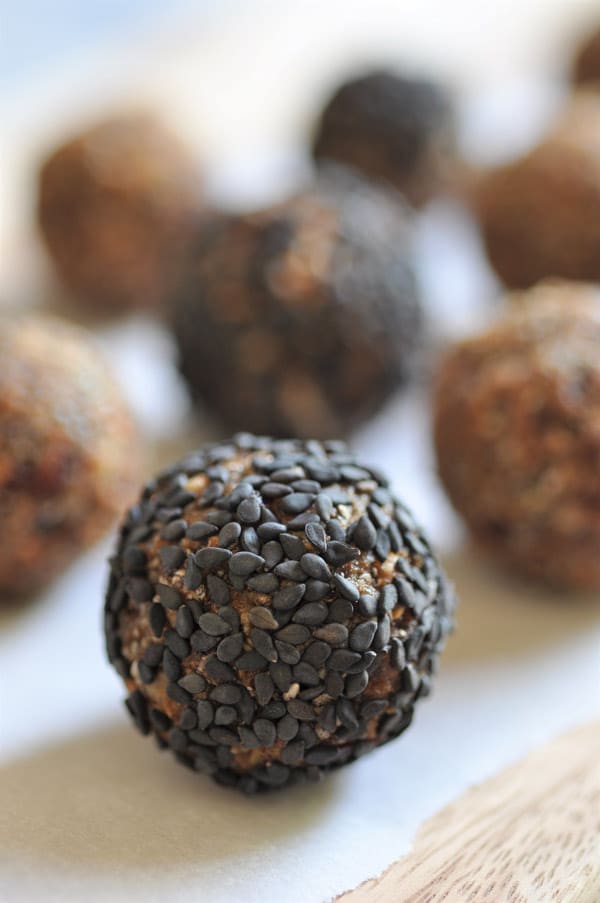 Lunch
Jackfruit Tuna-Less Salad Sandwiches: with some chopped up carrots and grapes
Snack
Dinner: Carrot Fries  with a vegan beet burger .
See, there's no reason to pump your kids, or yourself, with chemicals and refined sugar when you can make food like this. All of it is delicious, made with whole foods, and no refined sugar.
Speaking of real food, there's one more thing that can make or break you when it comes to eating clean. Protein and energy powders. As athletes and marathon runners, we need to add a little boost to our routines when we're in the thick of training. We've tried pre and post workout powders that make us jittery and hyper, and that's not good. Fortunately, a few years ago we discovered Oriya Organics and all of that changed.
Oriya products are whole food plant-based supplements that are filled with superfoods that give your body the nutrients it needs without the garbage. Their newest product, Summit Energizer is a pre-workout powder made with only three ingredients – fermented beet, maca and fermented turmeric. Together they give you a boost so you can maximize your workout without getting that shaky feeling that you get with caffeine, creatine or synthetic additives.
We like to add a few scoops to our morning smoothie before we go to the gym or on a run. The powder blends right in and doesn't take over the flavor of the smoothie ingredients. You can feel good about adding this to your daily smoothie or just mix it with water. You can even give it to your kids because there's no added sugar or sweeteners, just ingredients from real food.
GET 20% OFF OF YOUR PURCHASE!
Oriya would love for you to try their products for yourself and they're offering 20% off of your purchase. Use the code: ONLYORIYA on your order and see how wonderful their products are for yourself. And don't forget to follow them on Instagram! Let them know we sent you.
Let's connect! Hop on over to our Facebook page and give it a like, and follow us on Instagram and Twitter, and follow us and share this and other Veganosity recipes on Pinterest. We'd be so grateful if you did. If you like this recipe and can't wait to see what we're going to share next, subscribe to Veganosity. Just fill in the subscription box above our picture in the top right corner of the page. And, Alex and I love hearing from you, please leave a comment and let us know what you think of our recipes.